In order to make the garage look neat and finished appearance it should be painted. Because each type of surface, you need the appropriate paint material, you should first decide what types of paint you needed to bring the garage in order.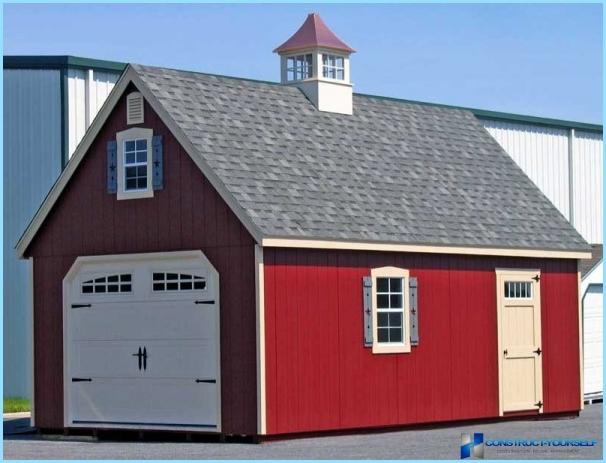 In principle, any person is able to perform interior and exterior painting. However, when choosing colors should take into account the material from which built the garage. If walls made of concrete blocks, bricks or concrete slabs, it is necessary to carry out their plaster before painting, as plaster is not suitable. This is due to the fact that the filler breaks the adhesion, and the paint will not stay on the surface.
Because garages usually are fuels and lubricants, the paint shall meet the requirements of fire safety.
Coating materials for painting the garage needs to be resistant to different mechanical loads and abrasion.
Paint must minimally absorb various smells and be resistant to aggressive chemicals.
Metal garage without proper protective coating will quickly rust and become worthless. So when deciding what paint to choose for a garage, you should consider the following requirements:
in the composition of the paint should be anti-corrosion additives;
good resistance to temperature changes;
resistance to humidity and corrosive atmosphere;
quick vydyhaemoy paint layer.
The most popular enamel paint, which possess all the above characteristics and will provide reliable protection of the metal surface of the garage for a long time. And the most common are silicone and alkyd enamels, which, however, is stuffed to give the position more modern acrylic water based paints. Thanks to its versatility paint can be used for both external and internal staining.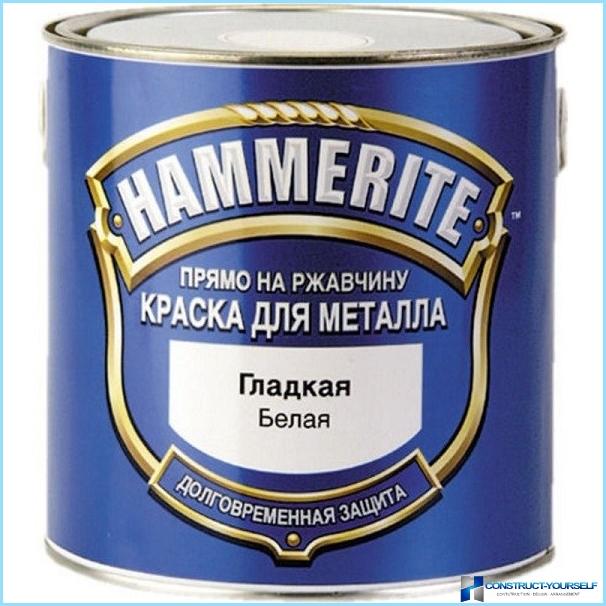 Acrylic coatings unlike silicone and alkyd formulations do not contain solvents, thus have a fire and environmental safety. Regardless of the paint the surface must be primed.
It is important
! Experts recommend to buy the primer and paint materials by the same manufacturer. Thus much improving the quality of the coating.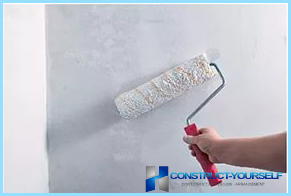 The most optimal coating materials for painting the garage is of concrete, brick or stone are paint, based on polymers. Each species has its advantages: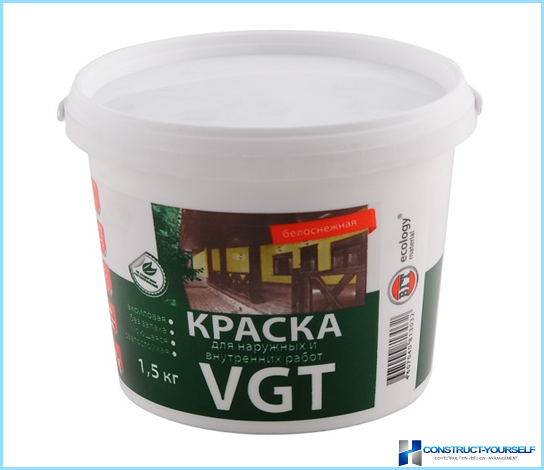 epoxy primer-enamel can be applied without priming of the surface.
perchlorovinyl compositions have a high resistance to low temperatures;
polyurethane paint for concrete has a high durability and resistance to chemicals;
water-based acrylic coatings can be applied even on fresh plaster, and have a high atmosferoustojchivosti;
polymer paint can be used both inside and outside the premises;
for exterior applications is better suited quick-drying nitroemali.
Most people think that to paint a concrete floor in the garage is impractical. However concrete is also subjected to various influences, and his painting will give the floor extra protection.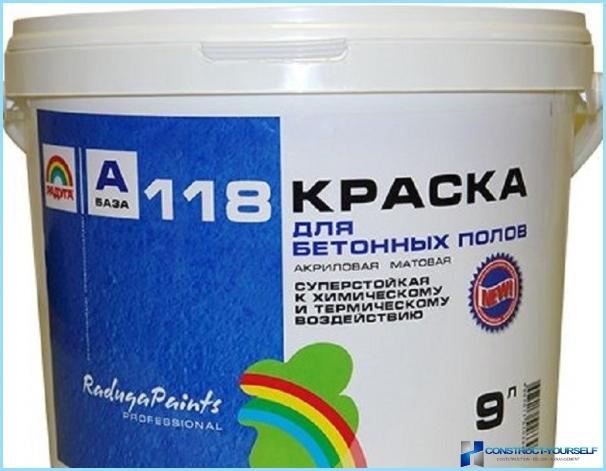 Mostly for staining the concrete floor in the garage using alkyd and epoxy paints, which have a high anti-slip and anti-static characteristics and high resistance to chemical reagents. Epoxy is necessary before use to mix, while alkyd paints are sold ready to use.
Attention
! Before painting a concrete floor alkyd paints, the surface should be primed with the use of epoxy compositions it is not required.
Before painting the floor in the garage is required to prepare a concrete base. For which the surface is cleaned of dust and dirt, the bumps are sealed with a filler or a solution and then applied paint.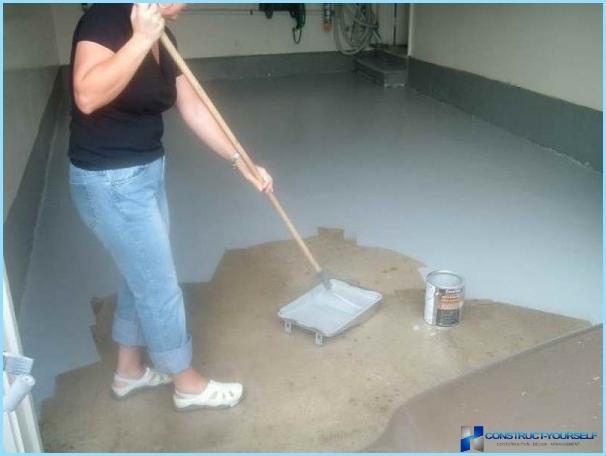 The paint coating should consist of 2-4 layers. The paint is applied at a temperature of the treated base not below +5?C, ambient below 10?C and humidity above 80%. Concrete floors can be painted no earlier than 5 days after pouring. The next layer of paint coating should be applied after complete drying of the previous, which usually is about 24 hours.
When selecting coatings for painting garage floor concrete, be sure to consider the ability of dye to withstand a variety of temperature extremes, resistance to prolonged high loads and other features of operation peculiar to the garage.
The best solution for painting the walls of the garage are silicate coatings, which are made of potash glass. Such coatings do not fade, are resistant to abrasion and durable. Used for painting of brick, stone, concrete and plastered surfaces.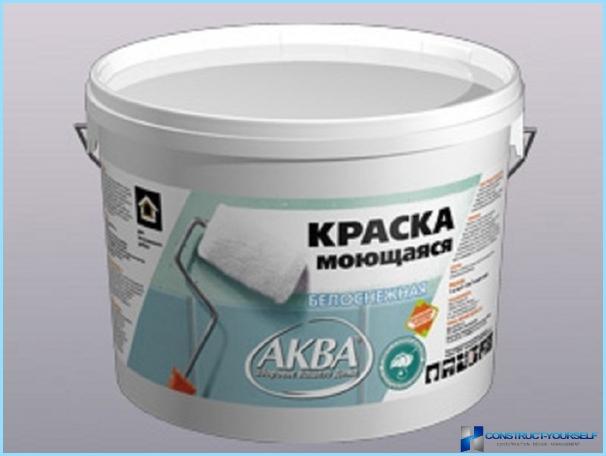 Even better to use than the silicate paints are considered to be polysilicon formulations based on silicone resins. They are excellent to keep even organic plaster. Such paints are breathable and retain moisture. The only downside is the relatively high cost of this paint material.
However, the most common for painting internal surfaces of walls in the garage are vodnodispersnaya paints based on acrylic organic resins. Such coatings repel dust and dirt, but are not used for coloring lime and limestone surfaces.
Painting of garage doors is necessary to protect the metal from moisture and corrosive atmospheric conditions. Besides quality painted garage doors to look a lot more attractive.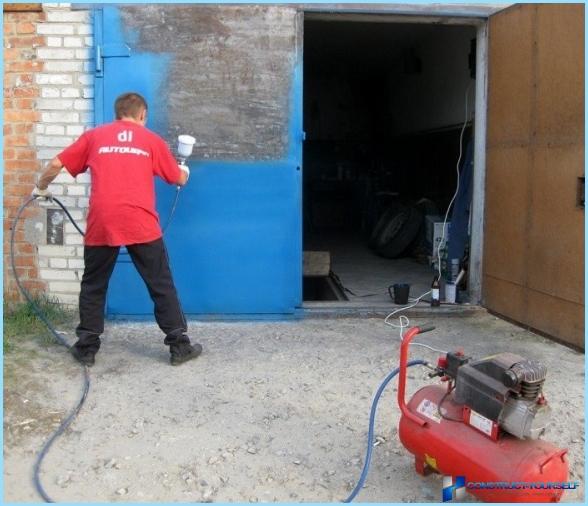 Paint the gate must have good adhesion to steel. This is because due to the metal structure on it can not hold a coating. Used paint material should have a high water resistance and moisture resistance, as water is detrimental to metal.
Paint for garage door must not contain in its composition of chemical components, oxidizing or reacting with the steel. Or later will happen swelling and flaking paintwork.
As garages rarely have good heating, the paint shall be suitable for exposure to a variety of temperatures from severe cold in winter to great heat in summer.
In order to paint the garage was high quality and yielded the desired result, it is necessary to take seriously the choice of paint material in accordance with the type of the treated surface. You can't ignore the requirements imposed on the use of a particular type of dye.
Content related