Special tools help to improve the concrete performance. Nevertheless, when choosing paint for concrete floors you need to consider many options. The special role played by property type and its purpose.
Paint for concrete floor not only serves a decorative role, but also serves as protection for the entire surface. It allows you to prevent the formation of cracks and chips. Also increases chemical resistance.
There are a huge number of varieties of paints for concrete floor. Usually these substances have a narrow focus. Therefore, their use will be effective only in clearly specified conditions. There are a number of criteria that guided the builders in the selection of the optimum substances, the main of them are:
Resistance to temperature fluctuations and ultraviolet rays.
Water vapor permeability (this value indicates the adhesion of paint to concrete floors).
The rate of absorption.
Adhesion level (this parameter depends on how well the coloring composition will stick to the concrete).
Refractoriness.
Frost.
Also of great importance is the number of binding elements in the overall composition. If this figure is at a high level, paint for concrete floors will not peel off even after 5-7 years of active service.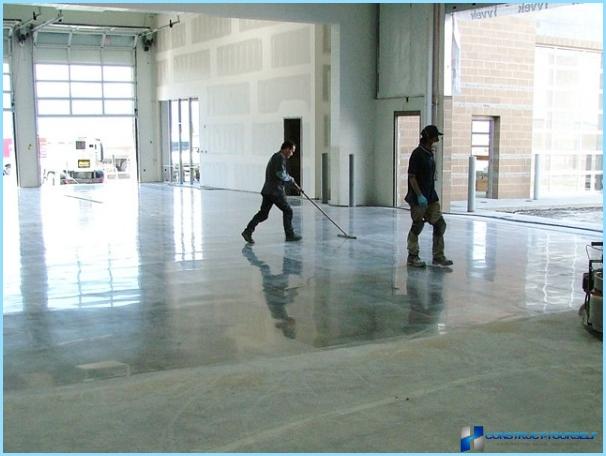 This substance provides lasting surface protection for a long time. It has high resistance to various external influences. Special attention is given the ability of a material to withstand extremely high loads. Durability is also at a high level. Epoxy paint for concrete floors used in areas such as:
hangars,
shop,
automotive repair shops,
Parking,
stairs etc.
Epoxy substance can work on the open space. In addition, there is the possibility to apply it on the not yet fully dried out concrete. And this is not only harmful design, but only strengthens it. The advantages of funds consider:
high waterproof properties;
resistance to corrosive substances such as alkalis, solutions of salts, acids and fuels and lubricants;
sustainability.
Moreover, epoxy paint for concrete floor does not yellow over time and has a high level of adhesion. Nevertheless, the tool has its drawbacks. For example, the double-base. There may also be a problem with re-painting. For several reasons this is a very difficult process that requires time and effort.
It is important
! Any two-component paint for concrete floor requires mixing before work.
Epoxy paint for concrete floor, applied in two layers. This is enough to provide a good appearance and reliable surface protection. Curing time depends on the quality of the substance and ranges from 12 to 24 hours.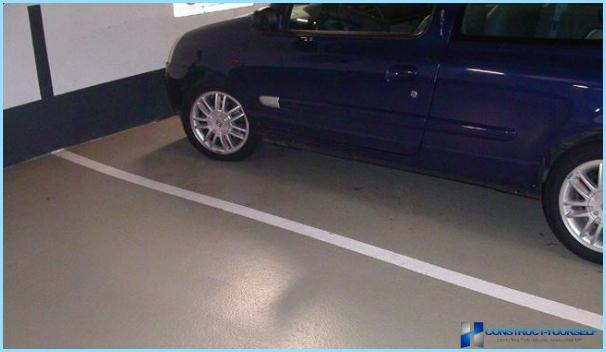 The basis substances are acrylic resin and polymers. The main property of this dye is to create a protective film on the concrete. It perfectly prevents various mechanical and chemical influences. Typically this substance is used for the painting:
garages,
balconies,
basements.
On the market available in matte, semi-matte and glossy options for acrylic paint for concrete floors. Average consumption is about 300-400 grams per square meter.
The film, which is formed on the concrete floor result in the paint impervious to moisture and has great strength. Other benefits of coating is referred:
high resistance to atmospheric influences;
easy application;
environmentally friendly;
fast drying.
Substance is applied in two layers. The average drying time of 12 to 14 hours.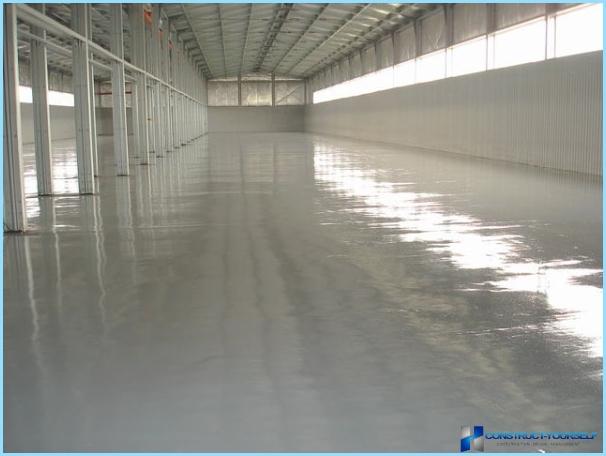 Polyurethane enamel is composed of two components. Application is possible both inside and outside the house. The surface treatment process begins with the mixing of the components. Many builders think this is a serious drawback, especially when required in the shortest possible time to finish the job. The advantages of polyurethane enamel for concrete floors rank as:
efficiency;
a high level of counteraction to atmospheric influences;
good mechanical strength;
nice looking gloss.
Processing occurs in two stages. Initially apply a first coat. On the drying usually takes about 24 hours, then the second. Only after 14 days the room becomes completely ready for operation.
It is important
! Below the enamel is grabbed, the temperature should not be below +5 degrees Celsius.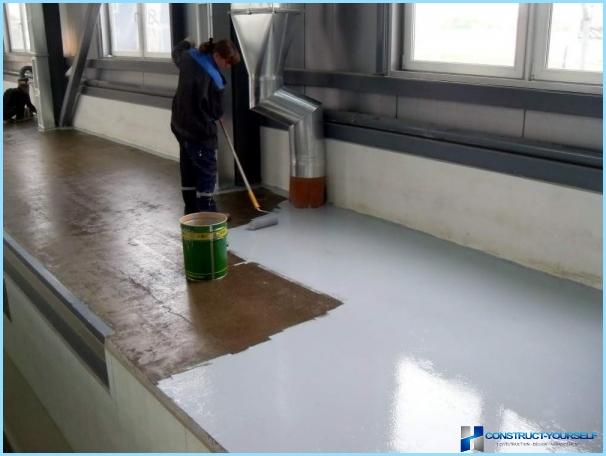 Rubber paint for concrete floors is a real breakthrough in the market. Its complete drying takes only 30 minutes! Provided that the temperature is +20. Despite this, the substance can be applied on the surface even at low temperatures.
Painted concrete can withstand temperatures ranging from -50 to +60 degrees. It is not surprising that rubber paint for concrete floors is often used in rooms without heating and in cold buildings. Application is possible both outside and inside.
The life of rubber paint for concrete floors is 10 years. Average consumption of 400 grams per square meter. The application is in two layers using a roller or brush. To expedite the process, it is best to apply spray. The only lack of substance — the high cost.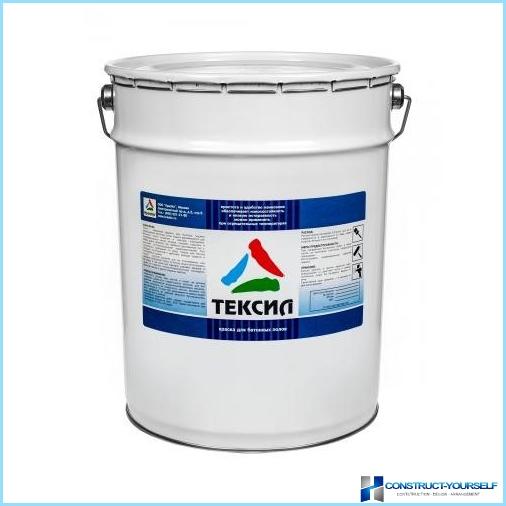 One of the best colors this kind is considered «Was Texel». It provides reliable protection of the floor and dries in just 2 hours. Substance made on the basis of PVC resin. It forms a high strength protective layer and prolongs the life of concrete. Mechanical and vehicle loads are minimized. Of the most important advantages you need to highlight:
fast solidification;
the possibility of applying at subzero temperatures;
ease of use.
With «Texila» you can work at any time of the year. This is a great choice when the timing of works is very limited and requires a durable coating for industrial facilities. In addition, this paint for concrete floor does not need special care. Application is possible both inside and outside. The average consumption ranges from 300 to 400 grams per square meter.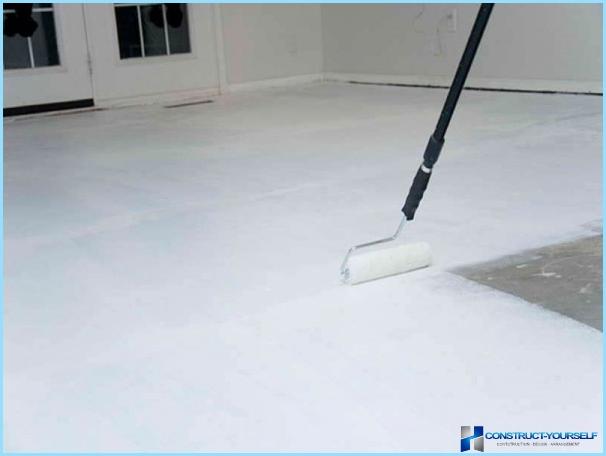 It all starts with the preparatory stage. It's a concrete floor surface is cleaned from dirt and dust. Smeared cracks and chips. In the end there is a grinding. The essence of these works is to make the surface smoother. It also increases the level of adhesion. As a result, the paint consumption is reduced.
The second phase involves priming of the concrete floor. This kind of treatment allows to achieve even greater adhesion. Additionally increase water repellency painting.
The third stage is the concrete floor color. In most cases, it is the roller or sprayer, the latter allows not only to reduce time costs, but also saves the paint. For hard to reach areas, we use a paint brush. To make it easier to use a roller, it is joined by a special pen.
It is important
! The number of layers depends on the type of paint.
The need for a primer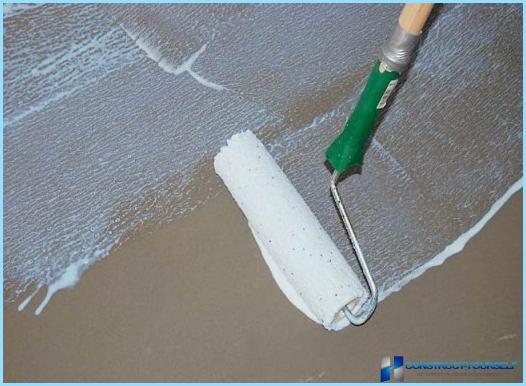 In some cases, the primer is used as the primary means of protecting the floor from corrosive effects of the external environment and mechanical loads. However, for the best protection, this cover is required as a primary layer processing before painting.
Primer for concrete floors can be polyurethane and epoxy. Polyurethane provides an effective filling of small pores. Besides there is a hardening of the structural concrete. An additional advantage can be called the resistance to a range corrosive substances.
Epoxy primer floor also has a number of important advantages, including water resistance, a high level of adhesion, resistance to chemicals and mechanical stress.
The choice of paint for concrete floors depends entirely on the specific construction needs. Acrylic paint is ideal for balconies; epoxy is used when working in hangars and workshops; wear-resistant dye is an ideal option for places with large mechanical and transport loads.
Content related