Currently there is a rapid growth in the industry of paint products. Huge range of paints and varnishes can cause bewilderment and confusion among consumers. It is possible to choose the basis for glossy paper, for furniture, ceilings, floors. Each type of color has its own positive and negative characteristics, it is important to approach the selection of the coating responsibly, to account for its performance.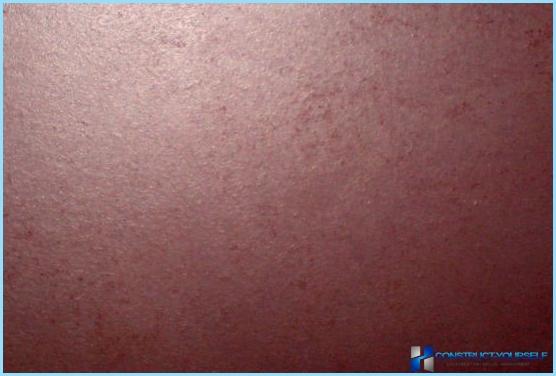 Before you begin work, think, matte or glossy Foundation is better to buy. Any glossy material has its own advantages and certain disadvantages.
There is a division option to the glossy base. Release:
adhesive;
emulsion;
silicate;
alkyd.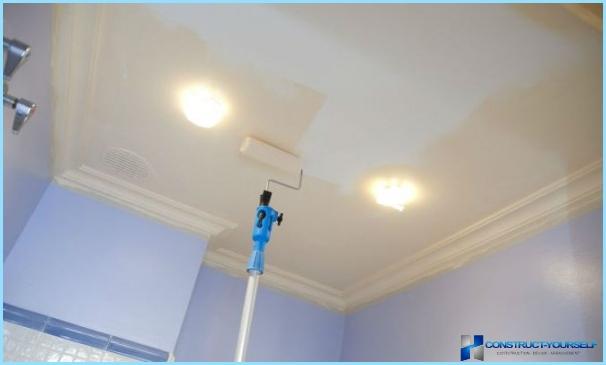 On the Bank there are special letters characterizing the glossy base. Digital code indicates the spectrum of the use of this material:
1 – weatherproof;
2 – for internal works;
3 for processing metal products;
4 –for hot water;
5 – for fur and leather;
6 – to paint the products associated with the petroleum products;
7 – resistance to chemical aggressive environments;
8 – heat-resistant;
9 – with electrical insulating properties.
They are bred with water, thus it will not dissolve. The binder basis of such materials and the basic dye particles are in an aqueous medium, forming stable emulsion. Once the water is completely evaporated, on the surface a beautiful glossy film of the selected color.
The advantages of emulsion callers:
Efficiency.
Ease of laundering tools and hands.
Sustainability.
Fire safety.
No unpleasant smell.
Speed drying.
The Council
! If water-based material intended for painting of metal products is first necessary to perform a primer to avoid corrosion of the metal.
The disadvantages of this material include the fact that emulsion-based is prohibited to put on the surface, which was painted by glutinous structures;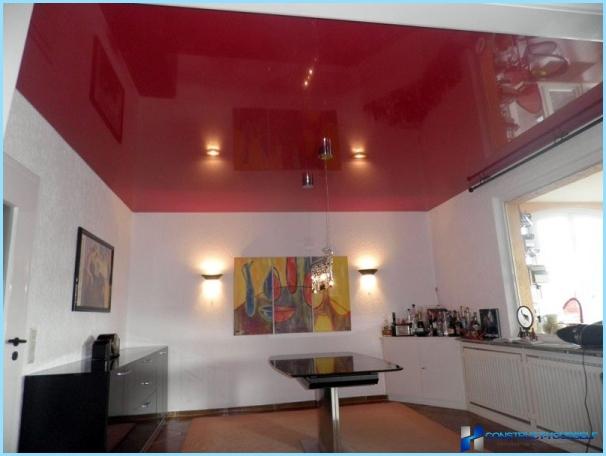 All such materials are divided into:
acrylic;
latex;
latex;
polyvinyl acetate;
silicone;
water–dispersion.
Matt emulsion colour gradually washed away and water–dispersion can be repeatedly washed. Latex presents a wide range of colors, they can be used to create three-dimensional effects texture, decorate the surface of walls and ceilings. Get glossy coatings have excellent durability, they will protect the wall or ceiling from the occurrence of fine cracks.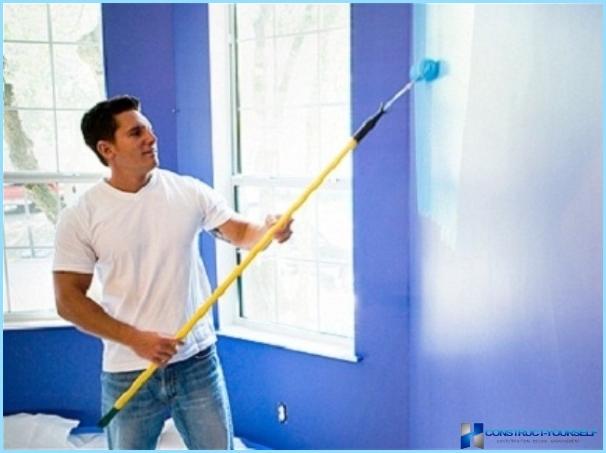 For a glossy acrylic material as a binder used acrylic resin. Such paints have high elasticity, strength, suitable for wooden surfaces.
Attention
! Using glossy acrylic paint to cover hairline cracks, the size of which is 0.5 mm.
The disadvantages of such materials:
high cost;
cannot be used in buildings with damp walls.
Analogues made from acrylic copolymers with less attractive performance.
The advantages of acrylic paints:
frost (subject to drying);
low gas permeability (to protect the material from corrosion);
personal kolerovka;
resistance to UV radiation;
water vapor permeability;
mechanical strength.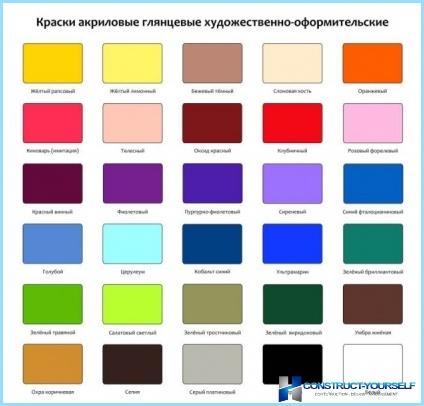 In the manufacture of such coating materials applied latex. The prepared materials have excellent water-repellent properties, the walls and ceilings are covered with them, can be washed.
Applications:
brick;
drywall;
plaster;
ceilings.
Attention
! Full drying time latex paint is 50 – 60 minutes.
Cons:
most expensive;
the lightfastness is less than that of acrylic paints.
Polyvinyl acetate paints is considered the most budget. Of performance select:
environmentally friendly;
high resistance to sunlight;
resistance to fats and oils.
Disadvantages:
the gradual washing away by water;
loss of gloss in the process of operation.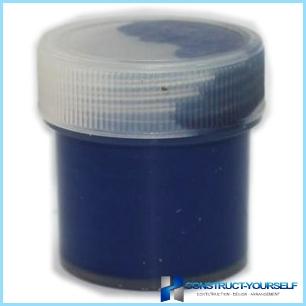 As a connecting element in such paints, acts of emulsified silicone resin. After drying, the formed water-repellent surface, permeable to water vapor, the air. Can be applied to any mineral surface that is compatible with mineral and acrylic latex paints.
The disadvantages can be attributed only to the high cost.
The binder in them is alkyd resin. The fields of application of such materials:
metal surface;
wooden ceilings and walls;
the plastered surface.
Advantages:
water resistance;
lightfastness;
toxicity;
water resistant.
They are made based on linseed oil. The diluents used turpentine, gasoline, white spirit.
Disadvantages:
in the process of drying is the release of harmful chemicals, it is better to apply a similar paint when performing outdoor work;
after a while the glossy white paint loses its Shine, begins to turn yellow.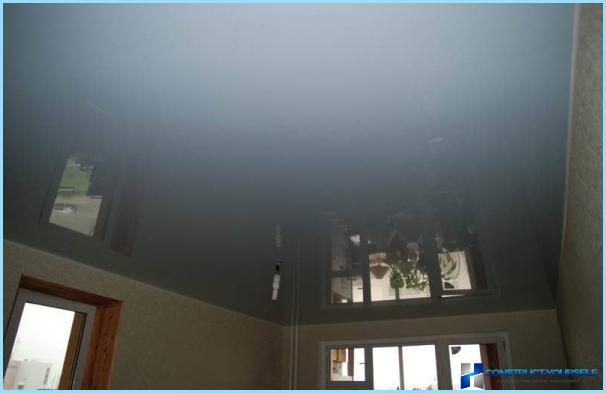 They have the highest gloss, ideal for decorating the furniture, ceilings, walls. They are suitable for internal and external works.
The advantages of enamel:
dry quickly;
have a beautiful glossy sheen;
corrosion resistance;
lightfastness;
water resistant;
wide range of colors.
Positive characteristics of high-gloss paint:
increased resistance to abrasion. This paint will be the best options for those apartments in which you want constant cleaning (washing, wiping, ceilings);
The Council
! Glossy paints are suitable for painting the ceiling in the kitchen. In this room, I pressed the soot, smoke, soot, require systematic cleaning.
strength. The glossy paint is a significant amount of natural (synthetic) resin, after evaporation of the solvent, is formed on the surface of a dense film;
aesthetics. This type suitable for use in rooms that are small. The glossy surface of the ceiling allows you to visually expand the free space by reflection from the surface direct sunlight. To obtain this effect it is important to choose light colors: blue, pink, cream;
environmentally friendly. Glossy paint materials are environmentally friendly materials. For example, glossy paint Tikkurila has a special certificate by TUV. It is harmless to humans, is not able to cause allergies, it can be used for decorating children's rooms. There are no such substances that would be formed «black spots» (dust and soot);
efficiency. Any glossy color for the ceiling is a negligible expense. If you need to paint the ceiling of the room with an area of 6-12 m, quite enough to buy a liter of material;
the ease of applying. Glossy paint is perfectly placed on any surface: metal, wood, plastic. For the application of this decorative material for wall, ceiling, floor, you can use a brush or roller.
Content related