Exquisitely and tastefully decorated, the walls are a very important element of the decor of the room for any purpose. Almost all the existing materials have some drawbacks that limit their use, especially in indoor spaces, which require not only beauty, but also safety and environmental friendliness. Therefore, the optimal material for interior and exterior walls is a textured paint. Only it allows you to create unbelievably gorgeous, fascinating surface on the walls, allowing any manifestation of self, even the rich and boundless imagination.
The process of working with textured paint is an incredible simplicity and ease, so it can be used by people with a complete lack of experience in the construction and finishing works. A distinctive feature of the ongoing work on the coloring can be considered the possibility of creating your own textures, as well as sufficient time to correct what did not like or did not happen. To hone «skill» you can practice on a piece of plywood or a small area of wall (in this case, before the main painting «training» the composition of the textured paint must be completely removed with a steel spatula, and the wall dried and primed).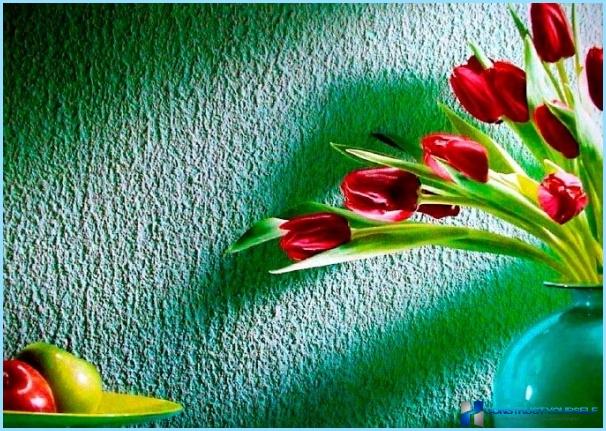 Textured paint for walls has undeniable advantages over other materials, and among the main can be identified such as:
frost;
resistance to permanent UV exposure;
the plasticity of the resulting coating is not allowing the wall to be covered with small cracks (natural shrinkage of the buildings);
insensitivity to moisture, prevents the formation and reproduction of fungi;
finished surface does not absorb smells;
dust dirt repellent, facilitating follow-up care;
high environmental compatibility, enabling use in children;
the possibility of use for any reason – from brick to wood;
huge scope for creativity when it is self-applied.
In addition, it is worth noting its hypoallergenic and minimum requirements for the surface quality used for the application of textured paints for interior work.
Apply textured paint for walls, for reviews, extremely easy and the use of any complicated special tool is not required. Textured paint for walls with their hands can be slightly modified, which will allow you to create your own, unusual textures. Thus, to obtain a rough embossed surface can be added to paint, clean sawdust, and to obtain a structure with sharp edges is added to quartz sand. The paint is applied thick enough so it closes all existing wall cracks, chips and slight roughness.
Tool selection for application devoid of any standards, and depending on what effect you want to achieve, you can use:
a natural sponge;
textural (structural) roller of different length and diameter;
comb;
spatula.
In General, the application of textured paint perhaps even hands, as it is absolutely safe and created «manually» the decor may be rather unexpected, interesting and unique.
A little bit about applying a textured paint roller is shown in the video
Textured painting of walls with emulsion paint allows you to get a few basic textures.
Relief.
In its formation the active participation of the fillers contained in the paint. The creation of the relief is simple and accessible even for an inexperienced person.

Misuri.
The creation of such textures on the wall will require a great effort, and it turns out she is at colouring of walls in the apartment with textured paint, which was added to modified starch-based color. It is important that the surface may be textured, and without it. Quite interesting effect is obtained in the case of additional painting of the protruding elements of the relief of the wall, which is convenient to use a hard roller or almost dry sponge with paint of a different shade.

The Marseilles wax.
Style and sophistication will be the main feature of the coating. It is a method of applying a textured paint that requires a professional approach. But the result may surpass all expectations. This material can realistically simulate tree bark, cork or even aged stone. To obtain a particular depth and color saturation coating processed decorative wax. At the same time, thus can get rid of not only internal but also external walls of buildings.

Atacama.
Chic and fascinating the effect the walls will give a method of applying a textured paint. Unprecedented reflective effect can be created by mixing bases, metallic pigment and silica sand of a desired faction. Once dry, the wall will resemble a soft, shimmery velvet.

Applying textured paint with a roller, of course, is neither particularly complex nor time – consuming preparation of the surface- and this is its great advantage. However, the minimum amount of work to implement will need:
it is advisable to tap the wall with a hammer that will allow you to identify areas where the old plaster just about ready to fall out (this must be eliminated);
large cracks need to be repaired;
the entire surface is intended for painting walls in the apartment with textured paint needs to be progruntovali acrylic primer, preferably with a note «deep penetration».
The Council
! Best results are achieved when the composition being applied and the base are at room temperature.
Before working with this paint is it requires very thorough mixing and better if used a drill with a mixer. Re-mixing is needed after adding a selected filler and Kohler. There are some mandatory rules, otherwise the effect may be different from what was intended:
applying textured paint should be thick enough to be able to create the intended texture;
it is desirable to work directly on the entire surface, which will create texture, since the interruptions can be a landmark «joints», visually degrade the impression of the whole work;
the tool that you plan to use, you need to prepare in advance;
after drying, textured compositions for wall effects can additionally be painted with acrylic compounds.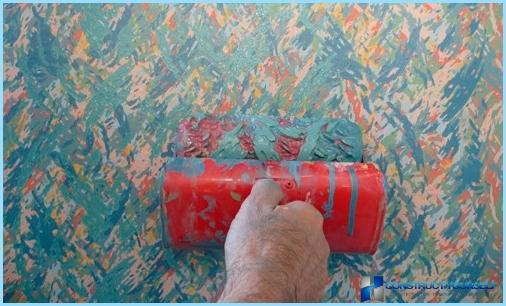 The video shows how to apply textured paint to walls with their hands.
Painting walls textured paint allows you to get unique, refined interior. With this, at present, no one argues. But in some cases, people complain that is unprecedented beauty, was totally not what they expected. Almost every such fact to blame the buyers who had no clear idea of what ultimately they wanted to. If about how to work with textured paint more or less clear to almost everyone, the intricacies of the select few know.
Each coloring composition to give the wall texture and relief has its grit. The more severe and deep you want the texture, the large grain size should be selected and because this option each manufacturer marked on their own, do not neglect the advice of the seller when buying. Another important parameter of textured coatings is based.
Mineral

. The most budget option, consisting of cement, lime and manufactured a dry powder. Most commonly using the mineral composition gives the texture of the outer walls of buildings.

Silicone

. The most common variant, which can be used both inside and outside of buildings. Creates a vapor permeable coating, resistant to moisture, temperature extremes and corrosive environments.

Silicate

. The most expensive but very practical option. this coating is not afraid of any exposure to the atmosphere, the surface does not absorb dirt and dust, easy to care for. Use is allowed only in combination with primer on the same basis.

Acrylic

. The most convenient, ready-to-use composition, which allows for tinting, and the introduction of the required fillers.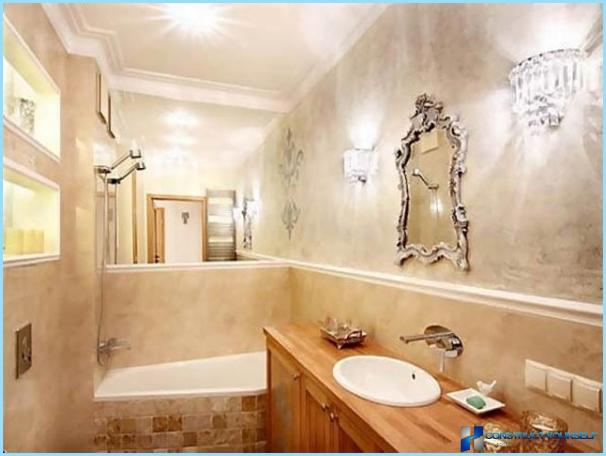 Enthusiastically engaged in creating a new, creative interior design your own home, do not forget that in any case the necessary if not experience, then at least skill, so before work takes practice. In addition, pre-be very clear about what kind of surface you want to get. To do this, you can not only visit the online galleries, but also to try to draw your future interior.
You can apply textured paint in a separate area, and using a variety of tools or means to see what the texture turns out. It is important to understand that patterns that looks good in a small area, it may be inappropriate to the whole wall. In addition, do not forget that all used to work with textured paint, the tool must be clean. Of course, we should not neglect basic security requirements – will not interfere with personal protective equipment and adequate ventilation.
Content related