All of their free time children spend outdoors. Fresh air gives them strength, health, joy and positive emotions. For a child to spend as much time in the air, you need to make a children's wooden house for him. It is sure to become a favorite place in which the child can hide and equip their own world.
Joint construction of buildings will allow to spend time with your child fun and provocatively. Any boy or girl this activity will bring a lot of positive and unforgettable impressions.
To date represented storesa wide range of summer houses for children, but not everyone can afford to buy it. Create your own hands on the individual design sketches that came up with the child, it will be the best solution.
Important
: Before you start the construction of buildings should take into account all the wishes of their own child.
Make the house must be in bright colors. In construction, you can draw your favorite characters from fairy tales and cartoons. This process should be to involve the child and by means of which it can display their talents and abilities. House, who made the child hands, will be particularly valuable to him.
Children's House is made of differentmaterials are available to everyone. If, after the construction of the house were construction materials, we can not buy anything. Produce children's wooden houses can be made of particleboard, MDF, boards, plywood and any other materials made of wood.
Before you begin construction, you need to createdrawing, layout or sketch. It will assess the structure, determine where to place the door and windows. Positioning it is desirable so that it is visible to parents, so the child will always be in sight.
The best place in which the child can be alone and dream - a wooden play houses, photos of which are presented here.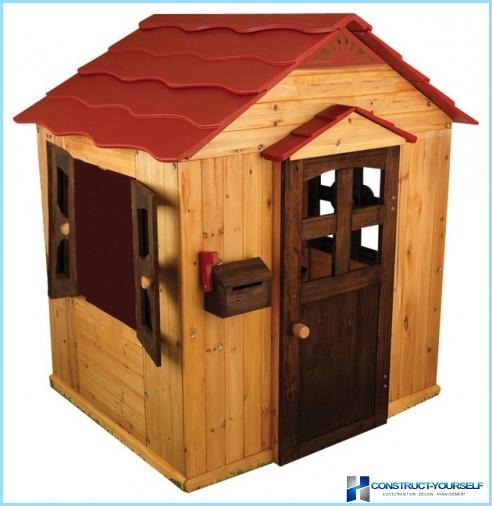 To create a summer hut of plywood,2-3 need a sheet of material. The amount of plywood depends on the size and value of the building. The material may be any thickness. In the store it is sold 8-12 mm thick. The windows should be located 60 cm from the floor and doorway - 30 cm above the growth of children. But do not forget about the door envelope, as an adult, if necessary, should get into it seamlessly.
The structure should be large so that it wasroomy and spacious. The roof is set at a 45-degree angle. slipping plywood sheets nailed together, then cut window and door openings. The apex is made from the same material as the walls. When the structure is erected, it must be sanded with sandpaper or a special grinding machine. This avoids damage to the skin and splinters.
The next step is the installation of furniture and decoration.
Attention
: Design painting should be safe for the baby enamels and varnishes.
To make out the hut, it is desirable for the child's wishes. Colors need to choose bright, colorful, saturated. For girls design can be painted in bright pink, as in the photo submitted.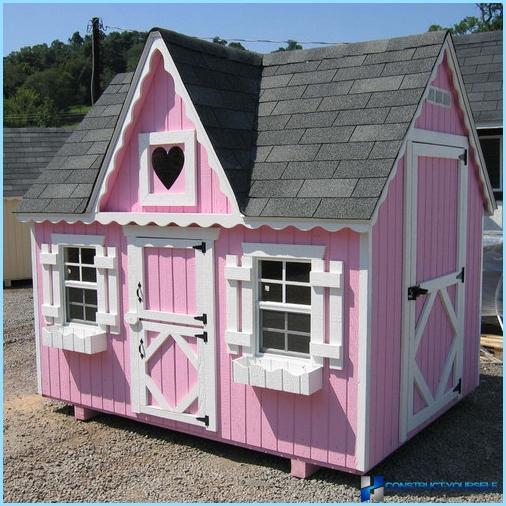 The structure of wooden planks virtuallysubject to wear. Therefore, in a hut built will play several generations of children. At first it will be hosting a son or daughter, and after a while - grandchild. For large families it is important to build a large makeshift to intervene all the guys in it. Video instructions construction design of the boards can be viewed below.
To build a structure framework neededbars with a cross section of 5 cm Children's Designer -. Wooden cabin get strong and durable, if you treat it with varnish the deck surface. For windows and doors made special inserts which are placed in an upright position. Constructed framework to enhance the strength obbivat thinner wooden planks, thickness should be more than 2 cm.
The roof structure is made from a bar of the same section. Set it to be on the ready-made wall. On the roof packed thin boards from 2 cm.
A warning
: That the roof does not leak, it is necessary to strengthen the roof waterproofing.
On top of the waterproofing material may beinstall the plastic cap. After the construction, the building is painted in a pre-selected range of colors and covered deck varnish. The picture presented children's facility for boys.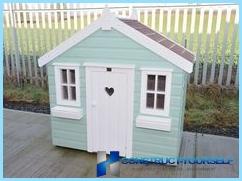 He found himself in dreamland will interestingHouse - cottage on the legs. Fairy house can be of different sizes, shapes, colors. The photo shows one of the most interesting, creative design of children's playhouse.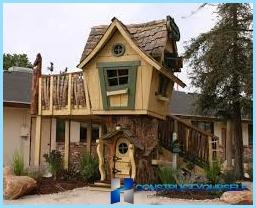 To construct a hut, the legs can be made of wooden beams, metal pipes, rocks, and can use other decorative materials.
Important
: House is designed primarily for children, so do not make the legs too high.
The height of the legs should not exceed 70 cm. It is necessary to install a small ladder or a few steps. If the legs are made from pipes, it is necessary to dig into the ground poles 1/3 pipe. The base of the legs must be secured. For example, to fill with concrete.
On the upper part of each pipe is clogged timbertree to attach the base of the hut. The foundation can be made of planks with cross-section of about 4 cm. Then the design is constructed of planks. The resulting frame is sheathed with a thin board and then being built roof. The roof is made of the same material as that of the whole structure.
Entrance to the cabin is equipped with comfortable on the legsstaircase with handrails. Railings must be at a height of about 50 to 70 cm. Their height is determined by the age and growth of the child. Steps should be not less than 20 cm, it was convenient for them to climb, and the legs are fully placed.
Children's wooden house can be extended to giveoriginal sandbox, horizontal bar for exercise, play complex of game and sports equipment. All elements must be painted in bright colors. Nearby you can break a flower bed or a bed. The child will take care of it, and to develop their talents and abilities.
every child's dream - a beautiful,spacious home for his toys and dolls. Young children love to play with toys, throwing them at each corner. Dollhouse, made by hand, solves this problem once and for all.
Huge house for dolls the size of a closet can build any parent. To do this, you need to show a little imagination and skill. Children's wooden dollhouse It can be made of particleboard or any othersimilar materials. To create the structure required jigsaw, glue, chipboard sheets. Build it can every person, because the design is so easy that to cope with it even a child himself.
Important
: Dollhouse wood must be tinkering from safe materials for the child.
The box is very easy going. On the walls you can cut small windows and glaze them with a thin transparent glass, a dense, multi-colored foil or use plastic bottles. With the help of a flashlight can electrify design. Decorate a house for the dolls can be drawings, thin planks, labels, laces, ribbons. In order to make a unique house, we just need to show imagination.
Before you begin construction, you need todraw a plan or sketch of the future structure, as well as think about where they will be placed windows, doors and stairs. fine details and wishes her child should be taken into account.
To create a multi-storey cupboard for toys and dolls, you can not do without a detailed drawing. Simply alter the drawing, in the event of a change than to disassemble the built structure.
Important
: House size should match the growth of dolls and toy furniture dimensions.
The house must be windows, doors, stairs, bathroom, light. Equipping wiring a house, you need to think about the insulation of all cables so they are not dangerous.
A warning
: You can not use lamps that produce heat.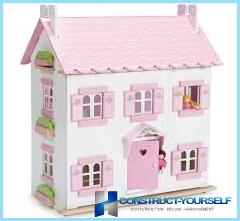 If the electrical installation works are complex, it is possible to do without light. Wooden children's Dolls drawn with colored paper, wallpaper, piecescolorful fabrics. Maximum realism can be achieved with the help of curtains on the windows, pictures on the walls, carpets. Surround ready building should be fence, as well as to build a garage, porch, swimming pool.
After completion of construction works, it is important to make sure that it does not stick out of the screws, studs and other sharp items. Then the wooden structure for dolls will be a favorite toy for children.