Currently, producing high-quality floor repair, use shock-absorbing damping materials, which are laid between the floor coating and the floor, so-called substrate. Laminate also requires the use of the laying substrate. Its absence is enough to keep the manufacturer of the laminate in case of damage of the material before the expiration of the warranty period, could deny you a replacement or refund. Fortunately, modern construction market offers a wide selection of different types of substrates:
polyethylene foam;
cork;
bitumen-cork;
polystyrene;
softwood tiles.
combined;
special.
In this article we will look at a cork backing: its types, «pros» and «cons» its use, technology, styling, etc.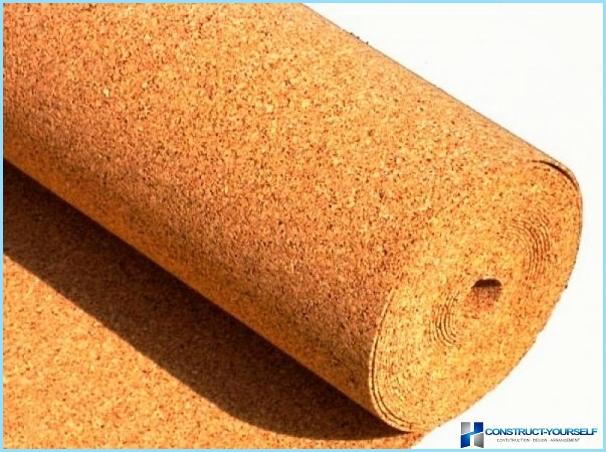 As is clear from the name, this kind of substrate made of pressed granules of bark of the cork oak. It can be produced in rolnych forms, and in the leaves. They differ in the size and cost. Roll form may have a thickness from 2 to 4 mm, and a sheet of 4 to 10 mm depends on the thickness, the larger it is, the higher the price of the material.
The density of the cork substrate is 220-260 kg/m3, thermal conductivity not more than 0,043 W/(m*K), damping of at least 16 dB, a tensile strength of not less than 2 kg/cm 2, the material humidity less than 7%, and fire resistance, it belongs to the class M. If the pressure is 7 kg/cm2 compression is not higher than 10%. The deviation of the linear sizes is in the width and length of less than 0.5 mm, the thickness is less than 0.2 mm.
Technical cork – its main advantage is that its production process uses only natural binders. In its composition there are no synthetic additives, so it is completely hypoallergenic and suitable for installation in the bedroom and the nursery. As to the advantages of this type include temperature resistant and anti-static. The disadvantage is that to lay such a substrate without laying under it polyethylene possible only on well dried and prepared «rough sex» and only where there are no areas with high humidity.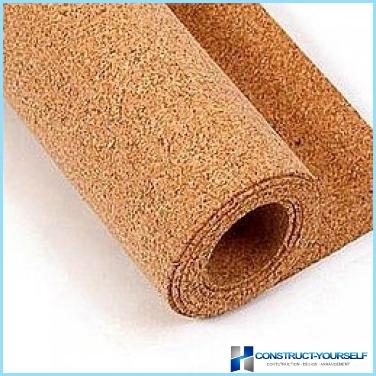 Rubber-cork underlay – this species consists of granulated cork and rubber, which is a binder. On sale this underlay comes in strips and plates. Styling produce them without overlapping, and the joints fasten with tape. Rubber retains heat and moisture, so it is advisable to lay in rooms with high humidity, and where laying laminate flooring is bad on the wet floor. Rubber-cork underlay provides good sound and vibration isolation. Besides, the rubber is well stretched, so this kind is suitable for installation on wooden «rough sex».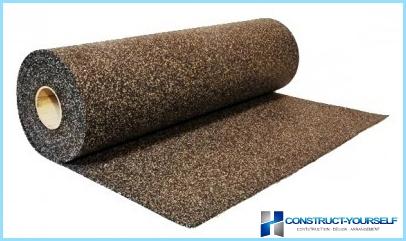 Bitumen-cork – made of special Kraft paper, which is impregnated with bitumen with crushed cork crumbs. Asphalt provides excellent waterproofing. But, due to the fact that bitumen is considered a flammable substance and when burning it there is an allocation of the acrid smoke, the use of such substrates in residential areas is prohibited by safety regulations. The laying is carried out without overlapping, fastening the edges with masking tape.
The advantages include the following aspects:
It can be used as a finishing material, not only the floor but also the walls and ceiling, as well as for virtually any kind of flooring (laminate, linoleum, parquet, ceramic tiles, tiles of natural stone).
This type of surface has a long service life. Cork material can maintain its original properties within 170 – 200 years! It often happens that when replacing defective flooring is that cork underlay retained its quality and never needs to be replaced.
It not just hides minor lumps and bumps, and can smooth out a large defects and variations «sub-floor», that helps to avoid its pouring.
Cork underlay protects your laminate produced fresh concrete base dust.
Is a great hydro and thermal insulation material.
Promotes a uniform distribution of load across the floor area.
Provides high level of sound insulation.
Cork is environmentally friendly.
Like any other material, cork underlay is your «cons»:
Deformation with long-term physical impact. For example, under the legs of chairs or other furniture can cause dents.
Classic cork backing because of its poor thermal conductivity cannot be used in combination with the floors with water heating, but for this purpose is cork substrate with a special coating foil.
The high price regarding synthetic analogues.
In rooms with high humidity, you cannot use a cork substrate without additional waterproofing.
It would seem logical that the thicker, the better, because improved insulating properties and better hiding flaws in the floor. But actually the thickness is more than 3 mm makes the floor «floating» and unable to withstand heavy loads. Moreover, since the laminate has a small thickness, the lock can not withstand and disperse. The perfect thickness of cork substrate under the laminate is 2 mm.
Before you start laying the underlay is necessary to make preparatory work, which consist of several stages:
First you need to make sure that the floor is smooth and clean. For a floor that has small bumps, is to use a substrate thickness of 3 mm, if the floor is sufficiently smooth, we can restrict two millimeters.

If «rough sex» is a concrete floor, you may need additional insulation, especially if the room is over a basement, because concrete can be quite humid. On the floor stretches the polyethylene with a minor allowance for walls, to form a kind of «pallet». The edges of this «pan» attach using construction adhesive tape.

Hardwood floors usually require additional alignment. For this purpose can be used a sheet of plywood, which is screwed with screws to the base.
The process of laying the same for all types «rough sex».
When using a rolled substrate is rolled from wall to wall and cut.


?

Attention

! No need to rush to pack only what is brought from the street material. Leave him indoors for a few days so he got used to room temperature.

The cut is placed along the wall at a distance of one centimeter from the edge. This period is necessary in order to naturally evaporate the moisture from the surface.

?

The Council

! If the substrate was rolled up and have not had time to straighten up, then to avoid tearing, shearing, and overlapping, its segments are fixed at the edges using double-sided tape to the base.

The following segments are placed butt-welded without overlapping and gaps that installing laminate is not formed blisters. Stacking of segments necessary to produce perpendicular to the laminate panels, otherwise, over time, these segments can move relative to each other.

The joints between the segments are fastened with masking tape.
The last part should be cut so that between it and the wall also left a one centimeter.
When using a sheet substrate in its trail staggered to megapanel joints do not overlap each other. Edge, as in the case of roll form, fasten with tape.

After the complete laying of the substrate to better handle water-repellent composition to create additional protection.
Attention
! To move around the stacked substrate should be very careful not to damage her shoes and tools.
How to lay a cork backing you can also learn from the following video:
Of course, an important factor when choosing a laminate and the substrate under it are financial opportunities. If you decide to buy expensive laminate, you have to remember that the duration of his service will depend on the quality of the selected substrate. And if it is made of cork, you don't have to worry about the safety laminate for many years, and its relatively high cost will pay for itself with a vengeance during the operation.
You can also view located below the video on cork substrate:
Content related