Do not despair if you have a small apartment and want to decorate it in a rustic style. Small bedroom in Provence style – it's not a dream but a reality. This direction in Russia came from distant France, it is of interest to many well-known designers.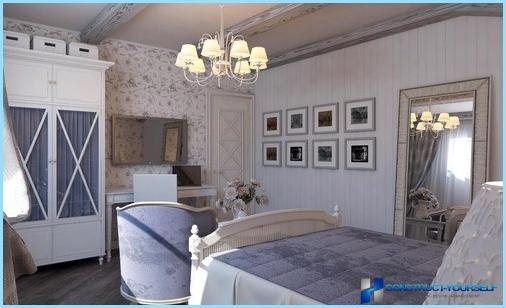 Bedroom is not intended for gathering friends and visitors, noisy parties and get-togethers. This room should be intimate created it only for one or two people. Such a feature leaves its mark on the atmosphere of the bedroom. It should contribute to proper rest. Waking up in the bedroom «Provence», its owners must be alert, refreshed, full of energy and strength, ready for new challenges.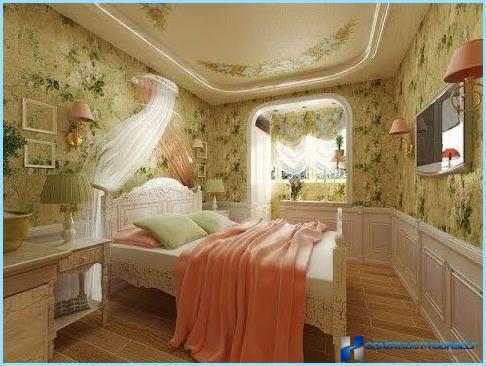 To achieve such a result, important considerations for a small bedroom in Provence style, take into account a lot of detail: the ceiling trim and wall color of the room, flooring, furniture, decorative elements.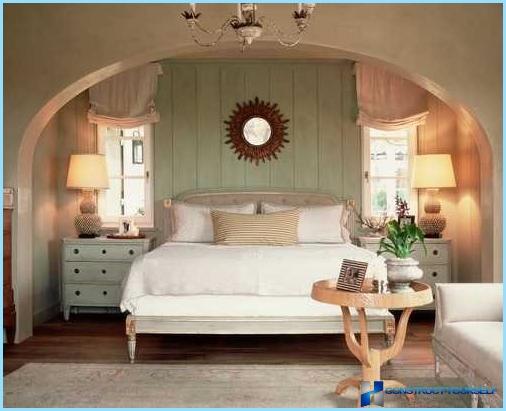 Roots «Provence» go to southern France, 13th century. It is a symbiosis of classic and rustic style, which uses neutral colors. For a small bedroom will suit olive, lavender, white, gold colors.
Attention
! «Provence» don't let the color scheme of gray tones.
If you decide the style «Provence» to use not only the bedroom, but in the rest of the rooms, you will be able to create a real area of southern France in his apartment. Is this design direction suitable for cottages, country farm-houses, cottages.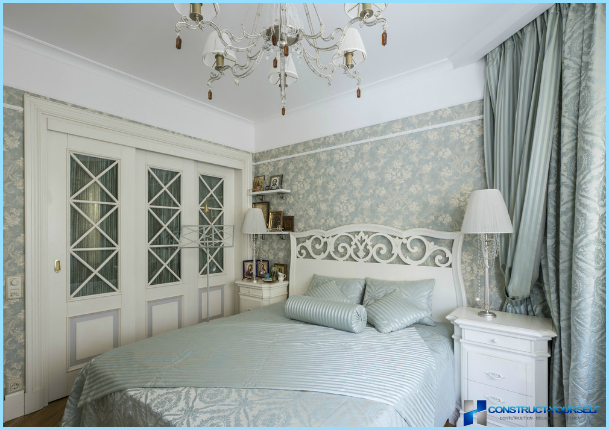 The Council
! Special attention should be paid to lighting, Windows, doors, accessories.
The first thing to take care of the design of the ceiling. For «Provence» suitable bright colors. You plaster the ceiling or use wood panels. They should be cream or white. To create a real «Provence», the wood panels first artificially old using traditional methods, and then they decorate the ceiling.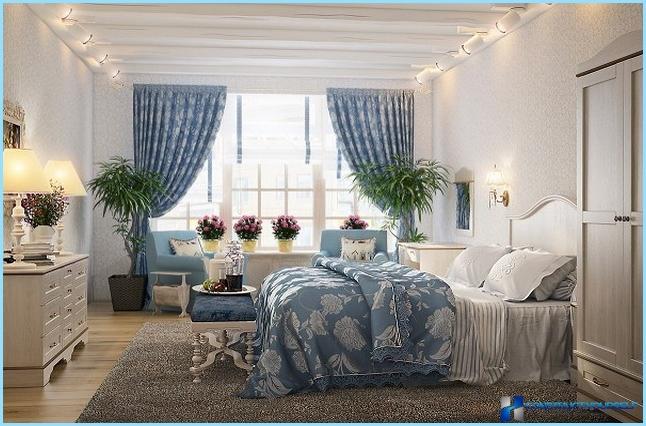 The Council
! Do not overdo the mixing of colors, or you risk to a complete lack of taste combinations that will irritate, not soothe.
For the wall design will need decorative plaster moldings, brick or stone masonry. For starters, the walls are painted in cold shades of white, or they give pastel shades, typical of old French castles and houses.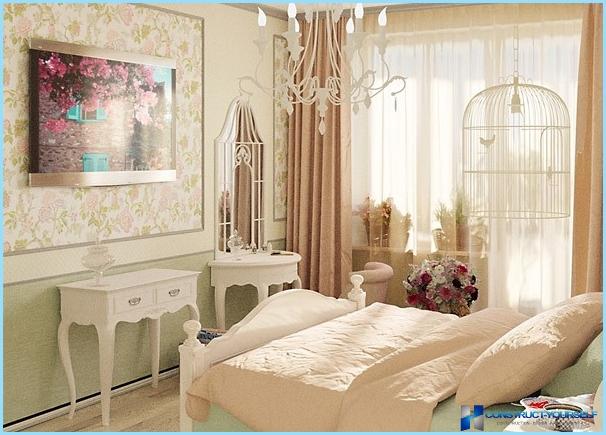 The use of stucco and the moldings depends on the personal taste preferences of the owner of the bedroom. Options for decorating the walls and ceiling in the style of «Provence» you can see in the video
Stylized «brick» masonry is better to use in private houses and cottages, but don't overuse these elements, otherwise the bedroom will be «bare walls», which are unlikely to make it warm and cozy.
Original bedroom in a wooden house in the Provence style involves the use of for decorating the floor of natural wood or ceramic tiles. For regions with a warm climate, tile in the bedroom would be a great option for more coolness and freshness.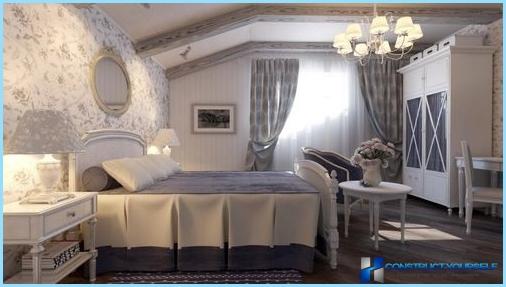 The Council
! To the ceramic floor to walk comfortably, do not feel cold feet, you can put on the floor carpet.
Bedroom country style (Provence) should contain a small number of different attributes. Otherwise be a cluttered space that would be difficult to call a cosy room for a rest. To create the desired interior needs small parts and accessories.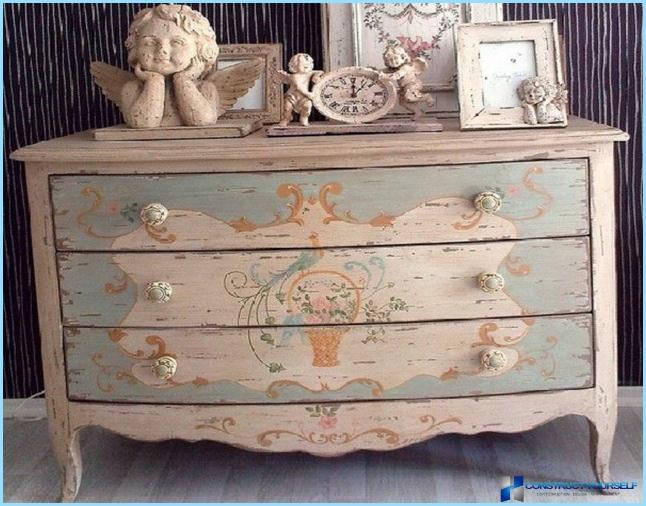 Piece of furniture that you choose for a small bedroom «Provence» must be made of wood, painted white. Don't forget that the gross elements of the interior with style «rustic», be confused with the graceful and delicate «Provence».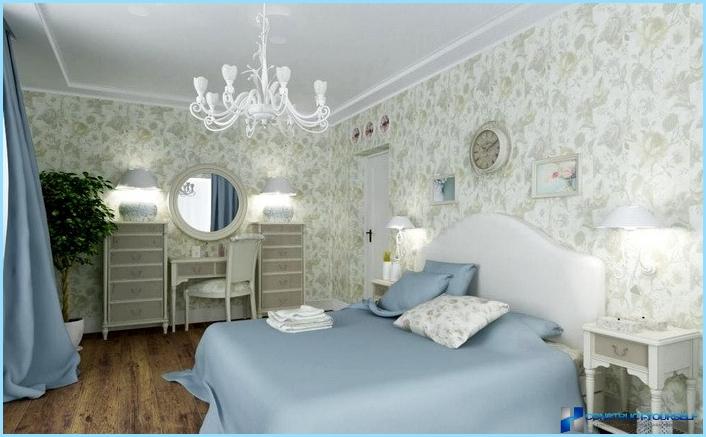 French direction of the design is the subtle charm and charisma, it is optimal for small rooms. The Central place in a bedroom should occupy the apartment. Choose natural wood with a unique structure.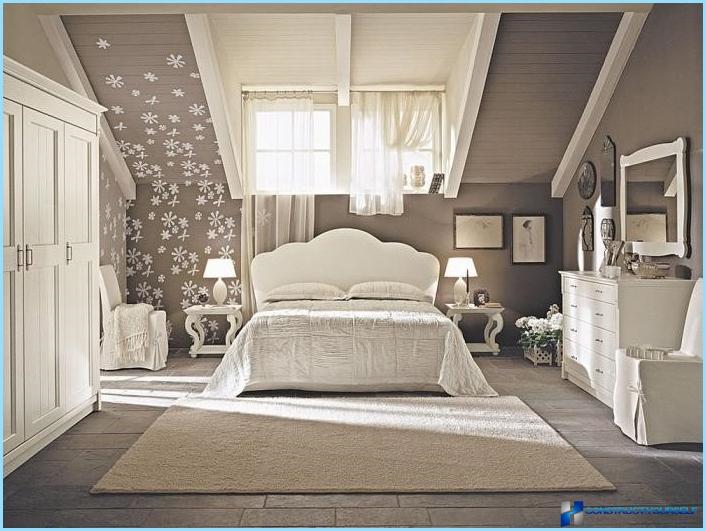 Attention
! Don't forget that the tree needs to protect special impregnation or varnish, increasing its operational period.
In an additional element you can use the canopy it will create a kind perfection of style «Provence». A good alternative is forged bronze elements having smooth curves.
In a small French bedroom can be set up on both sides of bed nightstands on thin bent metal legs. Perfectly fit into the created atmosphere of medieval France, easy chairs, chairs made of natural rattan. But «Granny» massive chests and cabinets are not suitable for small bedrooms, they have a better decorated spacious bedrooms.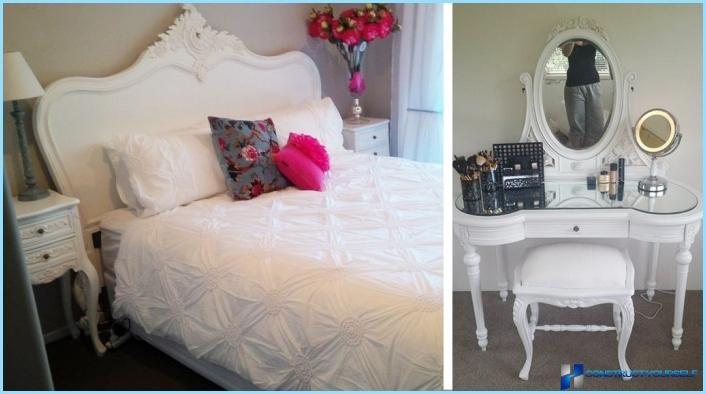 A key feature of the style «Provence» is a large window. Rustic style implies a smooth flow in the bedroom is a large amount of sunlight. To protect from the bright sun eyes, when decorating the Windows in a small bedroom in Provence style, using delicate lace curtains, trimmed with lace inserts. Of additional accessories you can pick up bedspreads, rugs, pillows, bedding. When selecting accessories, it is important to remember that «Provence» assumes terracotta, purple, green. You must choose such additional elements that would emphasize the design, made the room lively and cozy at the same time.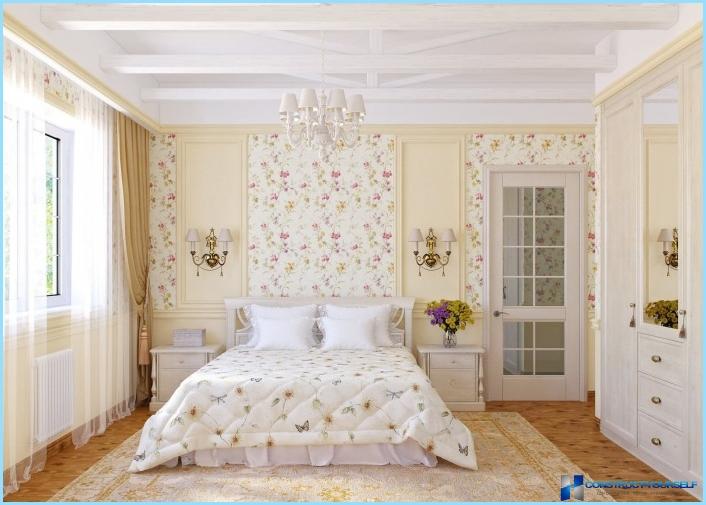 The various napkins, tablecloths, cushion pillow made with your own hands, welcome in this style direction. To obtain a complete picture, on a floor made of ceramic tiles, you can lay a homespun carpet. Advantageously, the rods need to be replaced wrought iron or wooden options. In this case, the bedroom will become a real area of southern France.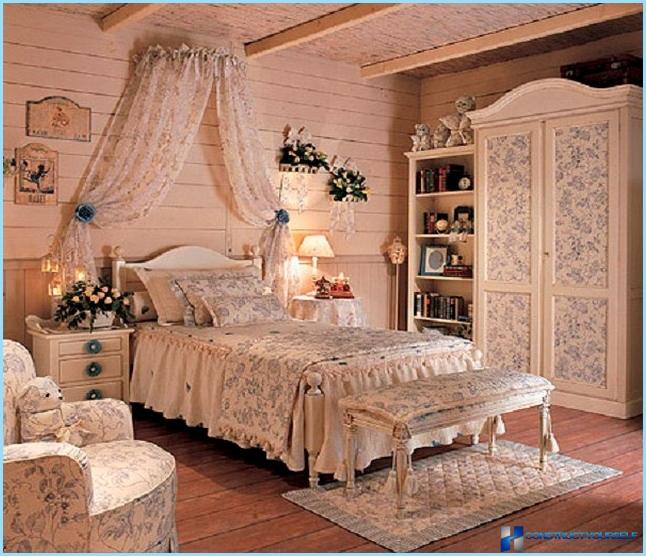 In «Provence» a special place is occupied by the mirror. If they are wooden framed, they become a great part of the French rustic style. In addition, the walls can be placed family photos, pre-processed in a graphics editor, inserted in a wooden frame.
When choosing lighting it is important to observe common stylistic direction. An interesting option would be to use chandeliers in distressed wood, wrought metal sconce with extruded light bulbs.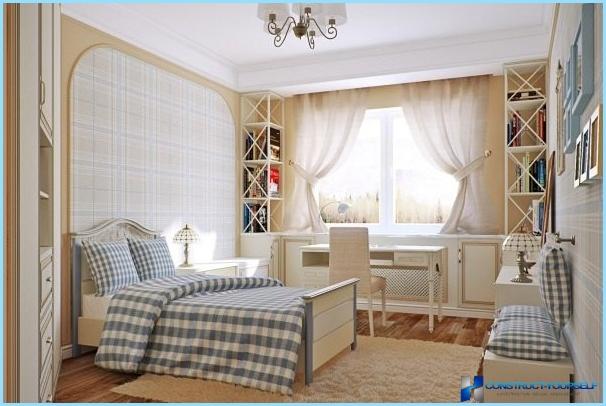 Rustic style «Provence», which follows the typical life of the inhabitants of the South of France 13-19 centuries. Simple objects and elements gave the French their preference. Provence is recognized as one of the most popular among tourists places of France. Many consider him to be a real Paradise for lovers of warmth, comfort, comfort. Some choose this place because of the rich and beautiful landscapes, some people prefer the attractions of style. All like this amazing area, which you want to move to my bedroom. Since the choice of pieces of furniture were inadequate, all the dressers, wardrobes, sideboards, inherited.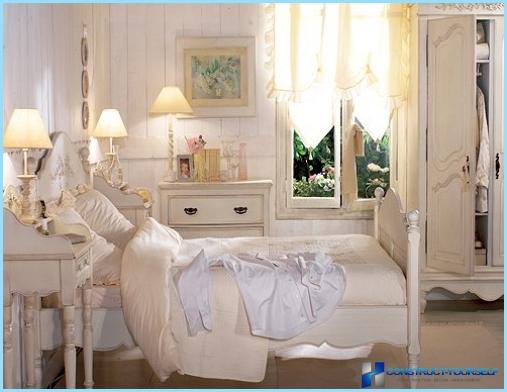 Despite its apparent disrepair, they for a long time, has retained all of its functional characteristics. The atmosphere «Provence» ideal for small bedrooms. Using stylistic techniques characteristic of this area, you can become an owner in the bedroom the authentic atmosphere of the South of France. The number of accessories it is desirable to reduce, otherwise, the bedroom space will appear overloaded.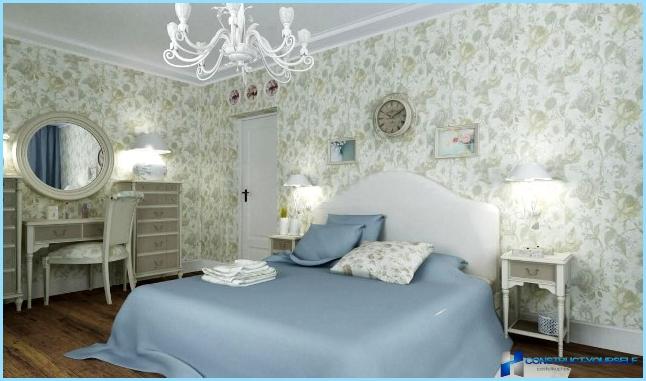 In a small room, you can order a wrought-iron bed without a headboard pathetic. Space for such an optimal would be to use plain textiles with small patterns. Large flowers are not suitable for these rooms, they will burden the building, it could not relax. To visually expand the space in the room will require 1-2 mirrors.
When choosing colors, prefer light blue and pink shades, making the room airiness and lightness. In addition, you can use to «Provence» beige, milk, white shades.
Content related