In recent years, more and more often for finishing the ceilinguse decorative panels of various designs. As a result, there is no need for laborious and expensive surface treatment of the base: alignment, plaster, putty. They are very easy to install. Due to their strength, they will serve a long time, without disturbing the aesthetics of the room.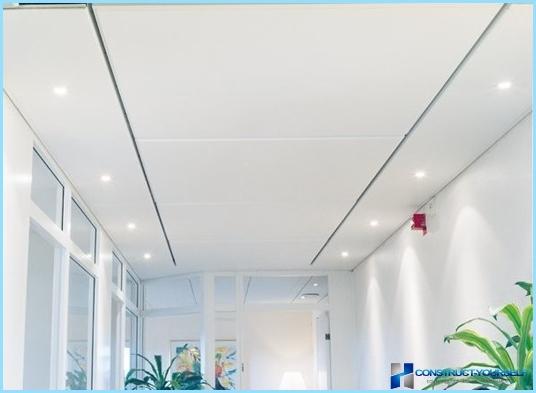 In order to choose the best option,you need to find out what materials are manufactured panel what their size, how they correspond to the ceiling of. And, of course, need to take into account the moisture resistance, sound insulation, configuration, texture, color and other properties.
They are divided into types depending on the material of manufacture, destination, size and mounting technology.
Such materials are usually used for the manufacture of ceiling panels:
mineral wool - used mainly in Armstrong suspension systems;
glass - used for coffered ceiling;
aluminum - for cassette and suspended ceilings;
plastic (PVC) - mounting all types of structures;
Styrofoam - is set to glue;
foam - glued on any basis;
MDF - suitable for the coffered ceiling;
plasterboard - used in overhead structures and adheres to the surface;
tree - for frame structures.
For ceilings used as LED lights or infrared panels.
Suspended ceiling systems have Armstrongwidespread. Thanks to the standard sizes, they can be used with ceiling panels from other manufacturers. Cassette ceilings consist of a frame with longitudinal and transverse guides. Directly mounted decorative panel formed in the cell.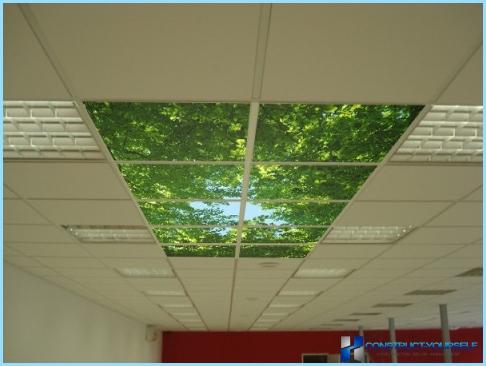 Important
! Armstrong system allows quick access to the hidden communications and carry out repairs or maintenance as required.
Specifications Armstrong system:
dimensions 600x600 mm;
thickness of 8 - 24 mm;
humidity of at least 70% at a temperature of 29 degrees;
excellent sound insulation;
function of the light reflectance of 75%;
good thermal conductivity.
Panels Armstrong suspension systems mostly made of mineral fiber and glass.
The main advantages of panels made of mineralfiber - it is their great sound and heat insulation. Panels with a high content of the latex has good resistance to moisture and suitable for mounting in the bathroom. Glass panels remarkably scatter the light that fills the room with warmth and comfort. They were easy to care for, they have good resistance to moisture. Therefore, they can be installed in the pool, bathroom and kitchen.
Panels with LED backlight in additiondecorative features, are light sources. Housing LED ceiling panel made of aluminum, the LEDs are placed around the perimeter. Illumination turns smooth, uniform, without any annoying flicker.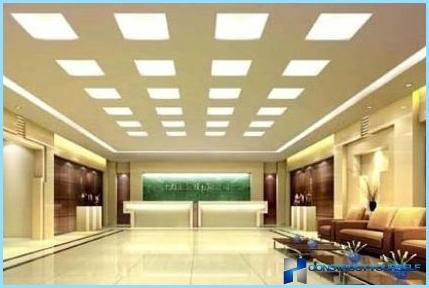 They are ideal for rooms with low ceilings, visually increasing its volume. They have all kinds of sizes from 200x200 mm to 600x600 mm. There are round with a diameter of 240 mm.
Plastic panels have the positive qualities:
they are sufficiently moisture resistant, which allows their use for lining in the bathroom;
made from environmentally friendly raw materials;
easy to care for, all stains are easily removed with a sponge and ordinary detergent;
they do not absorb odors.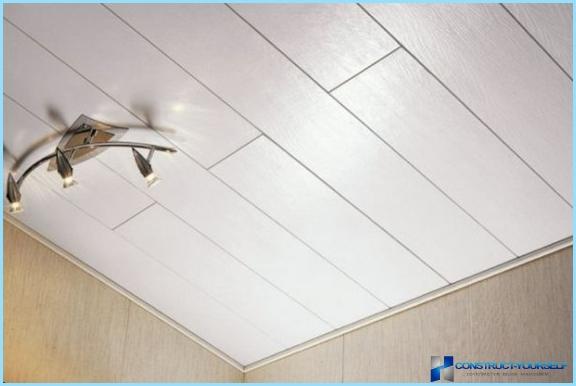 Construction of PVC is very easy to assemble inall types of premises. Most often it is used on the balcony, in the bathroom and in the kitchen. They established elementary overhead chandeliers, ceiling lamps and spotlights. To install the suspension frame use is made of wood or metal profiles.
Important
! Along the perimeter of the panel may overlap the standard ceiling moldings, in which case they are not made in the profile, which greatly facilitates installation.
Plastic panels are suture and seamless. With seam reminiscent of battens. The seamless option when connecting panels seam completely invisible.
In a residential area panels are commonly used, having a length of 2.7 m, a width of 250 mm and a thickness of 8 mm.
PVC Ceiling panels can be opaque,semi-gloss and glossy. They have a wide range of colors, there are self-colored or patterned. There may even be an imitation of natural stone or wood of any species. The front side is protected by a film of polyethylene, which is removed prior to installation.
Facing the ceiling slabs of foamsignificantly increases the sound and thermal insulation properties. This house is warm and cozy. The foam tile has good moisture resistance, so it is often used in the bathroom and kitchen. Since the foam panels are very light, they can be applied even in those areas where the ceiling will not sustain high loads.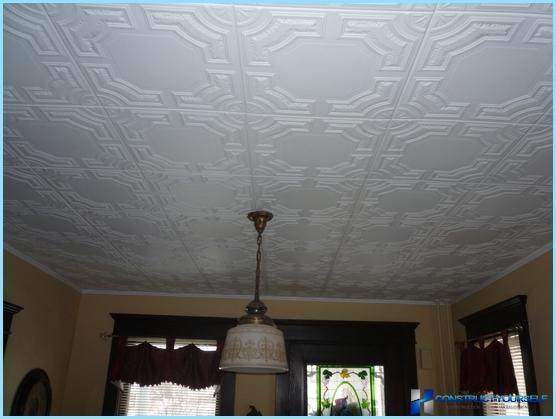 These plates are made of incombustiblematerial that ensures fire safety. In addition, they are very easy to handle and install on the ceiling. foam panels are completely smooth and with a variety of patterns.
The most common size - it squares 500x500 mm. There are also rectangular, are used for lining the ceilings of public spaces.
Warning
! Despite the non-flammability, Styrofoam panelvery susceptible to elevated temperature. Therefore it is not advisable to install them near the light fixtures with heavy lighting or chimneys. The foam can oplavitsya or deform. Some foam boards do not withstand direct sunlight. They may turn yellow or become brittle.
A separate category of ceiling panels - aFinnish Izoteks. They are presented in these amounts:. Width 300 mm, thickness 12 mm, length from 1.8 m to 4.2 m connecting them way tongue and groove, so easy to install on the principle of the laminate.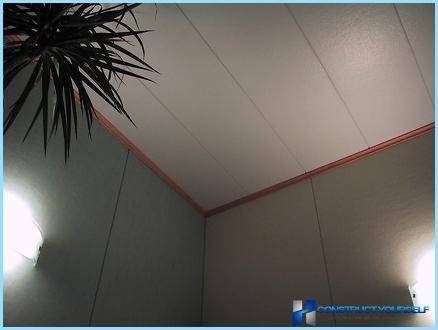 Izoteks panels are manufactured from plate ISOPLAAT with good sound-absorbing and heat-insulating properties, they are lined with foil on top of the paper.
Attention! The main heat loss through the ceiling are made. Due to the layer of paper and foil shielding 12 mm can reduce these losses.
The panels have a relief decoration and can bein such cases: white plastered plane, imitation wood or sunken wood. They are completely harmless, so used in children and the rest of the accommodation. Izoteks create warmth and comfort, suppress noise and percussive sounds. Their installation is performed on a crate or glued.
Today, these panels have gained quite a wide popularity. They are used for the decoration of any kind. are the main advantages of MDF:
environmental friendliness and harmlessness;
resistance to moisture and mildew occurrence;
reasonable price;
high strength.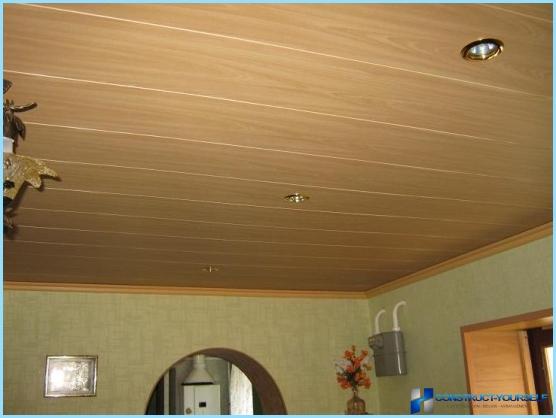 MDF panels do not contain phenol and harmful substances. They are the basis of the binding natural materials. For the ceiling decoration use veneered MDF and laminated boards. Laminate is the difference between a good moisture resistance and resistance to mechanical stress. Panels Veneer manufactured using wood fibers.
Important
! After installation, MDF panels, mounted on top of a decorative ceiling moldings. It hides the cap screws, and gives a complete view of the ceiling.
Wooden ceiling panels are quite common due to its practicality and a reasonable price. For them it is very easy to maintain using ordinary damp sponge.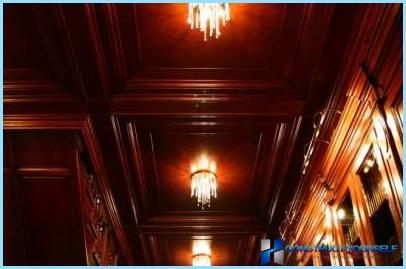 Finishing wood ceiling panels attachedsmooth ceiling surface and beauty. Wood scatters light, resulting in slightly obscures the room, creating a play of light with shadow. Wood panels have excellent sound insulation, providing a cozy atmosphere indoors. The ceilings are made of wood can be carried and boarded. Usually, a combination of the generic type. Irregularities in the ceiling easily eliminated wedges, which set a crate.
For wooden ceiling panels use fine wood, wood is less expensive or inexpensive wood chips, compressed and covered with veneer.
Attention
! For the installation of wooden panels require a solid foundation capable of supporting obreshetochnyh rods and themselves.
The construction market offers a fairly wide range of ceiling panels. First you need to decide what structure to use for installation, and then select the appropriate material.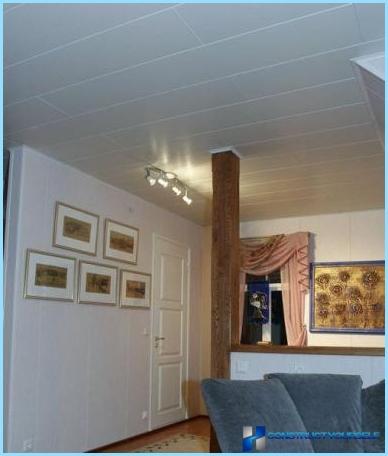 For a good sound insulation and the bestuse the panel on the ceiling of mineral fiber or acoustic Izoteks. For bathrooms and kitchens great choice of glass or plastic foam. As a more economical version can be considered plastic and MDF. For variety, you can use the LED panels and plates with a unique pattern and perforation.