The main problem that has todesigners face when creating an interior bedroom apartments in small - very small area of ​​the room, usually reaching a total of 12 square meters. Also it is necessary to add about the low ceilings and elongated shape of the room, which prevents the installation of furniture in standard sizes. To create the most beautiful and pleasant environment, you need to use a few simple rules.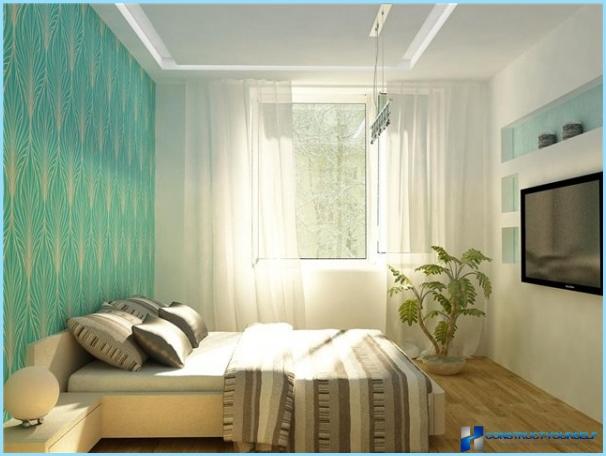 When designing a bedroom, you can use severaldifferent stylistic solutions that are just the same for the small rooms. Their main distinguishing features is the use of a minimum amount of furniture, as well as the lack of finishing bulky items.
Popular design a bedroom in a small apartment:
Art Nouveau. Perfect for colorful individualists, who like all the interesting and unusual.

The conservative style. As will be appreciated by people who prefer peace and harmony. When you create such an interior uses traditional finishes.

Minimalism - a style in which the interior of the clean all superfluous and unnecessary. At the same time welcomed the unusual colors.

Retro style - a style which is used when creating distinctive interior details - lamps, pictures and so on.

High-tech - one of the most popular styles today, which is dominated by metal and glass materials, interesting color combinations.

Ethnic style. If the choice has fallen on this option, then the registration should be used traditions of one particular nation (but not everything). To make the bedroom in a small apartment perfectly suit the styles, the creation of which can be limited to the minimum of accessories (African style, Chinese, Mediterranean and other).

One of the most important places to create designssmall bedroom occupies the right choice of color solutions for walls. If their registration is used the paint, it is recommended to prefer pink, peach, lilac, beige and blue shades. Wallpaper should also acquire bright colors, preferably without a pattern (if the pattern is present, it should be fine). Large patterns on wallpaper, as well as dark colors visually reduce the space, so their use is prohibited. Warm colors can zoom in space, so it is desirable to arrange a short wall in shades of ivory or beige, but the long wall should be submitted pastel cool colors.
The ceiling is painted in white color, but, if possible, better to order the installation of a tension ceiling glossy coating that reflects light and, thus, visually expands the space.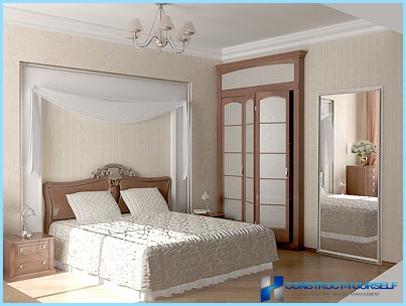 In creating the interior should be as simple to use colors and shades. Furniture should be light and simple enough, as the minimalist style gives a feeling of freedom and space.
Furniture should be set so thatmovement in the room did not cause any inconvenience. That is why, for example, recommended bed located so that it lies along the wall.
Attention
! In a small room always has to be perfectly clean, and small items neatly in its place (as it makes a mess room cluttered and crowded).
Visually, the space can increase at the expense of the mirrors to be placed in such a way that they reflect the maximum opposite wall.
In addition, when you make should be usedsimple textile, light, plain colors or with a small figure. It will look non-winning fabric in dark colors with a large pattern, as they appear to be too cumbersome.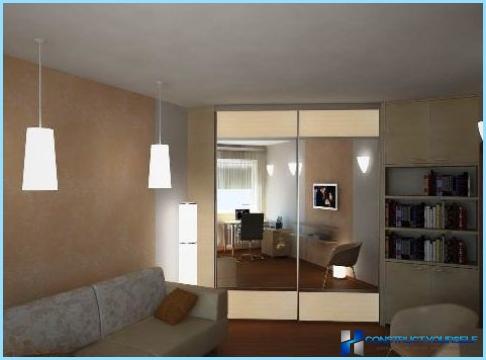 It is not recommended in a small roominstall floor lamps and large chandeliers decorated with lots of fine detail. Instead, opt for a small chandelier, which is mounted under the ceiling itself, and wall lamps, wall-mounted bedside. If the room is fitted ceilings, chandeliers instead perfectly suited spotlights.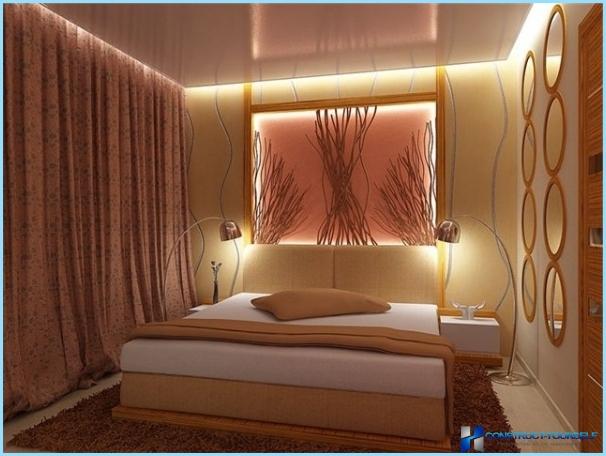 Some people often use their bedplace as an office. The optimal place for the location of the work zone will partition next to the window, where you can put a small table for a laptop.
To store the papers and documents on the table mounted some shelves. Also, the shelves can be placed in the space under the sill (in the absence of a central heating radiator).
If space very little, you can buy a folding table, which is used only during operation.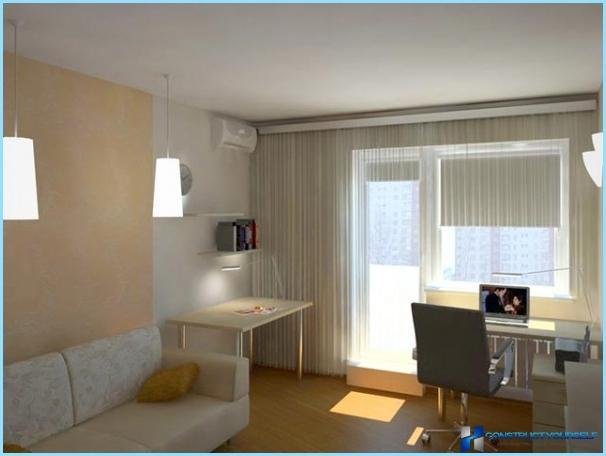 Develop bedroom design should be a strictGiven some furniture items will be placed on such a limited space. Naturally, the most binding element - a bed, followed by a wardrobe, bedside tables, mirrors and everything else that can be useful to owners of apartments.
As a rule, the longest wall in the bedroomIt is not more than 2.5 meters, so the bed should be a minimum size (of course, so that it was convenient to the owners). You can put a double model, but its design must be in harmony with the surrounding environment. Ideally, she would not be too massive and bulky parts. Perfect bed-podium, by which you can save additional space. In the drawers mounted in the podium, you can store things, and next to the bed itself to position a pair of bedside tables. The bed must necessarily be complemented headboard otherwise wall will look quite unattractive.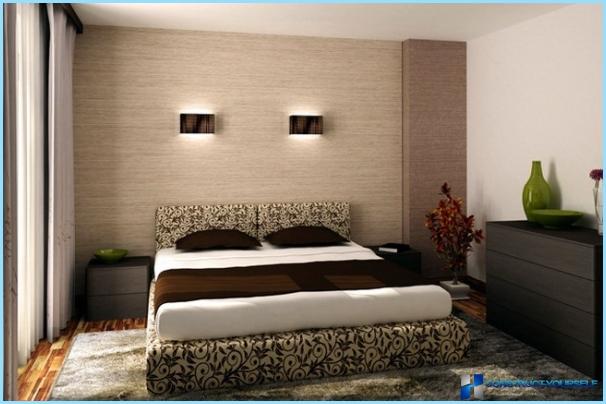 if you put in will be just fine,bedroom closet with mirrored doors that are visually expand the space. Get more free space is possible due to the built-in wardrobe, also equipped with mirrored doors (instead of them also work with backlit stained glass). Its height should ideally go up to the ceiling as it can compensate for its small width and length. Keep things in small niches can be decorated with lighting elements.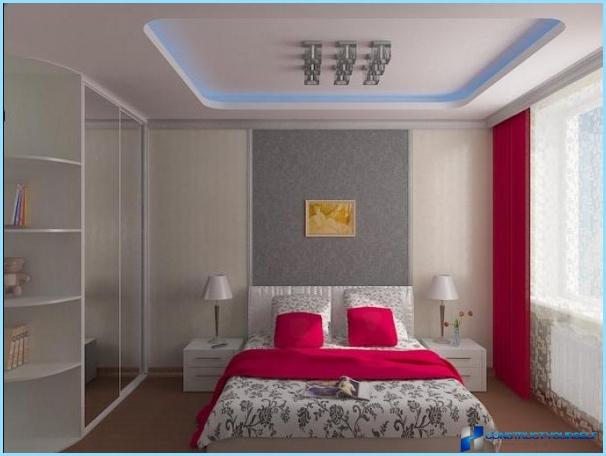 Cabinets and drawers, especially too heavy,in the bedroom is better not to, because the ratio of their functionality and size simply does not allow to place them in such a small room. Instead, use all kinds of bedside tables or shelves that can be positioned along the entire height of the wall. To visually expand the space, with wall shelves can be supplemented with mirrors, lighting and so on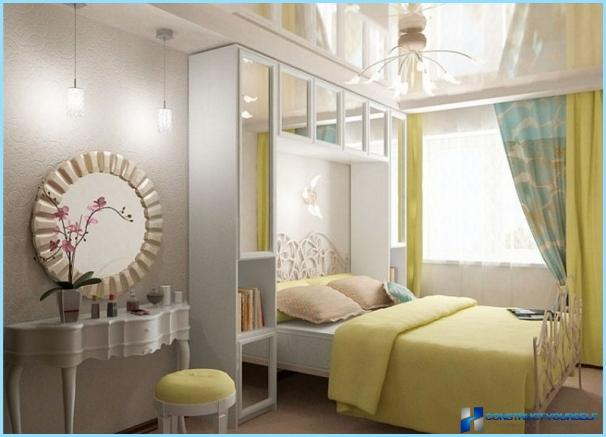 The home team is small and has often wonderon how to increase the space of the room, if you put the right furniture or make a repair is not possible? In this case, you need to get rid of some things that will increase the precious centimeters in the room.
Repair bedroom in a small apartment shouldstarting with the replacement of the existing radiators to the more modern. Old batteries are usually too bulky, and are placed at a certain distance from the wall, thereby taking up too much space. In turn, the battery current thin (but having a large heat exchange surface) and beautifully decorated.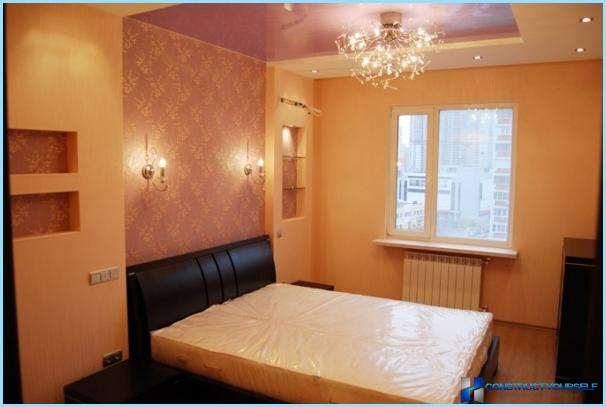 The next step will be the repair of replacement of oldwooden windows with plastic windows. This window will be visually lighter and more compact (ie, will not protrude beyond the window opening).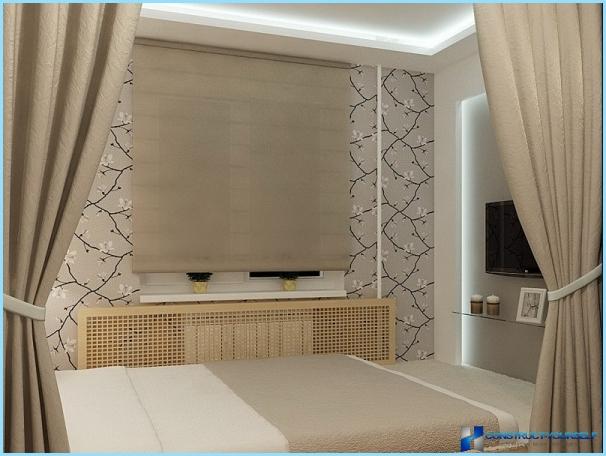 When installed in a small room swingthe door is often not possible to use a specific portion of the space required to open and close the door. That is why the bedrooms in small apartments it is recommended to choose the sliding door opening which almost do not need free space (just a couple of centimeters). When you purchase a suitable door should pay attention to its design - it should be light, complete with frosted glass. This room will be illuminated, which will visually enlarge its size. In doing so, the door will be just as good discourage Review bedrooms, both with and without glasses.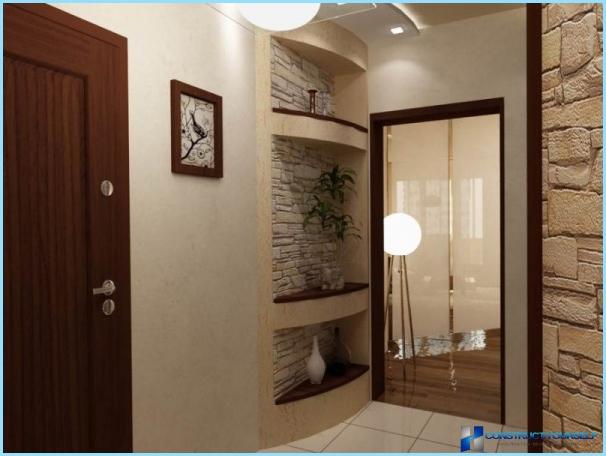 Attention
! Sliding doors is only recommended in cases where the premises do not require additional sound insulation.
These simple tips will help visually expandsmall bedroom space, making it not only beautiful, but also functional. Naturally, you can achieve the desired effect and other means, but it is always worth remembering the mandatory presence of free space, but due to which the room is cozy and comfortable.