Noisy and gray city buildings, decorated under modern style plastic and other synthetic materials. Many get tired of it and dream of coming home to a cosy and comfortable atmosphere, where every detail will delight the eye and relax. Country style is a great way to transform any room of your apartment or house, making it the best place.
Country style implies a rustic way of life. That is, in the design of the room is used all that was applied in everyday life in the villages. To this style belong the French Provence, rustic, Alpine Chalet, and many others.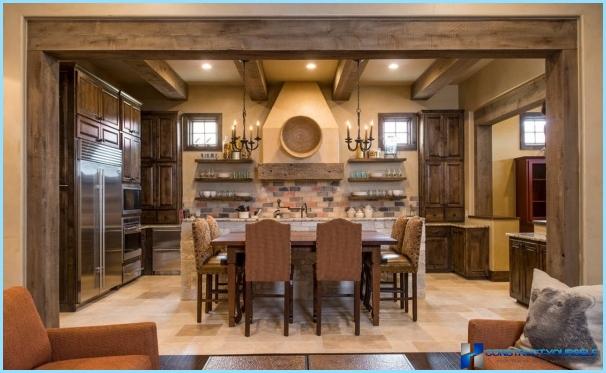 They are all United by a few General details:
the decoration and furniture of natural materials (wood, stone, metal);
the colour palette is also limited by the shades of nature (wood color, chalk, lime, clay and the like);
a lot of textiles, hand made (tablecloths, napkins, towels, pillows, potholders);
objects of national life, for example, if the style of cuisine – Russian country, the quality of the decor used samovars, Zhostovo trays, Russian dolls and so on.
In any case it is impossible to separate materials, which can be seen that they are unnatural, such as plastic, chrome-plated parts.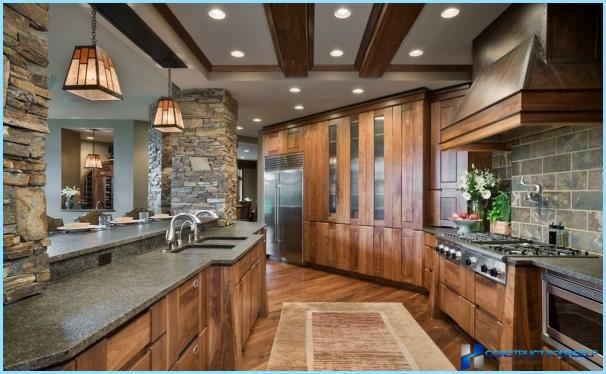 Of course, not everyone has the opportunity to use real wood or stone, as they have a high price. So instead they can use materials that mimic these surfaces. Importantly, they were quality.
On the picture below presents the options for kitchen design in country style.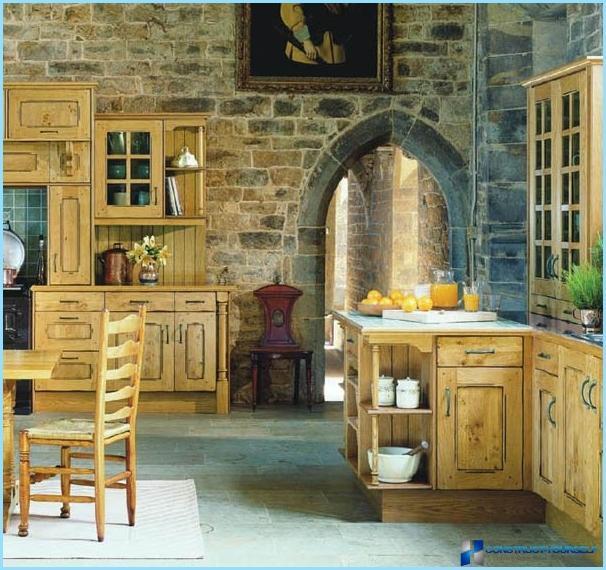 To decorate in the country style can and a small kitchen. The more that country involves simple placement of furniture. It is installed so that it was convenient to use.
Special attention should be paid to the decoration of the walls. If you decide to paint, use warm shades such as beige, cream, olive, pine and other.
The Council
! Part of the brick walls you can not paint, so it will look much more original and unusual.
If you leave all the walls unpainted, the kitchen is visually significantly reduced in size and drop the quality of lighting. So this option is better to combine with another finish.
Decorative plaster is also ideal for small kitchen design in country style. Walls get rough, which emphasizes the rustic way of life.
Wallpaper texture should resemble fabric, so it's best to purchase vinyl or corrugated. For kitchen in country style, you should choose the Wallpaper neutral shades, with small flowers or ornaments.
Ceramic or porcelain tile is perfect instead of stone. To make it possible as the apron and any part of the walls.
One of the best materials for the walls of the kitchen in country style – wood. Only this material and can convey the mood of rural life and the extraordinary heat.
The ceiling is painted white or other light colors. The surface does not need to be sanded, as all the irregularities and roughness are welcome in this style.
Whitewashed ceiling with wooden beams, or completely decorated with wood – both of these options are ideal and fully accentuate the rustic style. But the last case is not recommended for use in a small kitchen with a low ceiling, as wooden ceiling visually reduces the space.
But if, nevertheless, decided to decorate the tree, use the paneling white.
Suitable for kitchen, country-style suspended ceiling, desirable matte color. The installation will take away from the room height only 4 cm.
Floor design of kitchen in country style using wood, stone or tile. Wood can be substituted floorboard, as in appearance it is very similar to her. Also used laminate or linoleum with wood or stone.
Instead of stone it is possible to use porcelain stoneware tiles. Colors are selected natural and classic pattern.
The Council
! If the kitchen is connected with living room, looks very interesting, a combination of several materials, such as tiles in the working area, and the tree in the dining.
Hardwood floors or minimally treated to all the natural qualities remain the same, either paint or varnish.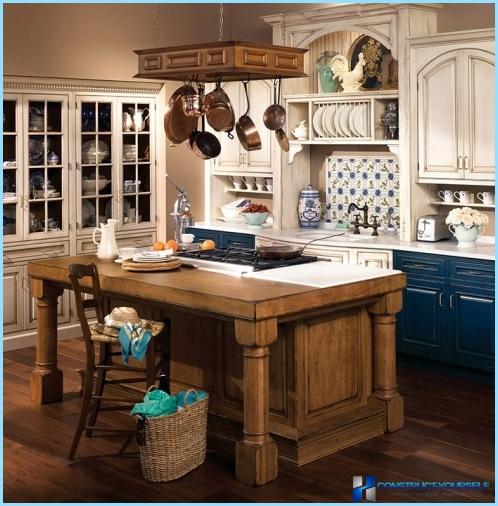 Furniture as well as kitchen decoration should be made from natural materials such as wood. The texture of the wood should be well vary, including knots and cracks. Even better, if the furniture is made by hand.
It is important
! The shades of the furniture should match the color of your finish the kitchen.
Original and will look beautiful wicker furniture.
Wood for furniture is light (beech, pine) and dark (oak, walnut). Can be painted in light colors, like white or gray-white, and a hint of mint. But it is not necessary to use the colors cherry or mahogany, as for the country style is inappropriate.
Shade should be chosen depending on room lighting. So if the kitchen has only one window or without them, and also located on the North side, then, of course, it is better to use light colors. And in a brightly lit room will fit furniture of various shades.
Furniture can have panels, thread, glasses. Fittings are cast and a little rough.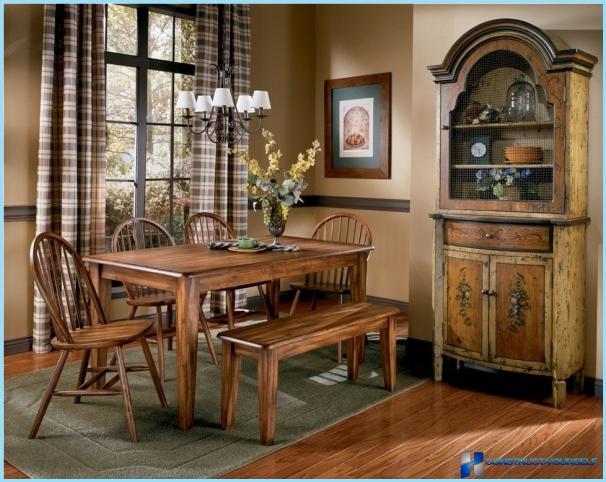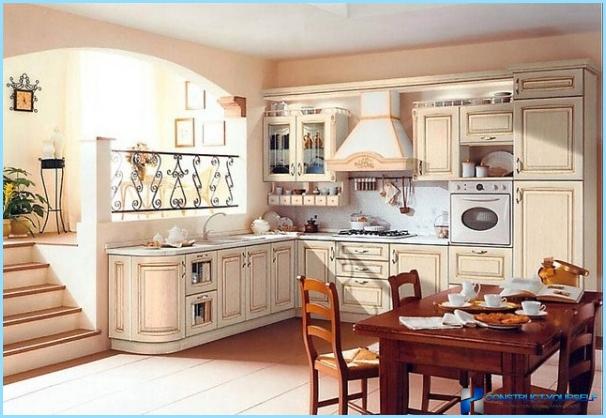 Many people purchase for the kitchen in country style garden furniture, such as benches and tables with a cross support.
Country style in the interior of the kitchen assumes the presence of open closets and shelves. All banks with spices and other utensils should be on the mind. Including dish drying rack.
You can certainly use glass in the doors, but it must be absolutely transparent.
Placing special cabinets, you can create an illusion of the furnace. Hob and extractor can simulate a fireplace or stove.
The technique is best done integrated and unobtrusive. But if embed is not possible, you should purchase equipment in retro style. Or decorate decoration, for example, using the technique of decoupage or paste stickers. Suitable drawings of vegetables, berries, flowers and the like.
Shell selected a simple shape, taps are old-fashioned. The wall behind it tiled.
The Council
! In stores pay attention to the collection of sanitary ware and parts of it made in a certain style. In this case, do not have to select each item separately.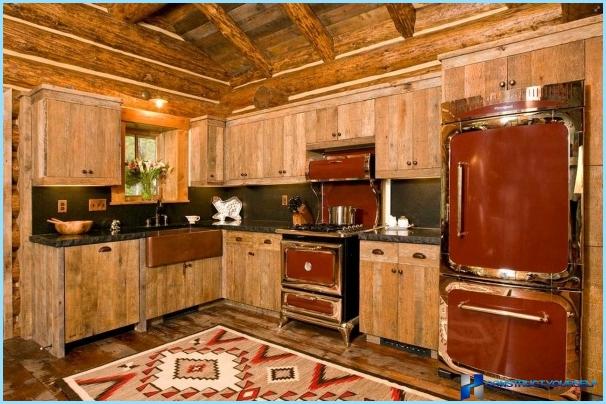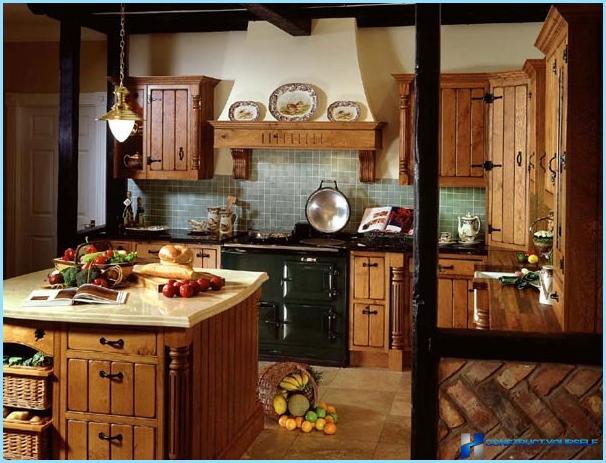 Correctly selected curtains or blinds for kitchen in country style can change the entire atmosphere of the room. Curtains with flowers, plaid or striped, polka dots or just one tone, will make your room a positive mood and help you relax.
You can use Roman blinds, and roller, as well as tulle. Gorgeous and richly overcame curtains with lambrequins.
Attention
! Fabric for kitchen in country style, you need to use only natural and natural shades.
In the photo below you can see the colours of curtains for kitchen in country style.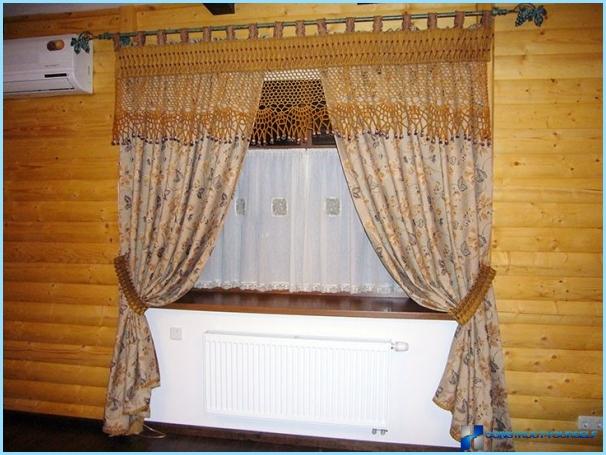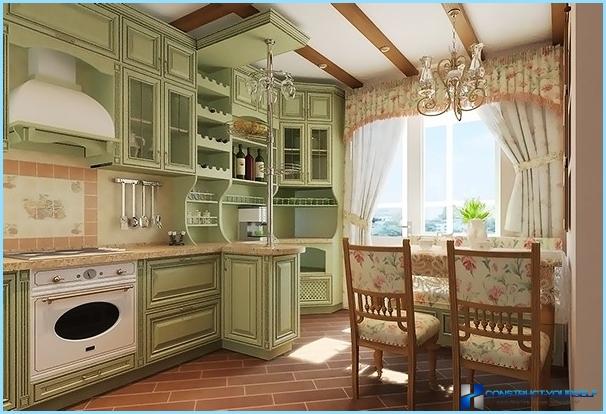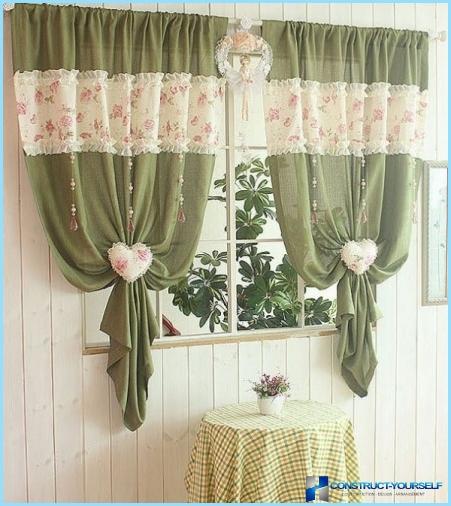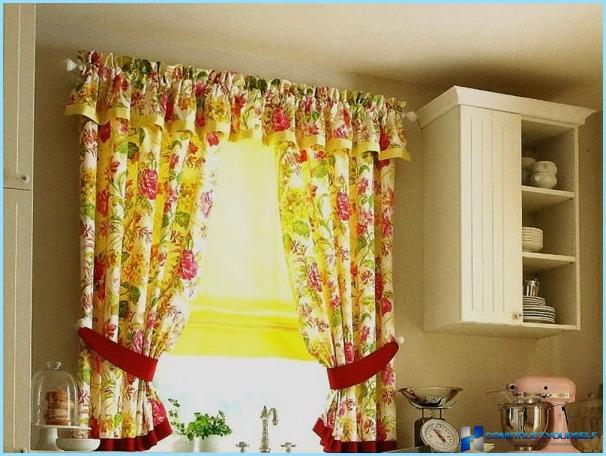 On the windowsill is better to put flowers in pots or boxes. Especially beautiful they will look, if you decorate with a pattern using the technique of decoupage.
If tables, chairs or any other furniture is outdated, cracked, or even some flaws, you should cover them with cloth covers or napkins. Moreover, they are made should be of one or more matching fabrics, even better if they are created by your own hands.
Open shelves and closed cabinets curtains with embroidery or lace.
On the floor lay carpets (patchwork, braided).
Utensils for the kitchen in country style also should be made of natural materials, not plastic. It is best to use a ceramic or pottery, with patterns, flowers or berries.
Many people recommend to purchase for the kitchen in country style tableware brand Terracotta. The manufacturer produces a special series of dishes in a variety of styles and uses only safe materials.
Old sets, vases, iron or wooden jars with different spices, figurines (porcelain, earthenware), puppets, pots – all this is great to decorate the kitchen.
Vases filled with either live or dried plants, but in any case not artificial.
Walls can be decorated linen bags with embroidery, cords with vegetables (garlic, pepper, onion) and herbs. Collection of decorative glassware perfectly complements their.
Interesting look on the walls, candlesticks and kerosene lamps, clocks, paintings, hand made.
Near the walls put old trunks or boxes.
The most harmonious accessories for kitchen in country style is made things with their hands. For example, a wicker basket. They not only beautify the appearance, but also perfectly retain the quality of the products.
Every detail needs to look natural and just.
The photo below shows how beautiful and original look different accessories, hand made for the kitchen in country style.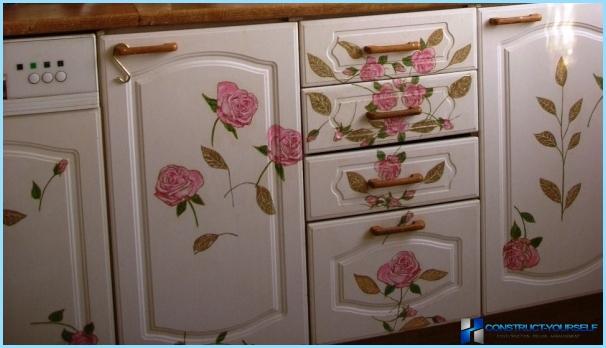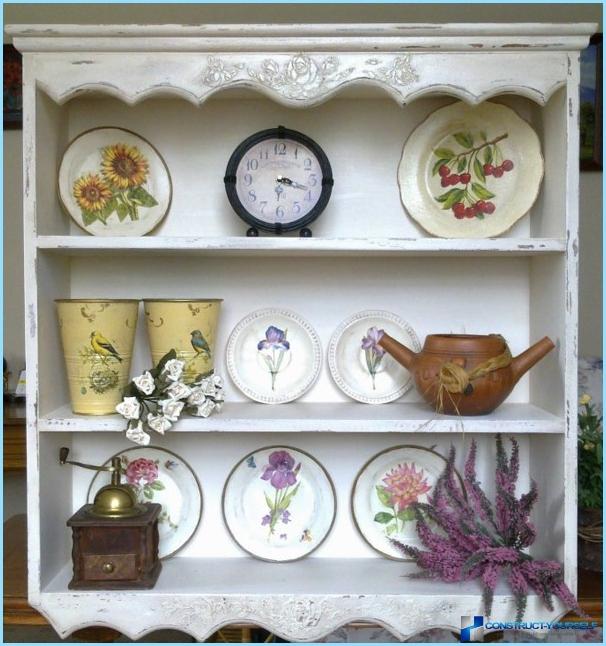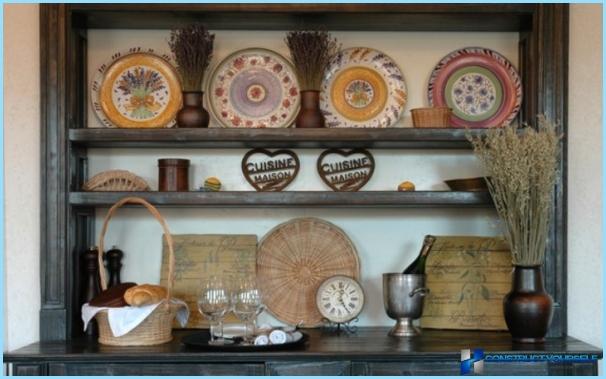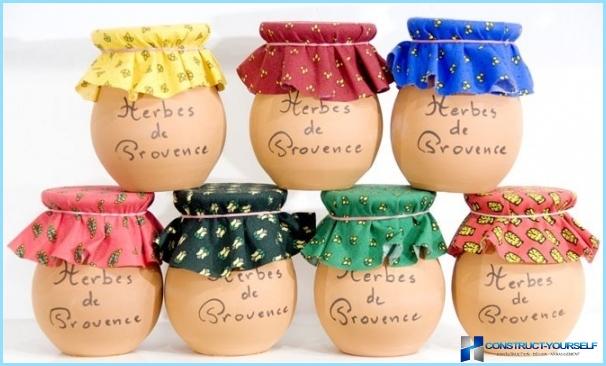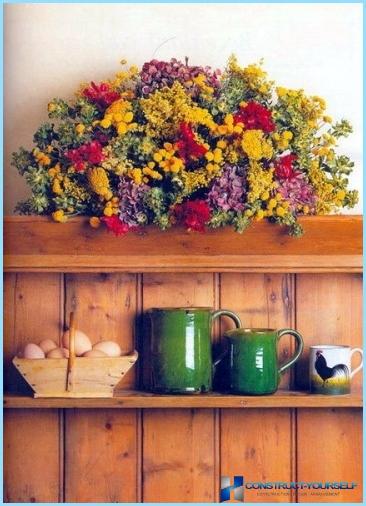 In addition to the natural lighting hang chandelier over dining area, and install lighting in the working area. In shelves with beautiful things, too, can incorporate a backlight.
If the walls are still open, you can put sconces.
Most suitable chandelier for the kitchen in country style – Tiffany chandeliers, simulate candlesticks, lamps or lampshades.
To equip the kitchen in country style in the apartment, and in a wooden house. Most importantly, the desire to act, to change your life for the better. Moreover, the kitchen in this style gives all the joy and warmth of family hearth.
But if it is not possible to decorate the whole kitchen, you can add any accessories in country style, for example, kitchen utensils or curtains.
Content related