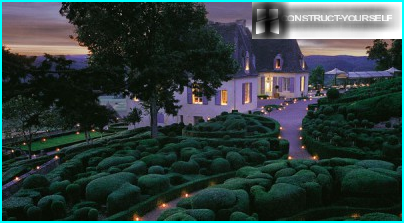 Landscaped area, decorated with lots of greenplants and framed by openwork fence, which seemed woven from the leaves and flowers of fancy - the pride of any owner. Climbing plants for the fence as if specially created by nature in order to become a worthy ornament of the site, change and transform the face of the garden. Climbing plants - an important element in the landscaping area, because they can bring greenery and blooming in those places where other plantations would not be enough space.
Content
Twine plant for a fence - the universal elements for landscaping. After all, they can be used to solve multiple design tasks:
Decorative. Curly perennials are not only able to "dress" the fence: they decorate the low buildings and fences, as well as delicate pergolas, trellises and arches.
Masking. Designed to decorate the twine plantsunsightly elements of the exterior. They allow you to transform the unsightly walls of barns, hiding small surface errors, compost containers and barrels to collect rainwater.
Covering. Fast-growing plants, buzz wallfence, help protect against street dust and noise, providing site owners peace and quiet. They are planted along the fence, outdoor areas and pavilions for saving shade and pleasant coolness.
It should also be noted that the creepers visually enhance the garden area.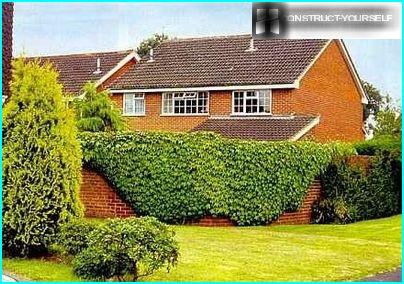 With the help of climbing plants you can create a multi-level structure through which visually enlarge the area of ​​the garden
The most attractive and popular amongMost gardeners representatives curly flora - climbing roses. Variety selection of these plants, with the most incredible colors and shapes is simply amazing.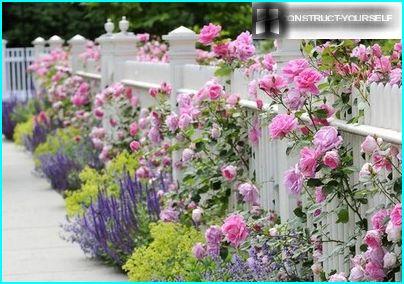 By selecting a successful combination of varieties, you can create an unusually beautiful fence that will delight and a gorgeous blooming marvelous scent is not one year
Unpretentious in the care of a plant can be diluted toyour site even a novice gardener: it is enough to plant a bush at the illuminated areas with fertile soil, and then only periodically fertilize and abundantly watered rose. Although climbing roses and does not need special care, but in the autumn with the onset of cold weather, they still require additional trimming and shelter.
Most varieties of climbing roses bloom in the first half of June, delighting extraordinarily beautiful blooms for 3-4 weeks. The remaining months of the fence is decorated with a dense foliage of plants.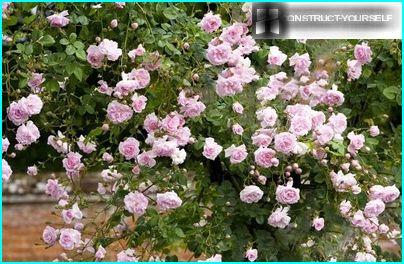 Climbing the beauty of New Dawn, a three-meter whip studded with lots of delicate pink flowers, can blossom throughout the summer
Sun-loving plants are the most decorative and flowering splendor show only well-lit areas.
Not less popular among ownerssuburban areas are clematis. The large star-shaped flowers, pull-down on the shoots in the first weeks of summer, do not cease to admire its marvelous flowering until the autumn.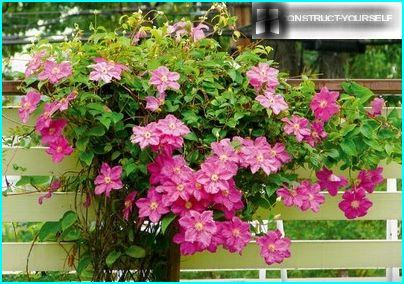 Beautiful flowers, densely covering the shoots, are able to create a continuous carpet, dotted with "stars" of white, pink, blue and purple hues
Clematis need fertile soil and sufficient illumination area. When you create the optimum conditions and skilful pruning of shoots, flowering clematis can shed up to the first frost.
Among the charming exotics can identify a numbervarieties adapted to changing harsh winters. Key among them: dolgotsvetuschaya Ballerina? with elegant white flowers,? Nelly Moser? with pale pink petals decorated with bright crimson stripe? Nikolai Rubtsov ?, whose petals are framed by several circuits, thereby creating the effect of "a flower in bloom."
Creeping vines - perfect for decorationfence. With little suckers, roots, they are able to conquer any height freely sheltering solid fence 3-4 meters. The most picky among the creeping vines: Chereshkovaya hydrangea, honeysuckle and Trumpet. Plant them in the spring or fall along the fence or support, the next season can be seen as a powerful confidence stems vines climb a vertical surface, sheltering fence green carpet.
More Articles Liana for the garden: an overview of the most hardy varieties of climbing and choose the best varieties of climbing plants and flowers for the garden design tips +
Chereshkovaya Hydrangea - beautiful lianovidny shrub, reaching a height freely from 8 to 20 meters.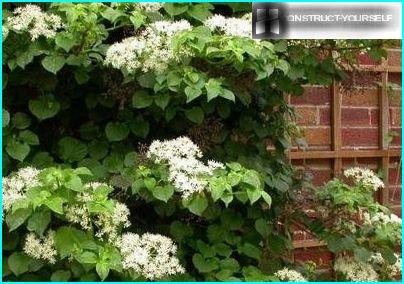 Against the background of green leaves egg-shaped impressive look pinkish-white flowers are collected in paniculate inflorescences
Among the most attractive varieties can behighlight: Miranda ?, which leaves decorated with yellow and cream border, as well as oakleaf hydrangea with lush buds conical and dense foliage, autumn colored in shades of rich purple.
To decorate the solid concrete, stone andbrick fences perfect wisteria. Light-requiring vine adorned with white, lilac or pink clusters of miniature flowers, capable of even the most nondescript fence transform into a spectacular site fencing.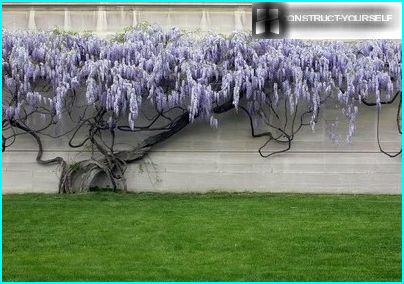 Collected in racemose inflorescences marvelous flowers, blossoming in early May, completely overshadow the foliage and veiled fence
In landscape design most widely used:
Chinese wisteria - Reaching 20 meters in height. In the summer months is decorated with loose clusters of pale purple flowers, exudes a fruity aroma;
profusely flowering wisteria - Is characterized by a large amount ovate leaves and white inflorescences pomp descended. The branches of the plants original twist in a clockwise direction;
Japanese wisteria - One of the most spectacular vines whose branchesIt reaches a height of 8-10 meters, twisting clockwise around the support. Dense-flowered inflorescence with lilac-blue and white colors reach a length of 50 cm.
Thermophilic Trumpet vine is known to manygardeners because of the unusual orange flowers that looks like a small gramofonchiki. Blooming in the second half of June, vine happy elegant flowering until the beginning of autumn. She was scary no adversity: climber safely tolerate temperatures down to -20 ° C.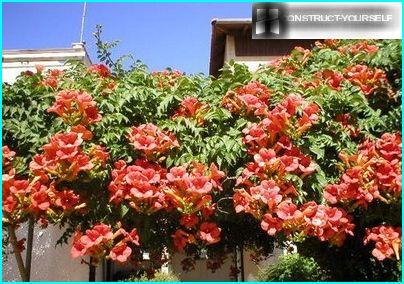 The main advantage of this multi-year vines is dymoustoychivost and gas, as well as excellent resistance to urban conditions
When growing plants should take into account itsthe ability to grow rapidly, conquering territory from weaker "neighbors". Timely pruning and fertilizing will help to maintain a compact shape and ornamental plants throughout the season.
Undemanding plant honeysuckle capable notonly to decorate the fence, but also bring a special atmosphere, create a mood. Honeysuckle is widely regarded as a champion of unpretentiousness. Curly beauty prefers sunny areas, but moves freely and penumbra. It is not demanding to the composition of the soil, but gladly responds to the rapid growth and abundant flowering feeding on organic fertilizer.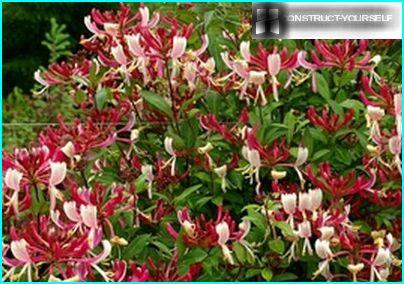 Exuding during flowering subtle sweet scent of honeysuckle is capable of doing a country station likeness of paradise
Extraordinarily beautiful honeysuckle flowering period,which falls on the first month of summer. Collected inflorescences delicate flowers may have the most incredible shades ranging from pale white and yellow and ending with a spectacular combination of pink and orange. The greatest attraction of different sorts:? Serotina? with bright red and crimson flowers, honeysuckle Korol'kova with pale pink buds,? Grahm Thomas? with cream and golden-yellow flowers.
It does not require special conditions for growingParthenocissus attractive primarily openwork foliage, which in the autumn, as if under the artist's brush, painted in surprisingly beautiful shades of burgundy and red.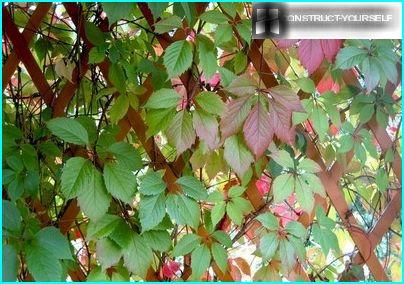 Deciduous vine is capable of only one year to grow up to 4 meters, covering a large area and form a dense fence Plant
From spring to autumn fences entwined with delicateshoots with openwork foliage, look just fine. Caring for plants is only timely pruning, preventing overgrowth and thickening vines.
Ivy is growing rapidly - a popular landscaping element. According vitality and unpretentiousness ivy can give odds to any climbing plant.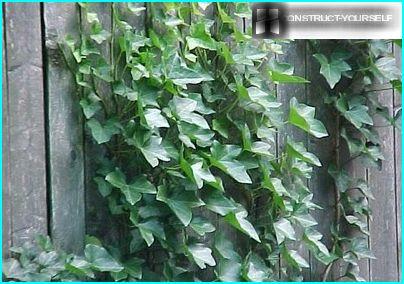 Evergreen, curly forming thickets, able to maintain a decorative attractive all year round. Ivy is perfect for areas with temperate mild climate
Overgrown with ivy walls of the fence are the perfect backdrop for the spring, the daffodils and tulips and annuals: gladioli, coreopsis, roses.