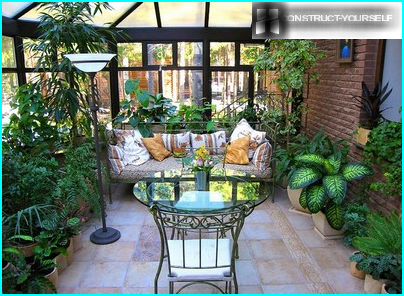 In any garden with fruit and decorativeThere are areas of trees, most of the time in the shadows. Some of them are obscured by time, so the grass and the flowers are deficient in sunlight. To the delight of gardeners, there is a large category of plants that are thriving is in an unlit area, - a shade-loving perennials for the garden, through which you can create a beautiful floral and herbal composition.
Content
Depending on the location of the flower bed, its significance and extent decorative plants group can be divided into three categories:
classical compositions;
natural areas;
accent beds.
On the small edges, along paths and fences, thenthere are in places with an open outlook, arranged classical compositions created for the decoration of not sunlit areas. This is a series of variety of herbaceous plants with decorative leaves and shade-tolerant flowers for the garden, developing and gaining color for several years.
Natural areas are located on the periphery ofthe main goal - to fill in the empty space and to prevent the emergence of weeds. For the natural growth of ideal planting vinca, Brunner Siberian, lungwort, lily of the valley, Dryopteris.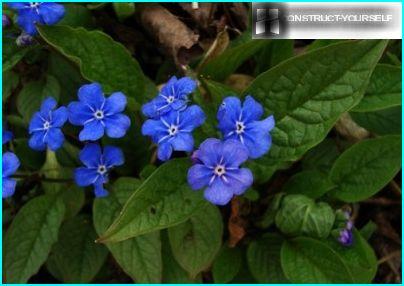 The lightly shaded conditions perfectly develops and blooms Brunner - a beautiful plant with blue or blue flowers, like me-nots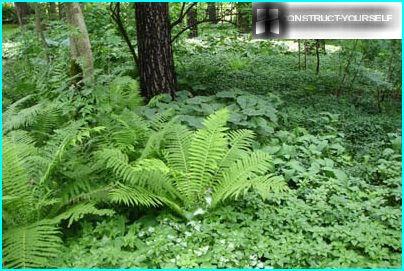 Also shade-tolerant flowers in a natural area using plants with decorative leaves, which are ideal to simulate the wild, natural cover
The central areas of the garden and recreational andoften located in areas hidden from the sun, so for them there is a selection of accent plants, which are beautiful flowering and ornamental foliage: devyasily, Japanese anemones, Rogers, Black cohosh, Astilbe.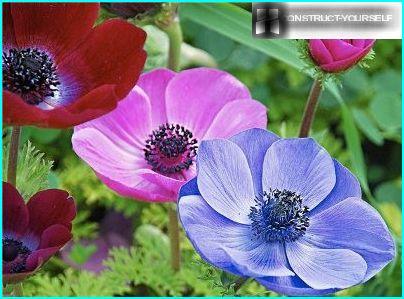 In shady places usually grow flowers with pale color petals, but there are exceptions. Multi-colored anemones - it is an opportunity to create a bright floral arrangement on a darkened area
In early spring there are primroses, delicate andmodest, which pleased with its beauty during the month. These include the European erythronium, different varieties of snowdrops, Proleski. Later hatch Jefferson doubtful, hepatica and wood anemone (Anemone).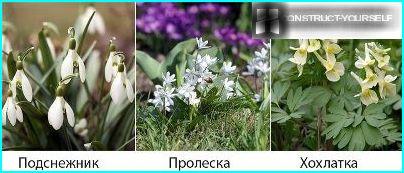 Primroses actively breed self-seeding, so during flowering should identify new lesions and monitor their distribution on the territory of the villa
In late spring the ruby ​​appear beaterslumbago ordinary and tiny flowers soldanella. Against the background of low shrubs uvularia looks great, like a bell with yellow buds and silver foliage. Yellow Carpet create and spring celandine, blooming small rounded bushes. It is usually alternate with fern. Bright composition can be composed of saxifrage, primrose hybrid phlox and creating a dense cover of flowers.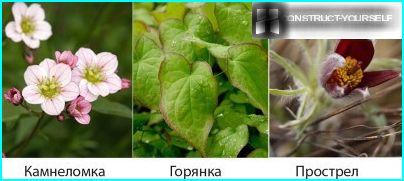 To create a spectacular flower garden suitable Saxifraga rotundifolia - bushy plant with small white flowers and bright green foliage of decorative
The summer period is marked by the flowering of martagona(Lily martagon). If it does not differ the original landing luxurious buds, but all will look more beautiful in the coming years. Among the lilies there are varieties that reach one and a half meters in height - this factor must be taken into account at the time of landing of plants. Land for low-lying tree canopies are not suitable. lilies companies can make the bell and point Corydalis winding, which are also for the most flowering chose the warm summer months.
The first years of the cold does not like shade-lovingcolors, so in early autumn open their buds are just a few of them. The model is considered late flowering kirengeshoma palmate with large decorative leaves and flowers, bells.
With the help of plants of different heights and colors can becreate original compositions. Of course, they will not be as vivid and lush as, for example, rose bushes, but still able to charm his modest charm and gentle shades.
This is an example of non-standard sample composition. For planting the plants are taken, different height and color scheme, and are planted in the flower bed with dimensions of 2 mx 3 m. The final form of flowerbed receives only after 2-3 years, when the plants reach full development and gaining maximum color.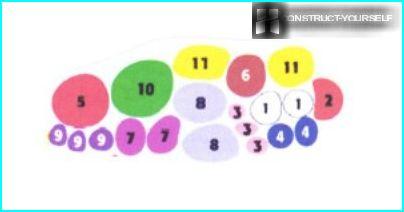 1.Anemona Dubravnaya. 2. astrantia. 3. Lily. 4. Corydalis. 5. Dicentra. 6. digitalis. 7. Geranium versikolor. 8. Geranium great. 9. hepatica. 10. Host. 11. Dryopteris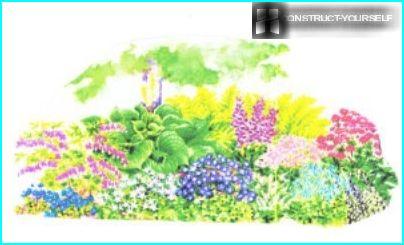 Plants are planted, depending on their size: in the background, the higher the flowers in the Middle - and cover fillets
Plants bloom at different times, one afterthe other, resulting in a flower bed looks presentable throughout the summer season. Suppose flowering anemones and Corydalis time - the end of April, lily of the valley - the beginning of May, Dicentra - June astrantia - July and August. Many varieties of geranium buds are spreading actively throughout the summer.
A special role belongs to such plants asHost and Dryopteris. They decorate a flower bed do not flower and leaf plates. Decorative foliage of different hosts a bluish tinge and a unique "waffle" texture, and pinnate leaves Dryopteris - scaly texture.
Known varieties of bulbs - daffodils,tulips, hyacinths - can be used as a bright accent in natural areas shade-flowers for the garden. They decorate the land at that stage, when the perennials have not yet blossomed. To faded bulbs will no longer spoil the picture, they must be carefully dig and plant in the fall again for the winter. There is another option: grouse, tulips, daffodils, crocuses well tolerate the winter without a transplant, and the next year encouraging more violent flowering.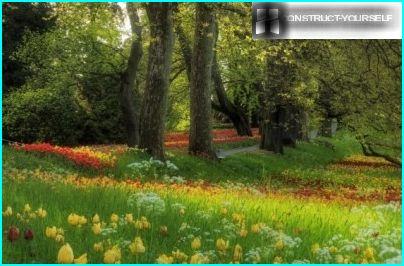 In addition to perennials, tulips can live together in the gardens, copses and parks, despite a minimum of sunlight and seeding density
Together with the tulips look great blueme-nots. With several varieties of tulips and forget-me-you can create a multi-tiered composition on the background of decorative shade-flowers-perennials they will look more impressive. Do not forget about marigolds they tolerate shade well and have a protective aura Phytoncidic useful for tulips.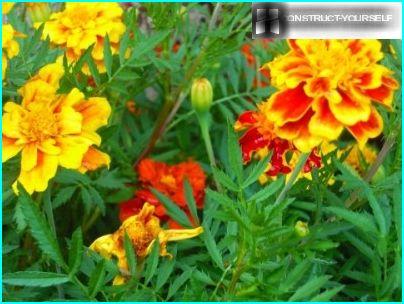 Marigolds thrive and in open areas, and in the shade, so they are very fond of gardeners to dilute lawn decoration shaded areas and borders
Grass Lawn loves sunshine and abundantwatering, so not every seed mixture suitable for shaded areas. Excluded Moorish and sports turf, but the presence of fescues in the mixture can be very useful. Grades fescues are numerous, so are recommended for each region, its most suitable species.
For example, red fescue stiff fineIt carries a deficit of solar colors, but does not like even a short period of drought, so it should be planted only with frequent watering. In addition, it is susceptible to fungal diseases and restores long root system is damaged. Festuca longifolia, on the other hand, is easy to apply to the drought and is not afraid of disease, so it is good for sowing in hard to reach places, requiring a minimum of maintenance.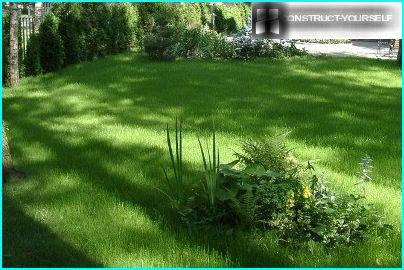 Red fescue is ideal for creating the foundations of a lawn shaded areas: it is unpretentious, is growing rapidly and is able to replace other types of lawn grasses
Related article: Features of the use of ornamental grasses in landscape design
Creation of compositions of flowers for shady garden- An art that requires knowledge and patience, but the result exceeds all expectations: on the site of a vacant lot there is a blooming garden, and in the farthest corners of the beds there are amazing.
Video 1:
Video 2:
Video 3: