In the houses of the small apartments are very smallliving space and all the rooms a little apartment. The bathrooms are also not allocated size is often 2-4 sq. m and not larger than 2.5 meters in height. And in this area need to fit sanitary ware, decorative elements and necessary detail.
When planning a renovation in a small bathroom, it is necessary to know the wishes of all family members and it is desirable to outline a plan:
How to place a plumber
Where and how will light
What are the elements of decoration will be present
What materials would bathroom
Of course, you can turn to the designers, theymake your bathroom, taking into account all the wishes, functional and comfortable, and will take into account the budget, but it is initially quite expensive and not everyone can afford.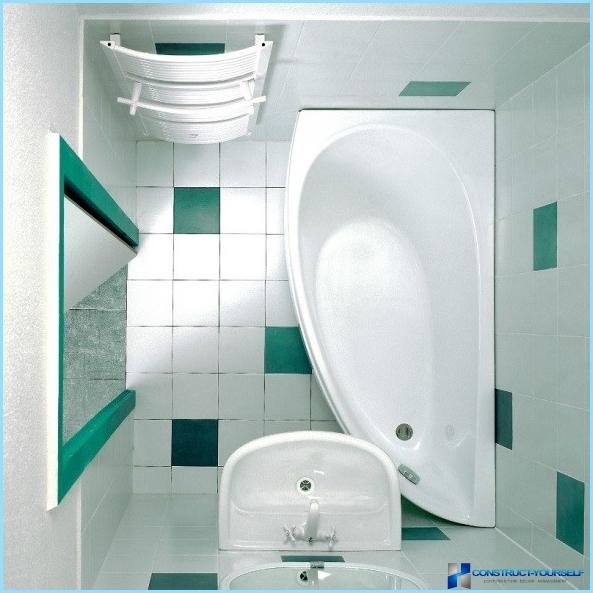 To expand the space in a small bathroom can bein several ways, for example, install shower cubicle. Even more increase room mirror cabin door. But not all households may agree with the lack of a bath. Women love to soak in the bath, and children bathe in it is more convenient, but the older people because of age, it is more convenient shower.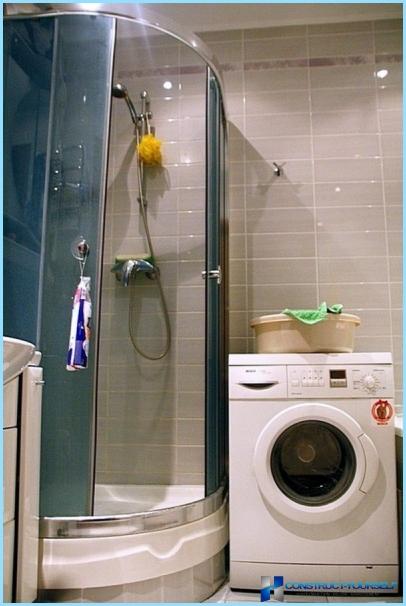 A good solution is to install a cornerbath, it is not only visually expand space, but also give more space. Due to this, in the bathroom, you can put the washing machine or additional lockers for storing bath accessories.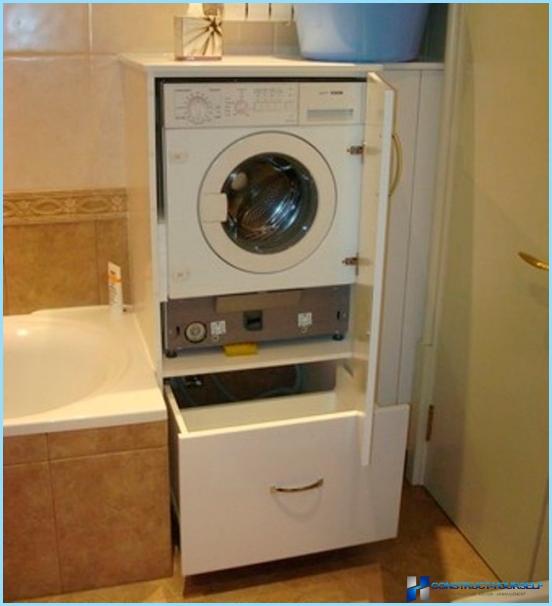 A wide range of shells, will pick up the mostconvenient option. It can be mounted as a sink, and a small corner. Ease flat hinged shell that can be installed underneath the washing machine. In the extreme case of the sink, generally can be waived, but it bears behind itself its own difficulties.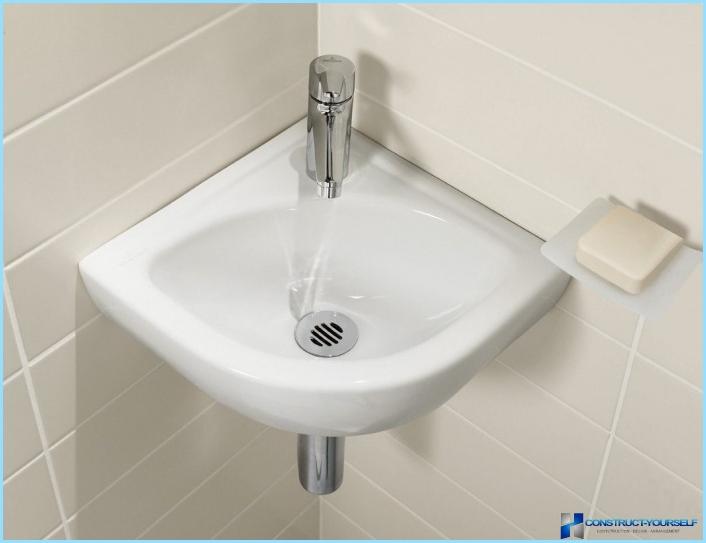 Many modern systems useinstallations, which do not only extend the room but also conceal the tube. Such systems are fixed to the bearing walls, so they can easily withstand the load. With their help, you can make a niche in which you can hide, such as the washing machine or to install plumbing hinged.
To clearly understand how the system works installations in the bathroom, you can watch the video
When decorating the walls in the bathroom oftenuse tile. It is convenient to use and by selecting the right pattern, you can also expand the space. The tile in the bathroom choose light shades of green and blue, are also relevant beige and white colors.
Good will look combined colorsseparated rim. When choosing a tile with a pattern, it is worth remembering that a major figure steals space. Many create their own pattern, inserting a small mirror. They are well expand space, but also require extra care.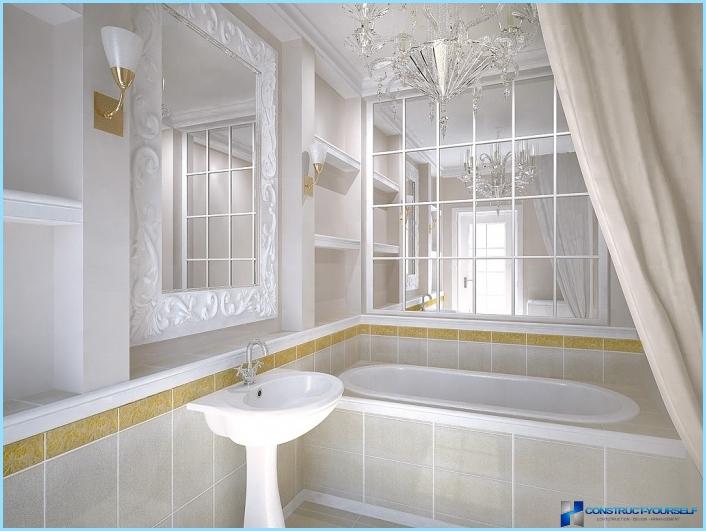 Pastel colors, make it possible, withtime to change the style of the bathroom. One has only to change the color of bath accessories and you have a new room. In addition, these colors can soothe and relax while lying in a bathtub.
Council
! In a small bathroom should not putlarge tiles, as in the cluttered room will be visible only joints and not the tile and its image, and it can reduce the room. Experts advise to choose the tiles are not more than twenty centimeters.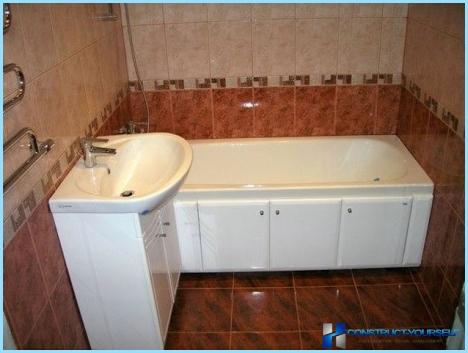 In the process of vertical tiling, room visually drawn up, with horizontal - breadth. A good technique to lay the tiles diagonally.
Many prefer a mosaic, but it is worth remembering that it should not be too bright or dark, as it can quickly get bored, and besides her clearly visible soap stains.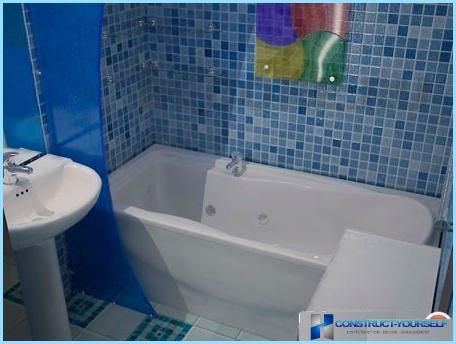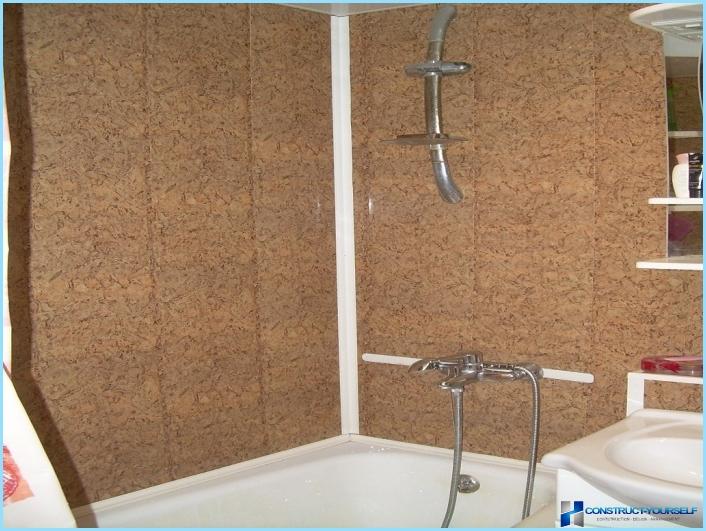 Often used in the decoration of bathrooms, plastic panels. It is quite advantageous in terms of finances, but the finishing panels are lost, as desired, centimeters premises.

Cutting-edge material - stone flexible, easy to use and very handy in the bathroom, but it is quite expensive and not everyone can afford to be.

The rarest type of finish - is the wallpaper. Washable wallpaper, more suitable for those who are not planning a quick overhaul. A temporary cosmetic - is ideal.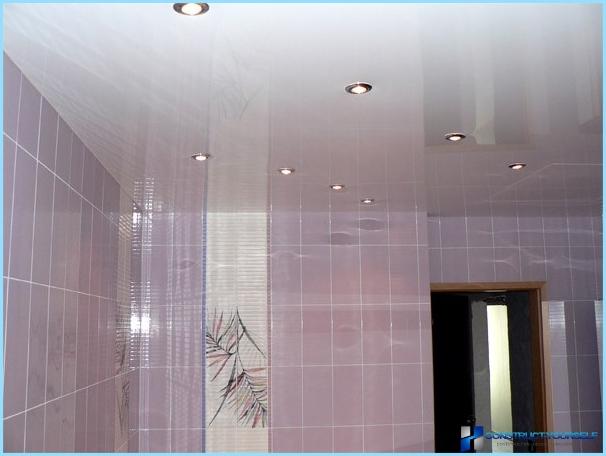 Nowadays, most of all, for finishing the ceilingbathroom used ceilings. They are comfortable and easy to handle, and go well with tiles and other types of finishes. They were easy to hide and highlight them visually expand the room. For the bathroom, where the roads every centimeter of space, glossy ceilings are well suited.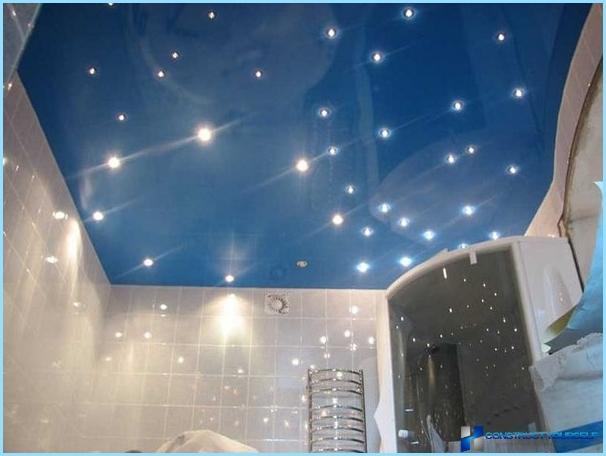 Also, use moisture-resistant gypsum board. He does not dampen and will last for a long time. The ceiling can be made as flat and multilevel. Less of the ceiling in the financial expenses, as required for the installation of more frame of the profiles.
The ceiling panels made of plastic and is simple to assemble, and care for him. It will last for a long time and does not require additional costs.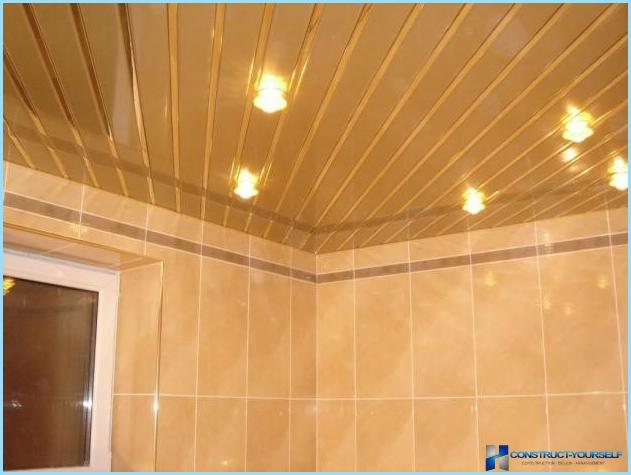 Mirrored ceiling good for the expansion of space, but it is quite expensive and its maintenance is problematic.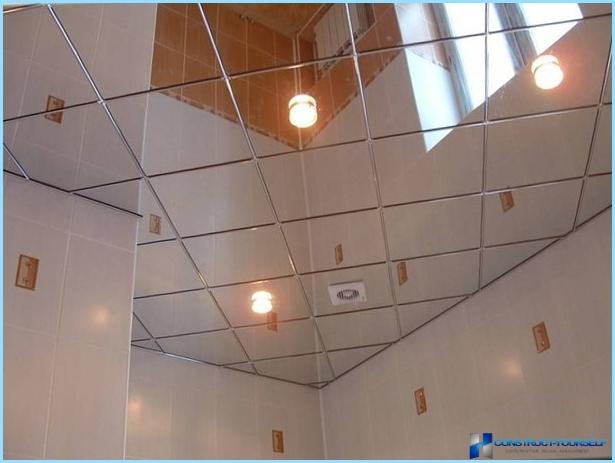 The easiest and cheapest way of finishing the ceiling,it is considered an ordinary painting. It is easy, convenient, and you can always change the color or to update it. Suitable water-resistant latex paint or acrylic silicone-based.
Council
! Click to enlarge room space and ceiling height will help a good light.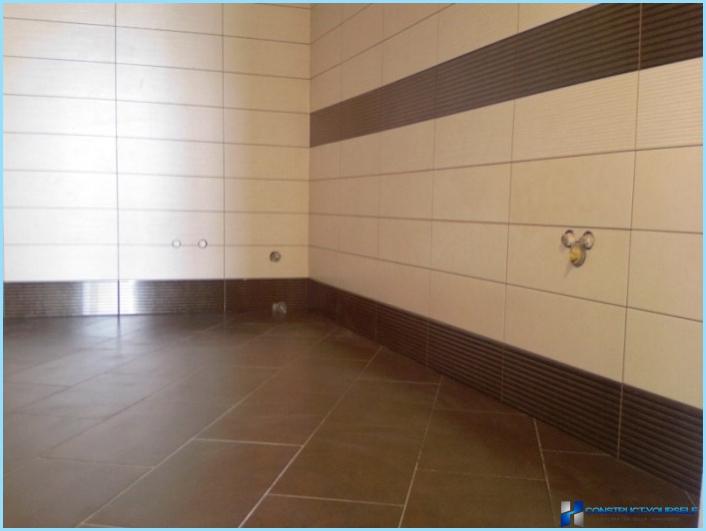 The floors in the bathroom, of course, betiled. After him it will be convenient to take care and use, properly lined pattern on the diagonal, to expand the area. Additionally, it is possible to install underfloor heating. They are safe, do not take up much space and stabilize the humidity.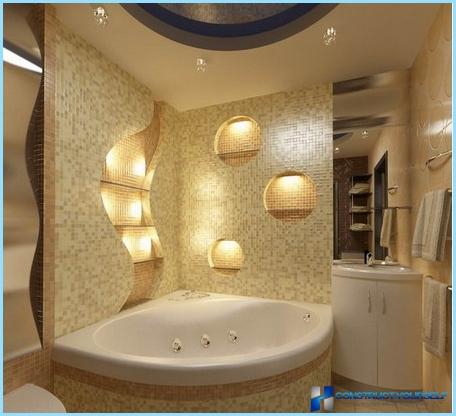 Starting repairs in the bathroom, you first need to prepare it:
Disable plumber (bath, sink) and to make it so as not to interfere.
Remove trivia, decor elements and ceiling.
Clean the walls, ceiling and floor of the old finish.
Replace the old pipes, small, you can hide, deepening wall. Large gypsum pipe hidden boxes or system installations.
Distribute, where there will be lamps and lighting, to prepare the socket.
Align the walls, floor, ceiling and corners using plaster.
When the plaster has dried (2 -3 days), you can proceed directly to the repair of:
laid tile on the wall. We place, starting from the corners, strictly on the level and number of departing one floor. Between the tiles set specific crosses governing seams. Then plastered joints and grouting in a couple of hours, when it dries, remove excess.
If the idea of ​​a warm floor liked itlaid on the finished screed as cable systems, the top layer is put tile. There is an option - heating mats. They do not require a tie and placed directly under the tile. Their negative - higher prices. Tile select darker color than the walls and laid on the diagonal.
Cheap and easy way of finishing the ceilingIt is painting. Also, you can inexpensively install plastic panels are attached with nails or conventional construction scrapie to crate and behind them can hide the bumps, wires, pipes and backlighting.
After all repairs setplumbing. Her chosen in advance, and it is under repair and chosen colors bathroom. Well thought-out storage space, it is better to make to order, taking into account every available centimeter.
Installing plumbing and furniture, go to the very nice - decor. Choose curtain hooks or towel, important details, such details will complete the repair.
Important
! Provision should be under low voltage and meet the standards of fire safety.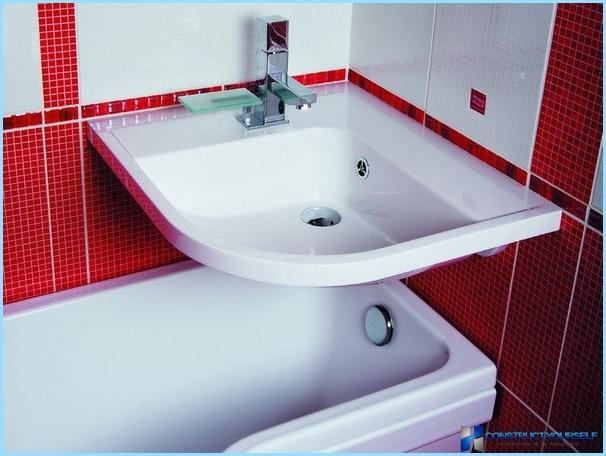 Small bathroom, as it turned out, not yetreason to be upset. With a strong desire and rich imagination, even two - three meters, you can create the bathroom of your dreams. The main thing to choose the right color scheme, and to determine the fixtures. And, of course, do not forget about the little things and design techniques that create a pleasant atmosphere.
Properly coordinated elements allow for many years to enjoy and relax in a bathroom.