The main scourge of both Soviet and modernApartments - a small toilet. Sometimes the room area does not exceed 2 meters square. A little more luck to those who have WC. In this case, the total area of ​​a little more options and its environment more. But in the small "box", with the right approach can be comfortable enough to equip a room.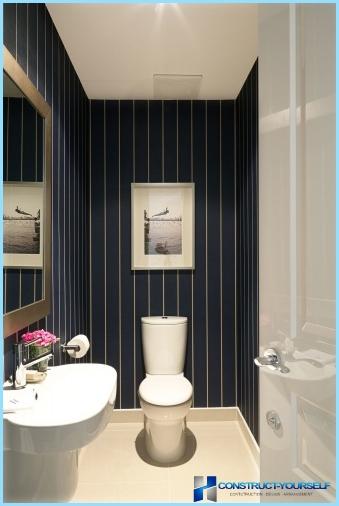 Sometimes equip the room is better to start from scratch. Despite its modest size, the work to be done. Usually overhaul consists of the following steps:
The alignment of the walls, ceiling and floor;
Replacing the old doors;
Replacing the old plumbing and pipes;
Finishing;
Installation of accessories (optional);
Decoration lights
If a responsible approach to the implementation of each of the above points, the interior acquires toilet elegance and style.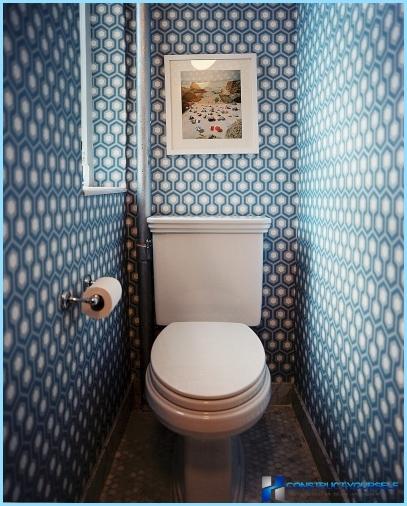 Spacious enough options for toiletperform a variety of unusual designs. But even owners of apartments with small size toilet you can create a unique interior of the room.
The choice of colors of the room needs to be doneat the very beginning. Do not be afraid to deviate from the standard stereotypes. Bright and vibrant colors can make the room unique, and accessories complemented them will give her comfort, which is also necessary in the toilet.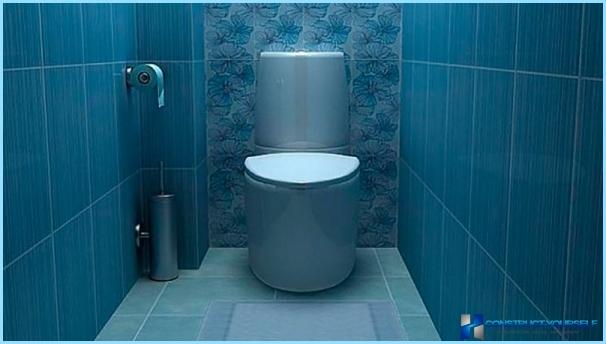 Also, despite the fact that the cold shadesblue already gone out of fashion, even with the right design, they will transform the toilet. Modern designers increasingly prefer bright, but bright colors (yellow, peach, etc.). Fans follow fashion trends is not necessary to overlook these design options arrangement washroom.
Do not pay attention to the classic colors: white, gray, beige, and the like. Classic never goes out of fashion. In addition, it can be diluted with various elements that give the overall design of today.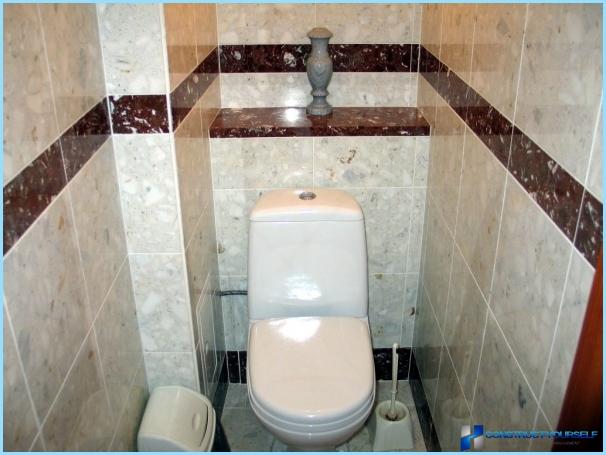 Not be amiss and can see different color options in more detail.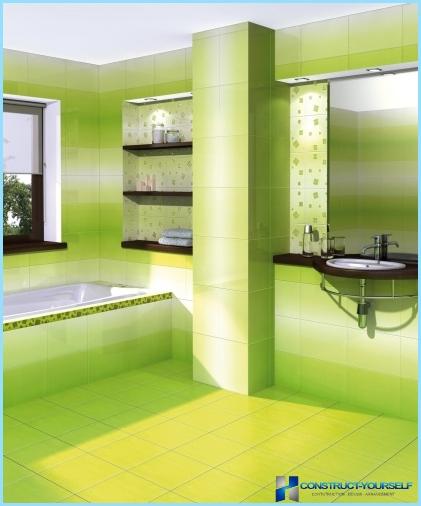 Bright and radiant color. Its shades can be very diverse - from warm up to cool. In a small closet it is recommended to use only as a primary color. Small insertion of images and ornaments of the color will be irrelevant. For example, we can offer the following finishes:
Striped style. Using bright stripes bright green or light green color you can achieve incredible results. The room is bright and saturated. However, it may look like a strictly (in this case, use thin strips), and more fun (the wider band, the greater the effect).
Also, green is the perfect accompaniment of other warm colors. For example, a carrot. Such an option to "revive" even the smallest room.
Design of toilet interior in shades of green can be seen in the photo.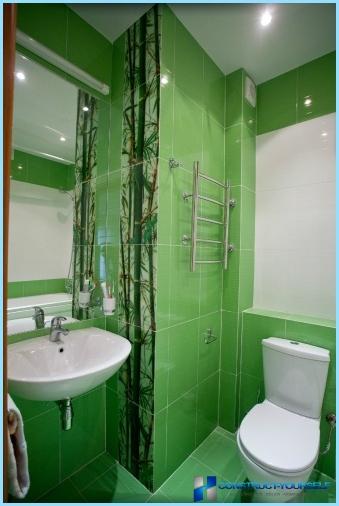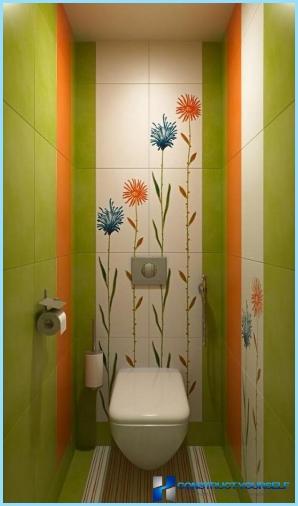 Red more defiant. Therefore, it is not recommended to finish the room completely scarlet. It certainly should be diluted with other colors, such as white or cream. In addition, you can use a variety of shades (burgundy, fuchsia, etc.).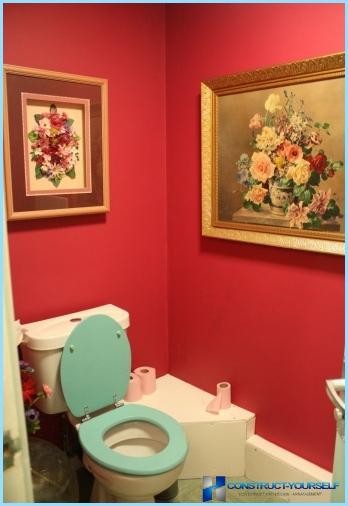 Also mosaic will look great with different shades of color. It can be specified as an entire room, and only one of the walls, and the other painted in bright colors.
Interior toilets in the apartment, you can look at these photos.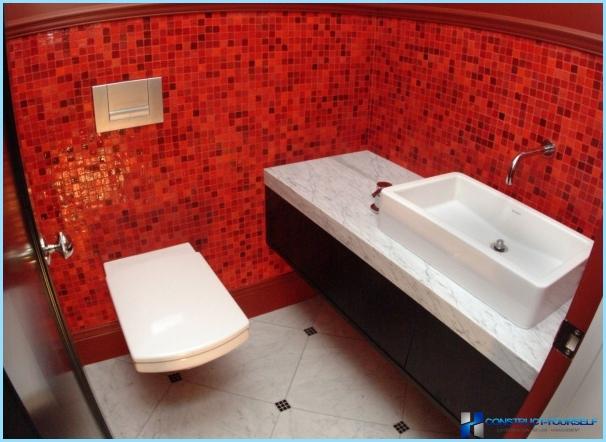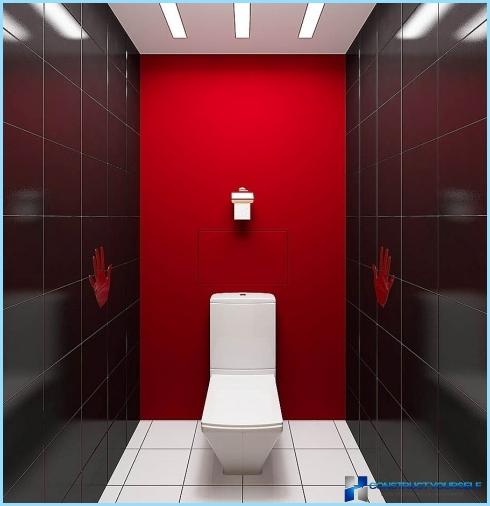 White always looks stylish. And even snow-white design can be justified, but it is better to play on the contrast. In this case, the effect is more expressive. Besides pure white design of the room may remind some of the hospital design, where everything must be sterile. Then it is not recommended to use the data design solution.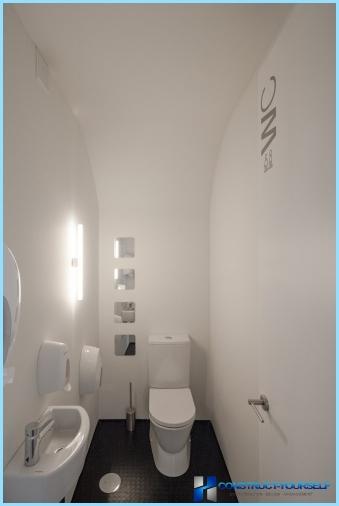 Another advantage of the light color is that it is even a tiny room can visually expand. The apartment toilets this is particularly relevant.
The most common combination is just white and red colors. But other colors can perfectly blend in with the snow-white. A good example will serve these photos.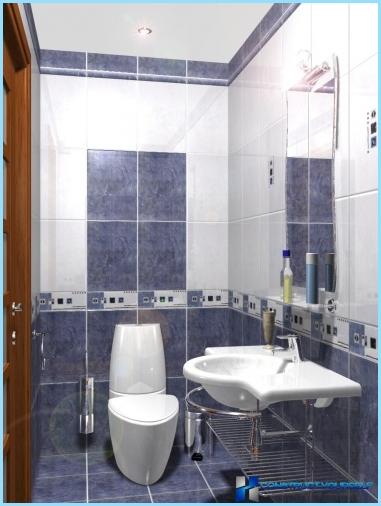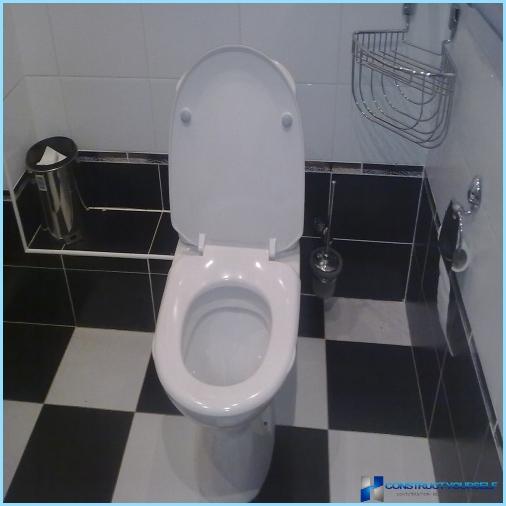 Council
! When combined with white is to use a black or other dark color, light shade should prevail, otherwise the already small room will shrink even more.
As already mentioned, with proper design of even the cool tones of blue color can transform a room perfectly. However, for this it must be diluted with various warm colors.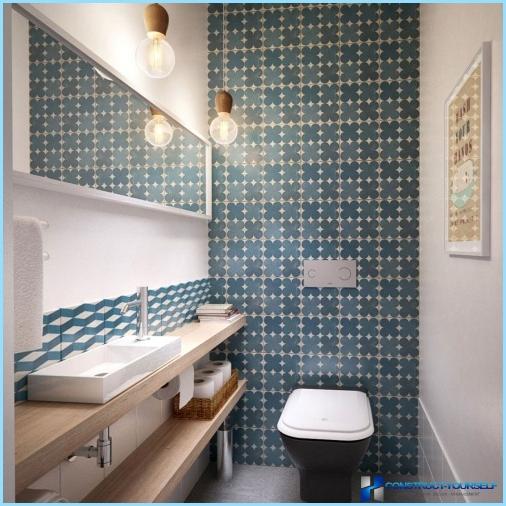 Council
! Stylish, elegant and at the same time unobtrusive looks combined rooms in blue and white colors.
The only way to achieve the desired effect. We should not forget about the light, it should be enough. Make it in the toilet with a 2 square area will be difficult.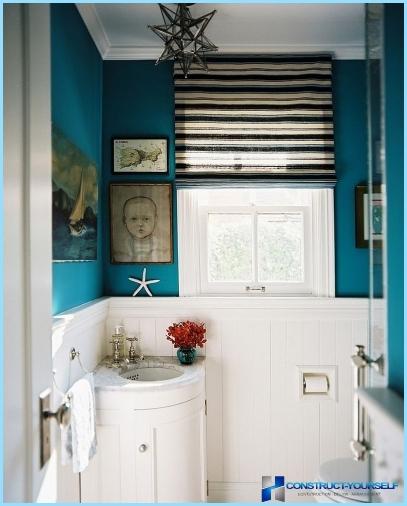 After selecting a color scheme should decideand with the choice of material for covering walls. Undoubtedly, the leader of the place has long established itself as a tile. However, make no less attractive room you can use wallpaper, plastic, paint. All options are good in their own way, so you should consider each separately.
Laying tile in the bathroom is donein several stages. To the material stayed on the wall for a long time and confidently, be sure to carry out preparatory work. They are as follows:
First, we should take the waterproofing measures, because the humidity in the room increased.
After that we can engage in the preparation ofwalls. In "Khrushchev" toilet is usually painted with oil paint and whitewash processed. For such a surface tile adheres very poorly. Therefore, the entire top layer must first be removed.
All surfaces must be primed and well dried before finishing tiles.
Those who trims the room for the first time will be tileduseful to know about its merits. This is primarily a practical material that is much stronger than many other analogs. In addition a wide range of tiles fairly. This allows you to make a reality of almost all creative ideas. An important advantage is the ease of care. The material is enough to wipe with a damp cloth, and he will be as good as new. In addition, he absolutely does not absorb odors.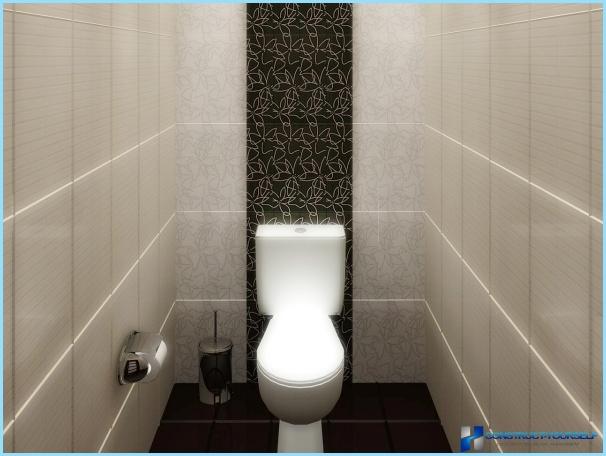 Properly should be taken to the choice of material. Of course, the quality and color is very important, but there are other nuances. For example, the tiles should be taken with some reserve. If after the first purchase it will be enough, the second time it may no longer be in the store. In this case it is necessary to choose similar model. But what would have been their similarities, the composition in the room will be broken.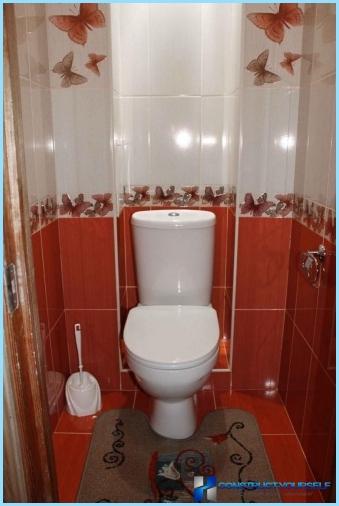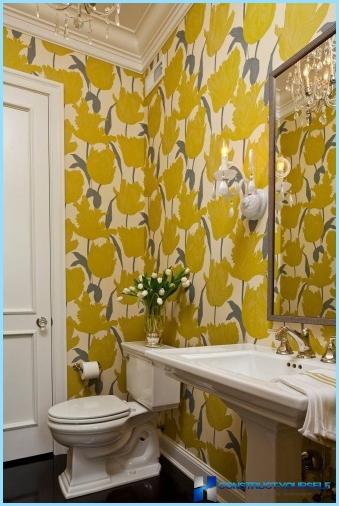 Among all the advantages of tile is one importantshortcoming. This material is quite expensive. Those who can not afford it can use other material for walls, namely, wallpaper. But, despite the lower price, they also have their own advantages:
Wallpapering process is much simpler than installing other wall coverings.
This material is able to meet anycreative person, as restrictions on the diversity patterns and colors, virtually none. At the request of the color of the wallpaper can be calm, concise and without images. Those who like bright colors with the help of wallpaper will be able to equip even the washroom in a bright, colorful and imaginative style.
Council
! For toilet is not recommended to use paper and cork options. These wallpapers strongly absorb moisture. Over time, this will undoubtedly lead to peeling them.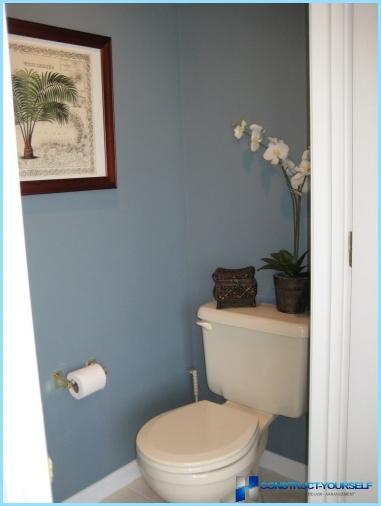 But in addition to advantages and disadvantages exist.
Due to improper sticking wallpaper glue can leak stains.
Over time, the pattern is deleted, and themselves wallpaper come unstuck.
In fairness it should be noted that these difficulties can be avoided by listening to the advice above. Also, you should choose high-quality adhesive.
View examples of interior toilet with wallpaper can be in the photo.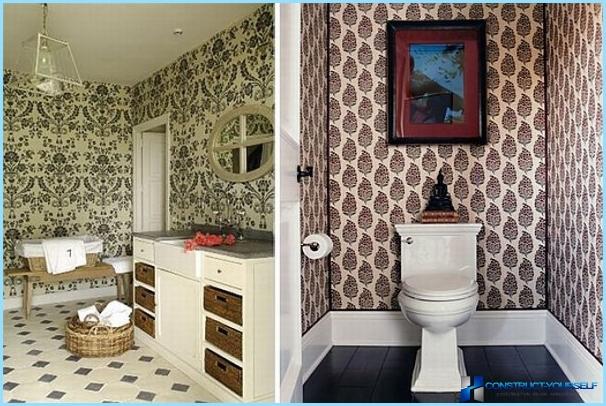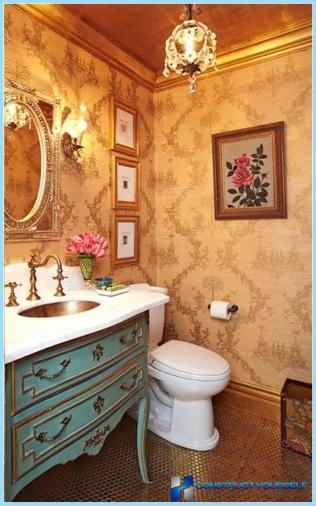 Owners spacious bathrooms luckymuch bigger. Indeed, in this case, the room can be arranged in a certain style. It would seem that the toilet is absolutely useless. However, the room will look great in a classic or even Baroque, Art Nouveau, and the like.
In addressing the repair toilets not be amiss to watch this video, in which each step is described in detail.