Fiberboard (MDF) - building sheet material which is produced by drying the mat of wood fibers or by hot pressing.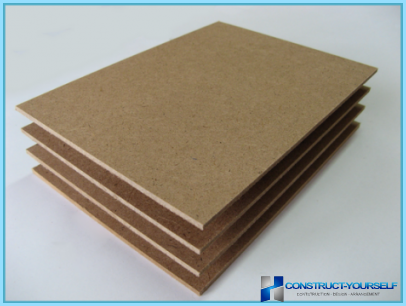 Wood-fiber plates are made in two ways:
Wet - where there is no added binder;
dry, requiring the introduction of shredded wood resin.
Another name is fiberboard hardboard. Traditionally called hardboard sheets of low-density fiberboard. It is produced by a dry method of compressing wood fibers with the addition of binders.
There are super-hard, solid, semi-solid, insulating and finishing and insulating fiberboard.
Technology hardboard manufacturing processreminiscent of MDF production. The raw materials used here as waste and dust, which are obtained by the treatment of wood. These wastes are subjected to cleavage and then compressed using a special press. Thereafter, the resulting material is dried. By the weight of wood fiber is added to the emulsion, precipitators, a special solution. Then the mass is fed into the casting machine, where slab is cast. This technology makes it possible to obtain thin sheets.
Nowadays, new technologies make it possible toadd new fiberboard quality. It extends the scope of their application. In addition to the furniture industry and container production, at the moment there is a growing use of hardboard in the construction. It is very popular and provides an opportunity to improve the quality of the work and significantly reduce the construction period and lower their price.
Different types of fiberboard, having different physical properties are used in these types of work:
Soft fibreboard. Have a density of 150-350 kg / m3Thickness of 9 to 25 mm. It has been used in construction as a material for thermal insulation: the roof, interior walls, coffered ceiling system.
Semi-hard fiberboard. Greater density of 850 kg / m3Thickness 6 to 12 mm. In addition to the cladding work of them do panelboard doors. In addition, they participate in the unit ceilings and making coverage under the laminate.
superhard fiberboard. their density reaches 950 kg / m3. Used when the device flooringvery different purpose, production of doors, temporary residential facilities, room dividers. Moisture resistant plates that gives the existence of a special impregnation.
Ennobled fiberboard (DVPO). multilayer printing method on one of the partsplates are applied to a variety of patterns and profiles. In the construction industry they are used as design otelochnogo material for finishing walls and ceilings, fireplaces device, door and window openings.
Fibreboard and easy to cutprocess. When working with this material there is no need to use expensive special tools and equipment. Among the latest innovations in recent years, the increasing popularity finds arbolit - it fibreboard, where the binder used cement. These plates are used for the construction of baffles or in the form of building blocks. They are not subject to combustion free from emission of harmful materials, have high strength to bending.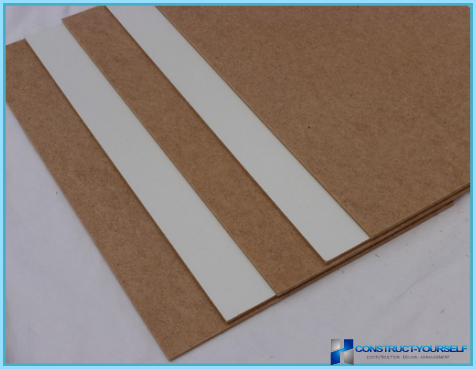 In order to improve the moisture resistance andwaterproofing properties fiberboard added rosin and paraffin. To protect the material from the fire as additives used chemicals called flame retardants. Resist bacteria allow antiseptic additive.
If, in addition to impregnate pectolite hardboard,strength characteristics of hardboard increased markedly. The front surface is generally smooth ennoble stained, varnished, plastic and decorative film.
The reverse side has a grooved surface,to achieve a better adhesion stuck to the material, however, and produced double-sided version of fibreboard, having a smooth surface on both sides.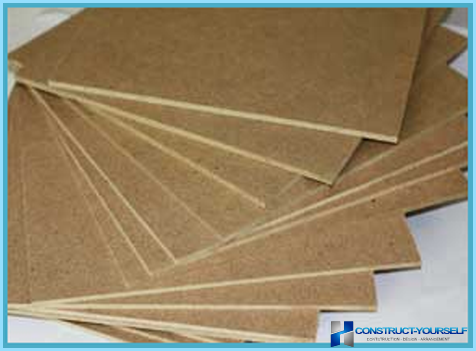 Attraction them add via:
laminating;
lamination;
painting;
staining.
Laminating - the process of facing special decorative films roll type using glue. When laminating on resinous impregnation applied protective film.
The main area of ​​use is the construction of fibreboard. Their production is subject to rigorous controls. All parameters hardboard regulated by GOST.
The use of MDF:
construction of wooden houses (for thermal insulation of roofs);
soundproofing radio studios and concert halls;
insulation of buildings;
furniture manufacture;
surfacing.
Hardboard marked depending on such parameters the density, strength, form the front surface:
T - solid, neoblagorozheny;
TC - solid, the front layer of fine wood pulp;
TP - hard, touched up the front layer;
TSP - hard, the front layer of fine particle mass, which is touched up;
TV - solid, with high resistance to water;
TSV - solid, finely divided mass, increased water resistance;
HT - hard, reduced density;
CT - solid, high strength;
STS - solid, high-strength, the front layer of fine particle mass.
Fibreboard grades T, TS, TP, TSP by the level of mechanical indicators are divided into quality groups: A and B, the quality of the surface of the plate is divided into Quality: I and II.
The length of the sheet reaches more than 6 meters and a width - 2 meters. The most common sizes used 2140h1220 mm 2750h1220mm.
The sheet thickness may be 2.5 mm; 3.2 mm; 4 mm; 5 mm; 6 mm and 7 mm.
With the purchase of this building material is necessary to pay attention to the label, as well as value for money.
Afford to buy fiberboard and everyone can. Now you can even buy them on the Internet with delivery to the door.