Man has always had an urge todecorate your home. The first homes were caves, and people began to decorate their walls with drawings. I must admit that it did prehistoric cave painters skillfully and preserved to this day in some caves cave paintings prove it. You can, of course, complain that with the subjects had a problem, more about hunting, but about the war. What to do at that time was on the design of housing men.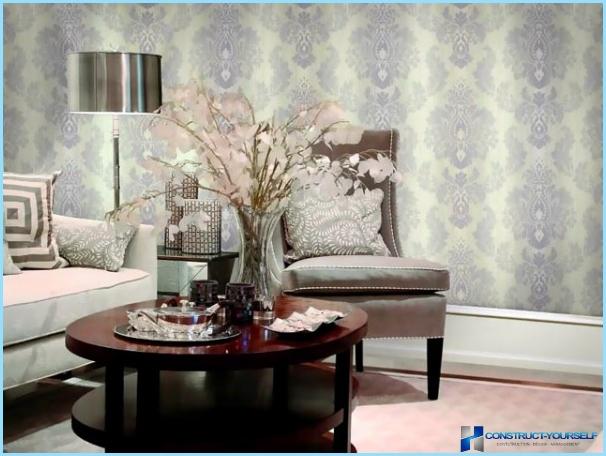 In addition to the scarcity of plots, there was another problem. If you change the home (and that from time to time had to do), pick up a rock from the "imperishable" was not possible. The new cave all had to start all over again. People thought, thought, and learned to transfer their drawings on the skin, and then on the fabric, and then to the paper. So there was a finishing material, which we love to use for decorating our homes today. A wealth of stories, pictures, ornaments can not be compared not only with the prehistoric times, but even with the end of the Soviet era. No identical to millions of Soviet families of wallpapers in small nondescript flowers. Manufacturers have learned to tolerate any drawings on any surface and produced the collection is constantly updated.
Producers felt that the paper wallpaper - itnot top of their creative thought, and began to explore the issue of roll of wall materials from natural raw materials: bamboo, cork, and on the basis that mimics leather, wood, stone. So from what humanity is gone, and returned to - from cave paintings to wallpaper on the material imitating rock.
Wallpapers are the most popular finishing materials. They are easy to glueing, varied in quality and design, affordable. However, each species has its own peculiarities:
Paper. Still out of the competition, which is due to their diverse range, good wear resistance and environmental cleanliness (well pass the air, "breathe"), low price. They are divided by the number of layers on a single-layer (simplex), dual-layer (duplex) and three-layer (triplex). Besides the differences in the number of layers of paper are smooth, embossed and embossed, with or without a pattern. There are paper wallpaper for painting or coating a water-repellent composition. They can be used in almost any environment, but it is not recommended to glue them in rooms with high humidity (bathrooms, kitchens). During the term of the service do not lose their appearance. They are usually changed every 5 years.


Vinyl. Or foamed layer is applied to the inlet polyvinyl paper or nonwoven substrate. Can imitate any surface relief: kan, leather, stone, wood, Venetian plaster. In these wallpapers are applied figures and ornaments. Screen printing wallpaper in the upper layer contains silk threads and give the impression that the surface is decorated with silk. They are durable, resistant to sunlight and moisture, elasticity. However, because of their air tightness is not used in children's rooms and bedrooms. They can be glued to the living rooms, corridors, hallways, kitchens, bathrooms.


Fleece. Nonwoven fabric manufactured with - a non-woven material composed of cellulose fibers and textiles. Fiber binds to the single unit polymeric material does not change its dimensions under the influence of moisture. This is different from the vinyl wallpaper. Eco-friendly, durable, with good sound insulation properties. They have a deep relief pattern on the surface beautifully refracted sunlight. When different lighting color of the wallpaper changes. When gluing the adhesive is applied only to the surface of the wall. Gluing can be on virtually any surface. Non-woven wallpaper perfectly close irregularities on the surface of the wall. Many types of non-woven wallpaper for painting are available, which uses a latex or dispersion paint. Painting is usually done after gluing. They can be used in any room.


Textile. There are textile wall fabric and wallpaper, manufactured textile yarns coated non-woven or paper base. Has good heat and sound insulating properties, air is passed well. Resistant to direct sunlight. Available to order seamless wallpaper, which can pokleit all the walls in the room without joints. Pasting requires professional skills. The difficulty with glue - one of their main drawbacks together with the high price. Their glue in offices, living rooms, bedrooms. Textile upholstery wall wallpaper create the impression of an expensive fabric.



Metallized. During manufacture of paper on a porous layer is applied a thin layer of aluminum foil. On top of foil covered with a flexible layer of paint, and the paint must not conduct an electric current. On the layer of paint is applied to drawing or stamping. The original purpose - the protection of the premises from the electromagnetic influence from the outside. Now, in addition to its main tasks performed and a decorative function.


Glass fiber. This tapestry is made of fiberglass. Fibers prepared from natural materials (quartz sand, limestone, dolomite, soda) at very high temperatures. Then yarns formed from fibers from which already woven fiberglass. Eco-friendly material, fire-resistant, very durable. The service life can reach several tens of years. Normally glued for further painting. Mainly used in public, office and industrial premises.


Photo wall. This wallpaper in the manufacture of which the image is transferred to almost any substrate with the help of a plotter or offset printing. Glue them carried out according to the rules of gluing their bases (wallpapers are made of paper, vinyl, non-woven, etc.).




Liquid. This mixture of cellulose or cotton fibers, dyes and special adhesive. The mixture was stirred in water and applied according to instructions on the wall. Antistatic, fireproof. Used for the decoration of residential and office space. The addition of the dye or other component can be given a wall surface of almost any color and type.


Important!
With all the variety of design techniques, there are two basic ways to use wallpaper for decoration.
In the first case, they act as the mainactor - dominant finish. All other elements of the interior play the role of extras and their "performance" should be consistent with the background wallpaper decor.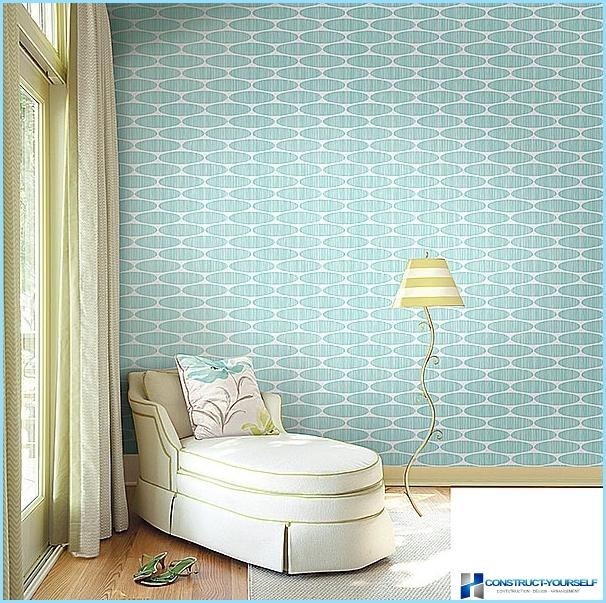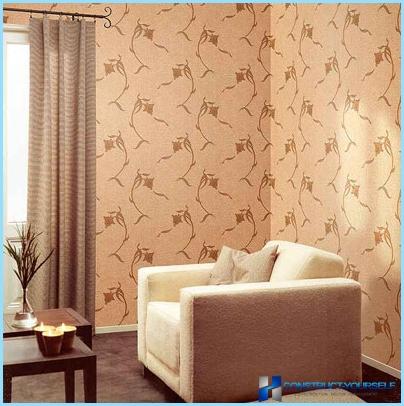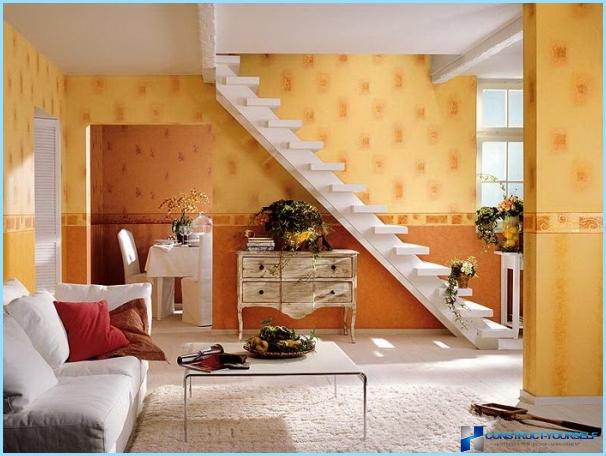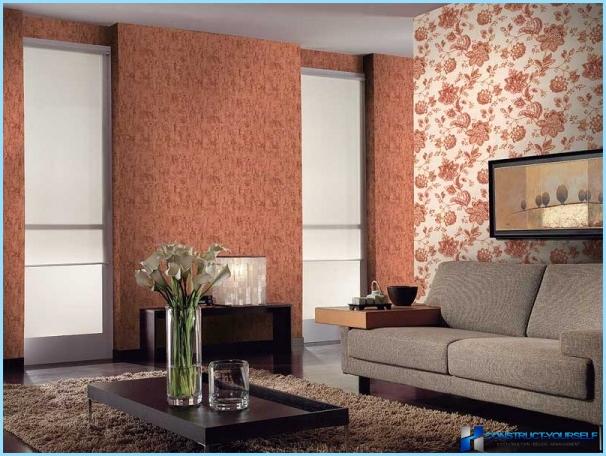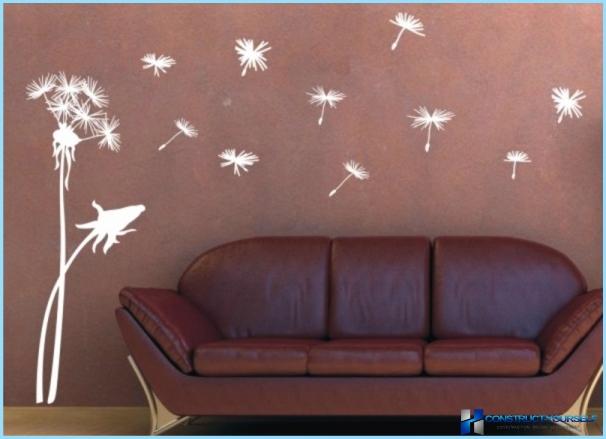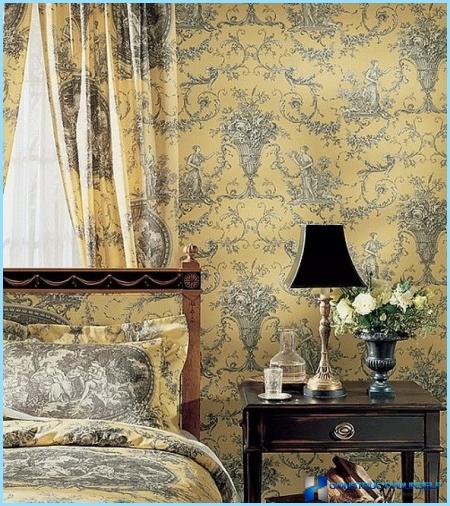 In the second, they are used to createaccents to highlight certain areas, niches of the wall. Designer underscores - this part of the room has a special meaning. It is very important to preserve a sense of proportion in order to avoid introducing dissonance into the interior of the room. Made with the help of their emphasis should prevail and hinder the perception of the interior as a whole.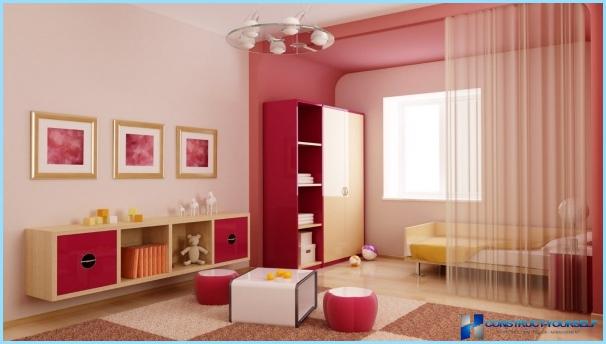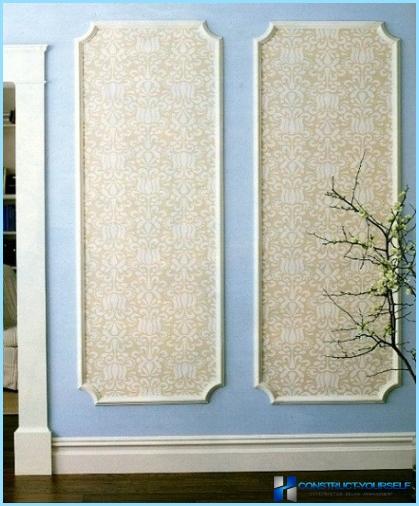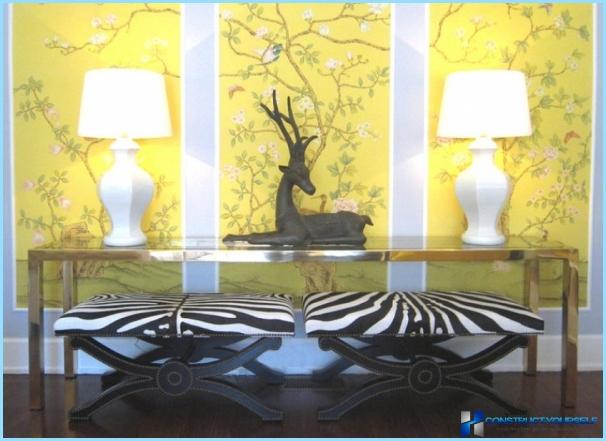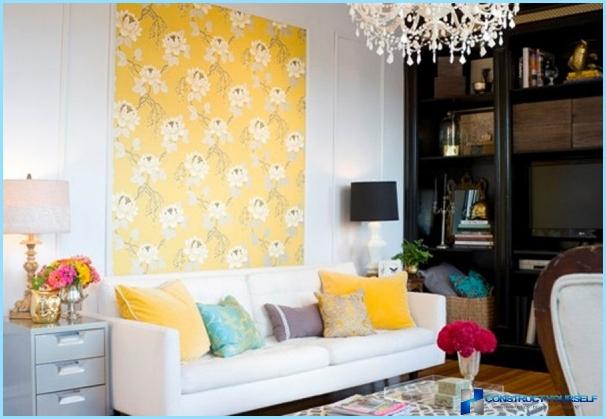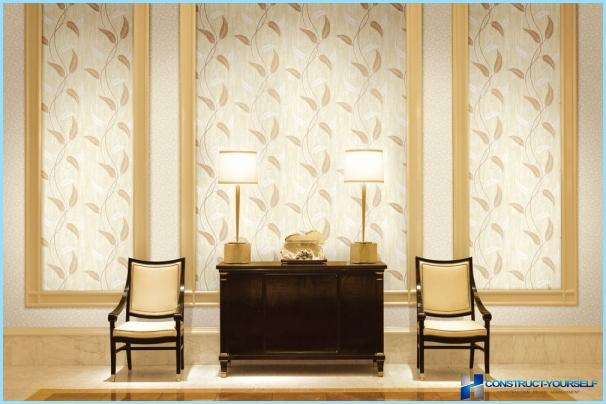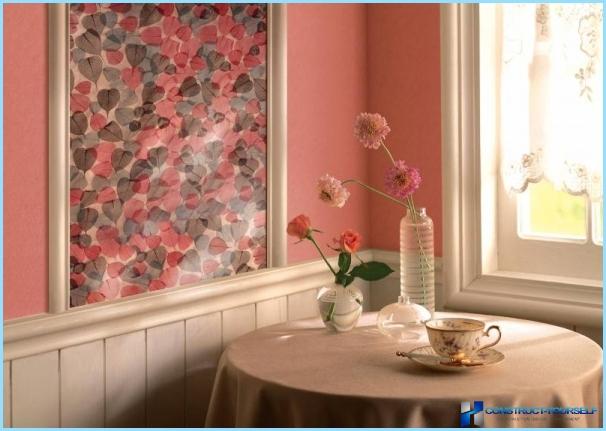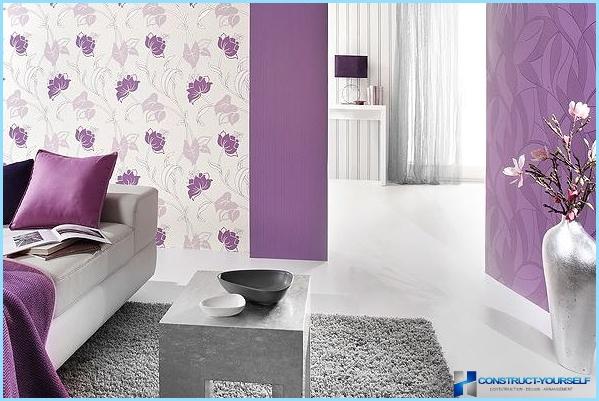 Separately it is necessary to emphasize the need formaintaining harmonious proportions between the room size and pattern used to decorate the wallpaper. It is impossible to draw a small room with wallpaper with a large pattern.