Polymer concrete (or "artificial stone") - ismodern look of concrete, in which instead of the traditional conventional concrete binder (cement or silicate) polymer is used. The polymer is a viscous liquid, otherwise referred to as synthetic resin. In the production of polymer concrete generally used epoxy, furan resins, and unsaturated polyester. The fillers for the mixture can serve as granite or basalt gravel, sand or crushed quartz sandstone.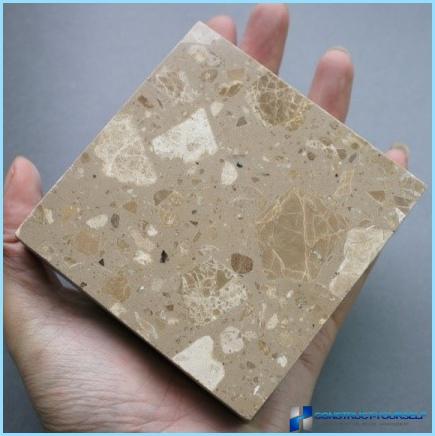 Polymer It was established in the United States and is widely used abroad. Today, this material is becoming increasingly popular in Russia. It is used in construction, sculpture, furniture manufacturing, production of ritual.
Due to its composition, polymer concrete has a number of advantages and often helps out there, where the probability of damage or deformation of the normal concrete.
Advantages of polymer concrete:
Highly water resistant material and resistance to temperature.

These qualities provide a rapid evaporation of water droplets from the surface of articles made of polymer and prevent the occurrence of cracks and other defects in the cold season.

Ability to rehabilitation areas have been subjected to mechanical damage.

Good resistance to the material effects of aggressive chemical components.

This makes it possible to use polymer concrete without causing him special coatings in a variety of conditions.

The combination of high strength and relatively light weight material.

This combination of polymer properties allows you to create from it a simple-to-use products with low cost.

Smooth and non-slip material.

Due to this quality products of "artificial stone" are not spoiled for a long time, and any contaminants removed easily.

Variety of colors

. In its external manifestations, polymer concrete is able to simulate natural stone, such as marble, granite, malachite, which creates a wide range of options for its use.

Possibility of recycling material, then return to production.
The disadvantages of polymer compared to conventional concrete can be considered:
flammability of the material;
higher price associated with the cost of binding components.
For self-catering polymer, above all, it is necessary to study in detail its composition. This mixture includes three main components:
binder (one of the following resins: unsaturated polyester, furfurolatsetonovaya, furan, epoxy, urea-formaldehyde, methyl ester of methacrylic acid);

coarse filler (gravel and sand);

milled filler (quartz, andesite flour, graphite powder).

To create a mixture of gravel and rock takeup to 40 mm. Moreover, if the grain size is less than 20 mm, it is necessary to use a fraction of 10-20 mm. If the size of the aggregate - 40 mm, to increase the strength of the finished material Use two factions: 10-20 and 20-40 mm.
Silica sand for the mixture is needed with grains up to 5 mm. Make sure that in its composition is free of dust, silt and clay.
Milled filler reduces the cost of expensive resins in the binder so administered mineral flour with a particle size of up to 0.15 mm.
Attention
! If your mixture will be used urea-formaldehyde resin, in addition to the above mandatory additive components will be building plaster.
Also, in the manufacture of polymer concrete you canuse of surfactants, colorants, flame retardants, preservatives and other additives that improve the quality of the final material. Most often PAVom in the case of our emulsified mixture acts tree resin, the use of which improves the thermal insulation properties of the finished polymer.
How many heavy filler to be used for the creation of our blend material will depend on the class of:
superheavy (2.5-4 t / m3);
heavy (1.8-2.5 t / m3);
lightweight (0.5-1.8 t / m3);
ultra-light (less than 0,5 t / m3).
Comment
! Heavy polymer concrete is used in construction to create a load-bearing structures and foundations.
The composition of polymer, we can startcooking the mixture at home. We will act according to the algorithm given below. This algorithm involves separate mixing resins and fillers and is considered very efficient in terms of strength of the resulting material uniformity and the process speed.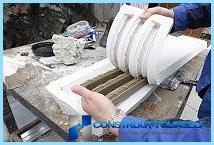 Aggregate (crushed stone or gravel), rinse and clean from dirt.
Sand sift and separate from impurities.
Dry the washed aggregate, until its moisture content will not appear in the range of 0.5-1%.
Important
! Humidity rubble above 1% significantly reduces the strength of the finished mixture.
Loading components into a mixer aggregate necessarily in the following order:
gravel;
sand;
filler.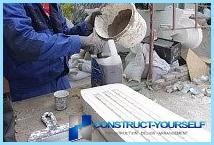 Stir the mixture 2 minutes without the addition of water, add water and mix again.
Separately, we are working with a binder. Soften it to a proper consistency by heating or using a solvent.
Adding a plasticizer to the resin, stabilizer, and other substances. Mix all this apart from the aggregates.
Mix binder with filler for 1.5-2 minutes.
Add the hardener.
Mix for 3 minutes, after which the polymer concrete is considered ready for pouring.
Important
! The resulting mixture should immediately pour into a mold or formwork, as it quickly hardens. For once do the mixture as much as will fit into a mold.
Consider the characteristics of the finished pouring the mixture into a form:
Pre-nokryvat mold surface with paraffin, petroleum jelly or lubricating oil to prevent sticking polymer.
Fill the mixture over the entire area of ​​the form, being careful not to leave cavities, leveled.
Thicken the mixture on the vibrating table or vibrator via coupler for 2-3 minutes. Readiness can be judged by the formation on the surface of the liquid fraction.
Be sure to quickly clean the mixer from the remnants of the material, or a mixture hardens.
Remove the form from the finished product, you can at the end of the day.
Comment
! When laying out the finished polymer composition is made more than once, seal necessary to complete each stage.
Variants of polymer products very much, the most popular of them are: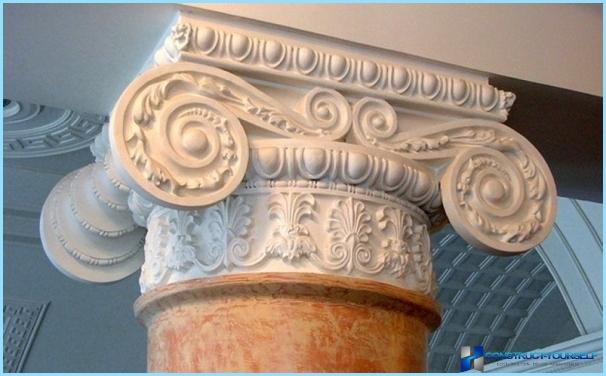 countertops for the kitchen;
sinks for bathroom and kitchen;
Bathrooms;
shell;
window sills;
fireplaces;
railings;
balusters;
column;
stage;
fountains;
flooring;
vases;
stucco;
monuments, fences and more.
Consider some of the products made of this material in detail.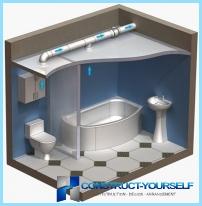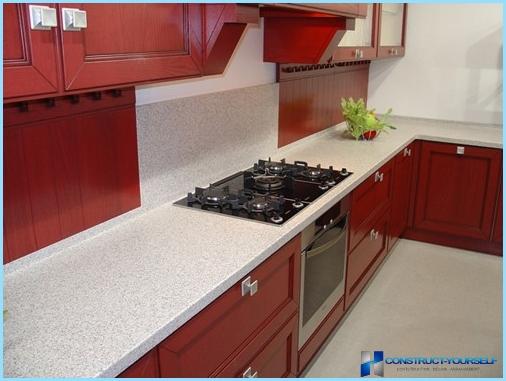 Countertops made of polymer in vogue today,thanks to a number of pluses. First of all, they are practical and will be long and reliably serve you for many years. The look of the countertop material that is stylish and easy to fit into any kitchen interior, the wider range of colors will perfectly contribute to this. The surface of a countertop is pleasant to the touch and easy to clean. Visually worktop made of polymer does not differ from its counterpart in natural stone and wear resistance, durability and resistance to moisture is much greater than the natural material.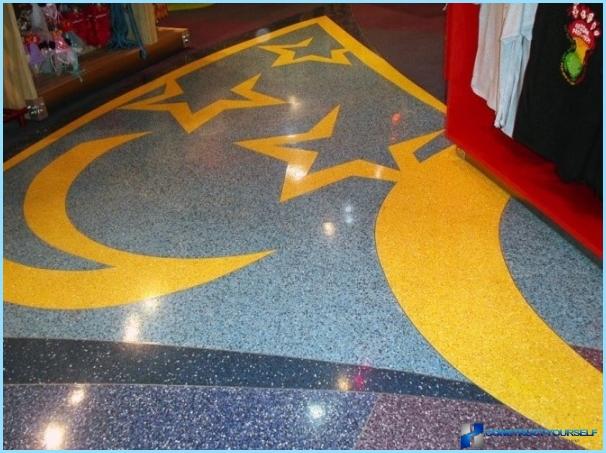 The flooring of the polymer will give youease of installation and ease of cleaning. Floors of a material hardly accumulates dust. flooring cost is relatively low, they are flexible and not afraid of loads. The thicker the coating of polymer, the longer will be the period of its operation. The minimum warranty period is 10 years for coating thickness of 2 mm.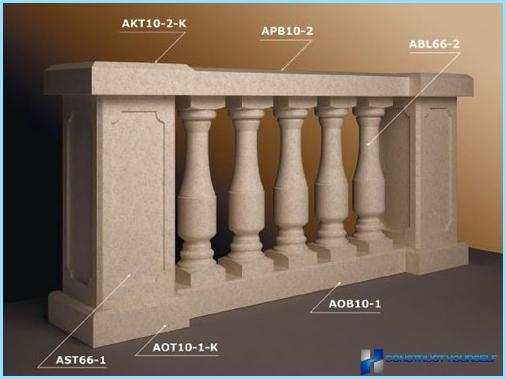 In comparison with a natural stone-esteempolymer in creating facade structures are undeniable. This material easily mimics externally, for example, marble or granite, being thus easier. Thanks to this quality of the lining is not necessary in the formation of the foundation and establishment of subsidiary fortifications. Polymer concrete is not afraid of rain and frost, mounted just has an original texture, wide color gamut and durability at an affordable price.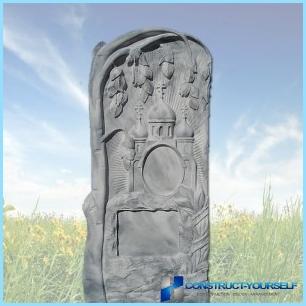 Nowadays, along with materials suchas granite and marble, more common are the monuments and fences made of polymer. This material is particularly good because it adequately withstand various weather conditions, whether it is cold or rains, without being destroyed, preventing cracks and damages. In addition, high smoothness and gloss surface of the product provide him aesthetic appearance and clarity of the picture.
This video demonstrates the process of self-production of polymer mixture of light and worktops from it: